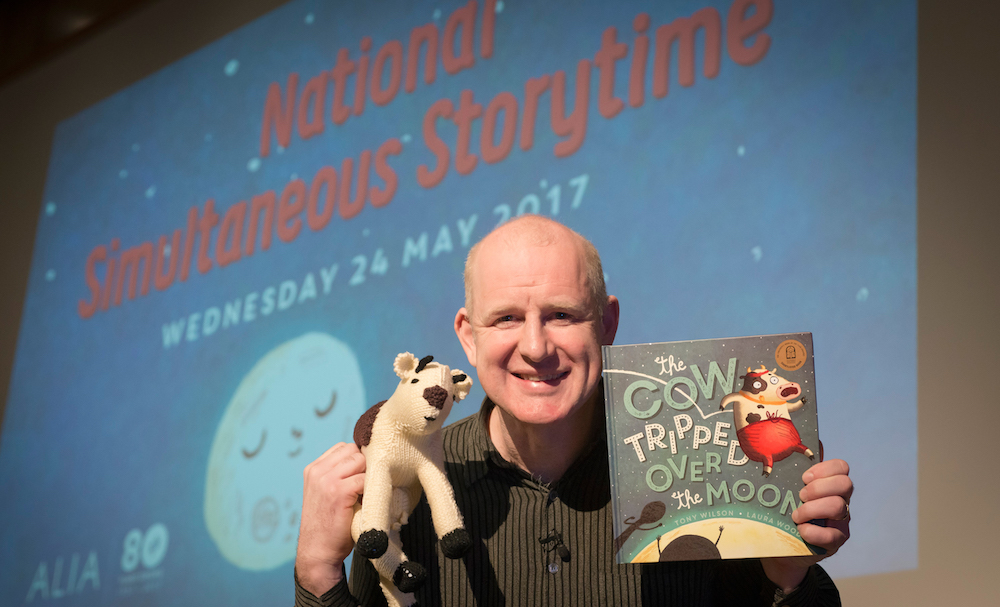 Wednesday May 24, 2017 marked the 17th National Simultaneous Storytime event, an annual advocacy campaign hosted by the Australian Library and Information Association. 
Each year, one picture book is selected for a simultaneous read-a-loud event held in libraries, schools, pre-schools, family homes, childcare centres, bookshops and many other agencies across Australia. NSS attracts over half a million children at over 3,500 locations, nationwide.
This year the selected story is The Cow Tripped over the Moon by Tony Wilson and illustrated by Laura Wood, published by Scholastic Australia. The Cow Tripped over the Moon is a joyful picture book that celebrates perseverance and the importance of support.
Sharon Turner of Scholastic Australia said, "the event was fabulous, with over 686,000 registered readers across the country".
 The official launch reading, which was given by author Tony Wilson, was held at Royal Children's Hospital in Melbourne last Wednesday May 24. The reading was broadcast live to patients' bedsides and through Starlight TV.
Tony has a very personal connection to RCH. He dedicated The Cow Tripped over the Moon to his son Jack, who has cerebral palsy and is a regular patient of the hospital.
[pro_ad_display_adzone id="6125″ align="left" padding="5″]
In Tony's words: "The place means a great deal to us. I'm hoping Cow with her moon-jumping mishaps can bring a smile to people who are experiencing a tough time. In the end, it's the group of friends that help Cow succeed in her mission. Hopefully kids in hospitals can feel a communal bond, a sense that other kids are going through similar stuff, and that we can all aim for the moon together."
In addition, every child under the age of ten across each of the hospital locations received a copy of The Cow Tripped over the Moon as a gift from Scholastic Australia. 
About Book Bunkers
Run by teams of dedicated volunteers, Book Bunkers are currently located in The Children's Hospital at Westmead, Sydney, The Lady Cilento Children's Hospital, Brisbane, The Royal Children's Hospital Melbourne and opening soon at Fun on Four at the new Perth Children's Hospital. The libraries are fully owned and maintained by Scholastic. The first Book Bunker established at The Children's Hospital at Westmead will celebrate its 20th anniversary this year, demonstrating the company's ongoing commitment to the libraries, and the children and families they service. It is Scholastic's goal to have a Book Bunker established at every major children's hospital across Australia.