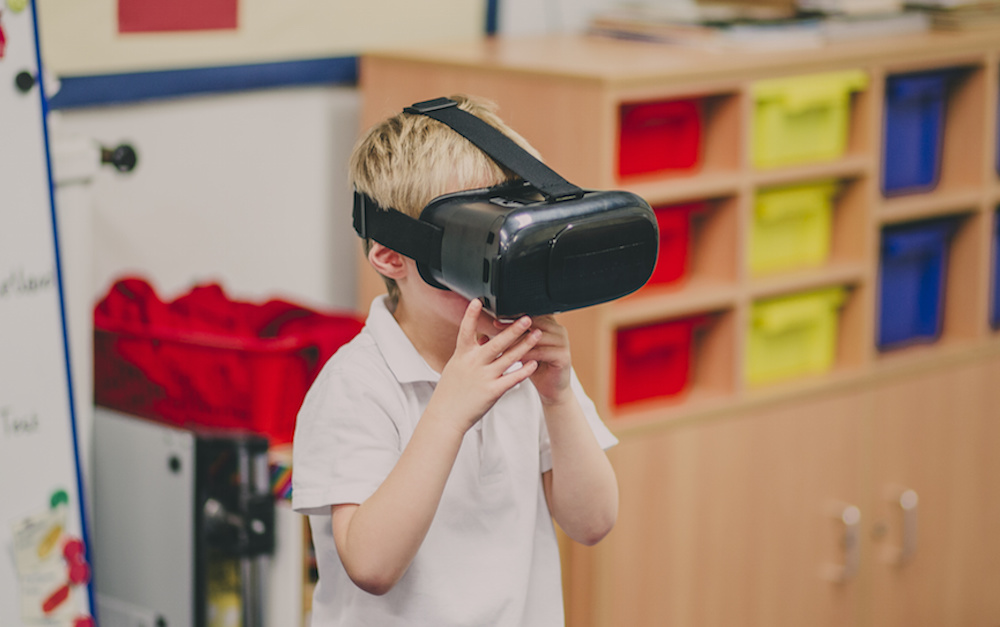 Fancy a trip round Musée du Louvre without leaving the classroom? Do you want to arrange a ride in a space shuttle for a ten-year-old girl who dreams of a future as an astronaut? Imagine taking 7B across turbulent seas on a Viking longboat – 'row, row row!'.
Virtual Reality (VR) makes all of this technically possible in schools, but the question is really 'is it feasible?'.
The idea of using virtual reality in schools is fast gaining attention, as some more comfortably resourced schools in Europe and the US are experimenting with its applications. The technology exists, but until recently, the cost has been prohibitive. Individual teachers can bring in a headset, but the cost of the phones (at four times the price) can be prohibitive. These can be sourced second hand if schools want to incorporate VR into some lessons.
So, where are we with VR?
The technology has been around for decades, but until quite recently, commercial viability has eluded developers. In 2014, Google launched their Cardboard Headset, (often handed out free, but available for $20 online). Google has also released educational content; 'Expeditions', which is now available for Australian schools as of March 2017.  
In 2016 Oculus (a Facebook subsidiary) launched the Oculus Rift using funds from a 2012 Kickstarter campaign. After releasing a prototype in 2015 with indications of some potentially prohibitive minimum hardware requirements; these were then downgraded in the 2016 release to "Intel Core i3-6100 or AMD FX 4350 CPU, at least a GeForce GTX 960 or equivalent graphics card, two USB 3.0 ports and one USB 2.0 port, and Windows 8 or newer," according to technology publication, Ars Technica. Kyle Orland, Ars Technica's senior gaming editor, concluded that "within a few years there will be hundreds of laptops that meet the Oculus Ready spec".
Could this mean BYOD could morph into 'BYOVRD'? Could students even be issued with an inexpensive Google Cardboard Headset and traverse the Gobi Desert from their desks? Does a teacher's future involve looking out at a sea of heads, eyes obscured by robotic looking head gear? Or will this mean students learn from home, 'clocking on' in to the VR network each morning? No buses, no human contact, no jostling in the halls, no incidental jokes, no human touch.
Not likely, according to educationalists and futurists, who still predict that robots and other technology will replace neither the teacher, nor school itself. Instead tech is set to enhance learning, and perhaps create flexible pathways to learning for those disadvantaged by distance or disability. The human touch of a teacher cannot ever be replaced.
The power of VR is actually about content. It's about the format and scope of learning materials, or educational stimulus and the degree to which teachers can dial up immersive content.
However, a 'VR movement' or even 'revolution' will only occur once VR is accessible to all students, and as commonplace as YouTube has become.  If VR is to be a teaching tool, professional development is a key ingredient to success. Professor David Ainge of James Cook University wrote an article back in 1997 titled 'Virtual Reality in Schools: The Need for Teacher Training'. Professor Ainge predicted that the technology would become "a common tool in the not-too-distant future". While the timing of his prophecy is conveniently vague, recent developments in the accessibility of the technology might just indicate we are on the cusp of a plunge into more rapid and widespread uptake.
The benefits of immersive educational experiences are well understood by educators. In fact, they inform the rationale behind overseas language trips, practical lessons and the school excursion.
The possibilities are endless. Students can experience another time and place without leaving the classroom. Activities that would never pass a safety assessment can be incorporated into a learning program – no travel, no permission slips, no fundraising.
The potential for anatomical exploration is a fascinating thought. Students could take a virtual tour through the human body. They could travel the path of their breakfast through the digestive system. They could even surf the reproductive system in a more accurate depiction of the sperm journey in Look Who's Talking.
They can fly; swim with sharks; fight in the Colosseum. Students can experience 'a day in the life' through the eyes of a firefighter, a surgeon, a country vet or a pilot, furnishing them with a more accurate understanding of professions, and generally making classes that little bit more interesting.