Students have been embarking on voyages to the national capital for decades, and every year, Canberra hosts around 165,000 school groups. The Parliament and Civics Education Rebate (PACER) is a subsidy payable (on a sliding scale) to schools located between 150 and 4000km from Canberra.
Eligible trips must include the core attractions: Parliament House, Old Parliament House and Australian War Memorial, but can include other sites of cultural and historical interest while in Canberra. More information at www.pacer.org.au.
To gather more information on the iconic Australian excursion, School News sought some expert views from industry operators in the nation's capital.
Industry views
Carolyn Bradley of JC School Tours has been involved with the industry for around 13 years and said school requirements have stayed quite constant in one respect: "Schools begins with PACER, and if they have preferred accommodation venues, we work on that, and then look at organising other attractions."
Garry Watson of National Capital Educational Tourism Project (NCETP) told School News that while many destinations remain unchanged, the experience for kids these days is quite different. "There are more things to do than ever with educational merit, and it's all done much better."
Booking ahead is advised to ensure you don't miss out. "Accommodation venues are now taking bookings for 2018, 2019 and 2020," Carolyn Bradley informed. 
In the current political climate, some travellers might feel nervous, but both Carolyn Bradley and Garry Watson emphasised existing security measures make for a low-risk excursion.  Schools are understandable safety-conscious, but all government venues have high-level security and rigorous OHS policies.
And…Canberra is better than ever. All attractions now have engaging educational programs, and everything is linked to the national curriculum on numerous areas: STEM, history, civics and citizenship, or the arts.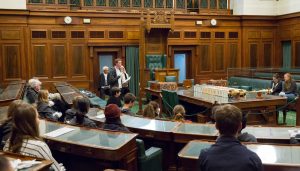 "30 years ago, when you went to Parliament House, the old guide was so grumpy I used to challenge kids to ask a question. Most didn't; they were frightened into submission," he recalled. Now with education officers providing high quality programs, students can observe parliament in session from a glass chamber, while a guide explains proceedings. "A healthy democracy has an open parliament," Garry insisted. Students can now even participate in a mock-style parliamentary education office program and pass a bill together, apparently, along with a meet and greet with their elected members of parliament.
The programs are so engaging these days, there's not time for kids to get distracted, and Garry jokingly remarked  that any untoward behaviour generally comes from the parliament floor, not the glass chamber.
He continued that learning about government processes doesn't only happen at Parliament House: "You can go to the High Court and learn about the justice system, and at the National Electoral Education Centre, they take students through a mock election, to teach students how important their vote is. At Old Parliament House, students witness historical debates to educate on how democracy has developed."
Carolyn Bradley added that "popular attractions also include the National Museum of Australia, the National Gallery of Australia, Australian Institute of Sport, the National Film and Sound Archive."
This year marks the 50th anniversary of the 1967 referendum, and 25 years since the MABO decision, resulting in a deepening focus on Aboriginal and Torres Strait Islander (ATSI) peoples, histories and cultures. A unique opportunity exists for students to commemorate this event in Australian history and examine its implications at various cultural institutions and attractions in Canberra.
Canberra already houses a number of Aboriginal and Torres Strait Islander people's collections, including the First Australians Gallery at the National Museum of Australia, and a large collection of Indigenous art at the National Gallery of Australia.
Schools also visit the tent embassy, and while the visits may be informal and not always predictable, they provide an opportunity for students to join the conversation about Australia's history with exposure to ATSI perspectives. "Both formal and informal learning goes on in the national capital – this would be the informal learning," Garry confirmed.
With 2017 shaping up to be a special year of learning, we concluded by asking for each operator's idea of a 'stand-out experience' for Canberra tours. 
"Questacon seems to be a highlight of the tour, and D-Zone at at the Australian War Memorial is also popular," Carolyn Bradley indicated, though booking ahead is vital for these attractions.
Garry Watson viewed it holistically: "It's Canberra itself, with lots of little elements working together that make for one great educational experience."
Accommodation: how to plan for a smooth stay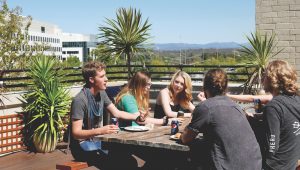 YHA Canberra hosts around 160 school groups per year, and manager Arthur Lee says that as the tours become more popular, pressure on occupancy rates has climbed. "We can only ever take as many groups as we have ensuite rooms for teachers and drivers, so we are building eight more rooms to accommodate teachers," he reported.
Canberra tours are tailored to education and schedules can be arduous: "Teachers can be quite stressed when they come here, so we try to keep things moving smoothly for them."
"The biggest issue we see in accommodation here is capacity, with schools booking around the same time of the year."
Advising schools to book 24 months in advance, and incentivising out-of-season bookings, YHA hopes to encourage teachers to change their planning schedule, and book in a quieter period. "It allows for more flexibility in their itinerary as well," he added.
YHA has a long history in educational tourism. Founded by a German teacher, Richard Shermann, 103 years ago, the international association has at its core a desire to remove the financial barrier to travel.
To provide teachers with peace of mind, YHA has restructured facilities to provide separation between independent travellers and the school group. "We have also realigned our menu to suit the kids," he added.
The manager suggested teachers would benefit from visiting Canberra prior to the school trip: "It makes such a difference to their confidence in making decisions."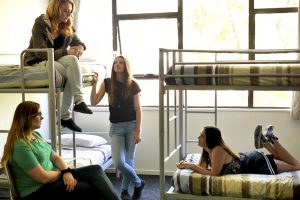 The hostel offers eight-share or four-share rooms, and facilitating easy supervision for teachers is key when allocating rooms. "We are flexible, and allocate rooms based on the needs of the teachers." Meal provision is the norm, but arrangements have been made for self-catering when budgetary issues were present, Arthur explained. "Young people learn through travelling; how much money you have should not limit your ability to see the world."