News
Health & Safety
Breathe easier in the classroom
Keeping classrooms well ventilated by opening the windows can be one way to improve air quality in classrooms, but not always.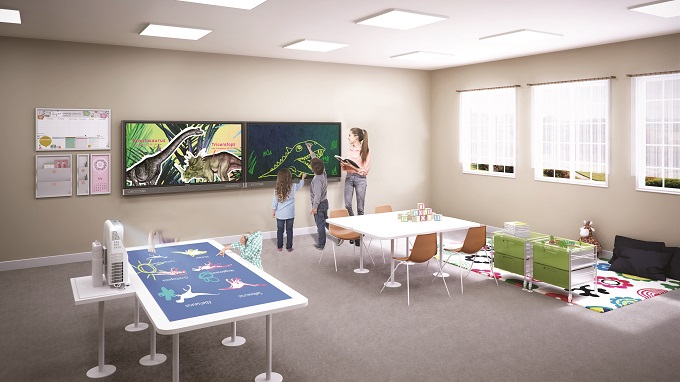 In winter, this can reduce air temperature, bring in moisture and pollutants, especially if the classroom is adjacent to a busy road.
Read the full story in our latest issue, here. 
Researcher suggestions to improve indoor air quality in schools include opening windows, installing automatic windows in new buildings and footbaths at entrances to classrooms (or recommending entrants remove shoes). Ensuring non-toxic cleaning products and routines are used and installing smooth flooring to remove the build-up of dirt in crevices were also recommendations. 
Planting trees next to classrooms, where possible, to absorb pollution and improve air quality has also been suggested by academic researchers. Research Fellow in the Department of Public Health at Otago University, Dr Julie Bennett, has also recommended new schools be built away from main roads.
School News interviewed education industry expert, Martin Moelle, Managing Director of BenQ Australia, about key air quality concerns for schools here in Australia, and what tech solutions might be out there.
Q: In your experience, what technologies and systems help promotes leaner and healthier air flow?
A: My experience is limited to CO2 technologies in particular, so I'll speak mainly to this. Government and organisations around the world are starting to wake up and take notice of the importance of indoor air quality. The technology to measure and implement changes has always been there but it's the awareness that is growing rapidly. Most concerning though is that there aren't too many standards to which the education industry is held here in Australia. There are standards in place overseas, NZS4303 in New Zealand for instance, which focuses on the indoor air quality specific to CO2 concentration. From our understanding and capacity, awareness and regulation is the key to a healthy change.
Q: What are the recommended safe levels of CO2, etc., in the classroom and how can this be measured?
A: There is a general recommendation of a 'normal' CO2 concentration level between 300 – 500 ppm. However, this isn't specific to the classroom environment, at least in Australia anyway. The recommendation of normal concentration of CO2 in the classroom needs to be dealt with very differently. Children and young adults are more sensitive to their surroundings while developing through an important stage of their lives and thus more susceptible to the negative effects of poor air quality. Research has shown that children's bodies find it harder to process CO2 than adults and they tackle higher volumes based on their body size and weight. This is why classrooms need to be more closely regulated and the education sector needs have their own recommendations.
There are many ways to measure air quality in the classroom ranging from measurements of gas like CO2 and not forgetting particulate matter as well. Inbuilt CO2 sensors can help give teachers peace of mind.
Q: Can ventilation systems adequately improve air quality to protect students against the transmission of airborne diseases?
A: I can't comment on this in-depth but there are ventilation systems that have been used for quite some time in industries such as aviation, specifically on planes. The key is to reduce the risk of exposure to airborne contaminants, whether they be viruses or particulates and gases like CO2. There will always be some risk, but mitigation should be the goal in the classroom.
Q: What can you reveal about different design options that might offer schools strength, safety, and comfort year-round?
A: Strength and safety first come from knowledge and understanding. There most certainly needs to be more regulation and guidelines put in place for the education industry here in Australia if there is to be a dramatic shift in health and safety for our students. There are some very basic ways of monitoring air quality in learning spaces and once a school knows that air quality is poor in the classroom, something can be done to change it. It can even be something as simple as opening a window or taking a class outside for a break.