Technology
EdTech solutions to enhance teaching and learning
School News scoured the sector this term to find out about some of the hottest new edtech trends and solutions on offer to Aussie schools that might help foster greater student participation and teamwork in your classrooms.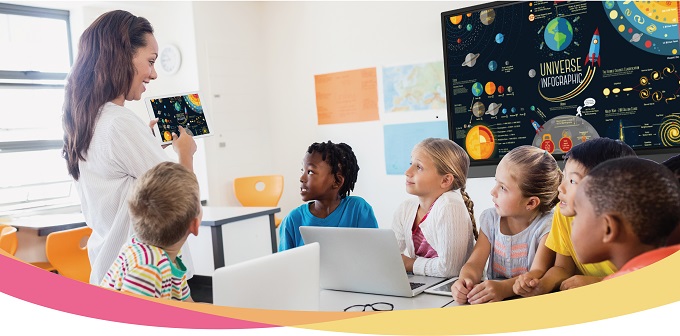 Edtech solutions of the future are built to be invaluable learning resources.
Read the full story in our latest issue, here. 
These technologies are flexible and designed to cater to different learning styles, helping close the gap on any learning divide your learners may be facing. We spoke exclusively with several key suppliers to the school sector this issue as they offered essential tips for schools and shared the purchasing observations they've made in recent years.   
What edtech trends are proving popular with schools?
"One of the main differences we see between public and private schools in the size of interactive display they choose," explained Martin Moelle, Managing Director of BenQ Australia. "Public schools are mainly going with the 65 inch size, whereas private schools are opting to go big for 75 inch or above. This could be due to several different factors including curriculum requirements, flexibility of classroom operations or simply differences between school environments. Private schools are adopting technology very rapidly and utilising the latest and greatest devices. Public is moving in the right direction, but not quite as fast.
"How do schools safely, efficiently and seamlessly integrate blended learning technology into their classrooms? The reality is many classrooms are very fragmented when it comes to their devices. Linking different devices together so they link seamlessly can be problematic if brand or software agnostic solutions aren't properly considered. New technology, like cloud whiteboarding platforms, aims to tackle these incompatibility issues. After all, teachers are great at teaching. They're not technology experts. Therefore, we need to make learning and implementing new technology as easy as possible.
He outlined the ways in which edtech devices are being used to engage students: "Getting children together in the same place and with the ability to work collaboratively in groups is essential for their future development".
"Touch tables, teaching stations and interactive displays are like the equivalent of the 'huddle space' in an office setting. These types of environments are helping to equip young people with the skills needed for life after school, setting them up for a team environment. The advantage of interactive flat panel is the ability to collaborate group to group, no matter the location.
"Schools are taking into consideration what technology will help them stay collaborative, no matter whether they're delivering lessons in person or remotely. Ease of use, seamless sharing and device compatibility are some of the main benefits that teachers and IT managers are seeing when adopting interactive teaching styles through the latest interactive technology. We want to enable schools with the right tools to continue positive learning outcomes, no matter the situation or geographic location."
Using tech to boost engagement
Gene Ng, Head of APAC and ANZ at Promethean, said: "In our recent edtech survey, the State of Technology in Education Report 2021, almost half of all respondents indicated that they plan to use technology to boost engagement during lessons – and we anticipate that purchasing trends will follow these strategic priorities.
"Similarly, while technology has been used to enhance classroom activities for many years, we have recently seen an increase in schools seeking to boost collaboration using edtech solutions. We are also seeing purchasing trends evolve to reflect the growing importance of cybersecurity. Many schools are looking more closely than ever at the cybersecurity implications of new technologies, both in terms of pupil safeguarding and infrastructural concerns such as data protection.
"Interactive devices are a valuable tool for promoting collaboration and engagement in the classroom, and schools can take this even further by creating an edtech ecosystem that is greater than the sum of its parts. This means finding classroom solutions which are compatible with one another, and can be used in tandem to create innovative new activities.
"For example, some interactive displays can facilitate screen sharing to and from individual devices like tablets or laptops, so that students can show their work at the front of the class. This is a great way to encourage collaborative activities like peer-to-peer feedback sessions and give students new ways to engage with the learning experience.
"According to our recent survey, interactive panels and interactive whiteboards are now the most commonly used classroom technology, with 99 percent of educators using them at least occasionally. It's clear that the flexibility and versatility they offer is a huge benefit for schools.
"Finding a solution that suits all kinds of teaching methods and classroom setups is key, and interactive displays can give teachers all the resources they need to craft varied lessons for each and every topic."
Learning style diversity requires diverse tech solutions
For Epson Australia's Nathan Fulcher, "One of the key positive trends in education for many years now has been the incorporation of more and more elements of fundamental learning styles, often cited as visual, auditory, kinaesthetic, and reading/writing.
"All learning styles have their complimentary teaching methods and though every student employs a combination of all styles, we now understand that being able to cater to all of them is key to better global outcomes. Particular importance should be placed on visual learning given the complexity of the human vision system and its importance in how we process information. As much as 90 percent of the information transmitted to our brains is visual and 40 percent of the nerve fibres in our bodies are linked to the retina. Our eyes can register 36,000 visual messages per hour and it's estimated that visuals are processed 60,000 times faster in the brain than text. This means that great emphasis should be placed on the type of display technologies used in an education setting. First, displays have to be large enough for every student in the room to see every detail.
"A study conducted by Radius Research in multiple U.S. markets found that 58 percent of students wrote down at least one item incorrectly when asked to find and note data from basic content – an Excel spreadsheet and a PowerPoint schematic – shown on a 70" conventional flat panel display. Projection technology, on the other hand, can achieve display sizes of 300" and beyond. Because display size is measured on the diagonal, even a 100" projection display has an area that is actually four times greater than that of a 50" display, not two times.
"And projectors are not what they used to be… Modern iterations are 'all singing, all dancing' that teachers and students can interact with as you would with an electronic whiteboard; you can annotate on top of the image, print out from it, have multiple pages open simultaneously to scroll through, and much more. To fully take advantage of the power of visual learning, you need the right sized display. Size matters!"
Primary and secondary schools have different edtech needs
Ig3 Education's Tony Church told us that "over the last couple of years, primary schools in particular have favored Interactive LED panels over other technologies, including interactive projectors and interactive whiteboards".  
"Secondary schools are different, and while a large number install interactive LED panels, the majority are used mainly for display purposes. As such, many secondary schools would favor non-interactive display technologies such as projectors and TVs. When comparing TVs with Interactive LED panels, it is often more advantageous to go with the interactive LEDs for the following reasons: 
Competitive price
Longer warranty
Anti-glare screen
Toughened glass
Wireless display connectivity, etc.
"Most classrooms are based around a teacher-centered model, so updating the classroom/teacher presentation system with products to enable seamless integration and use of teacher and student technology devices, irrespective of the technology platform, is extremely important. It is also important to consider the fact that the technology replacement cycle will be much longer with interactive LEDs, so ensuring that the right product is selected is equally important to ensuring that the right supplier is selected. The importance of training and support should also never be discounted. 
"Interactive LED panels should include the following 'minimum' features: 
Multi-touch
Anti-glare toughened glass
Built-in android, which allows for the use of the panel without having a PC connected
Wireless display capability from any handheld device, including Windows Laptops, Mac, IOS, Android, and Chromebooks.
Supplemental curriculum software resources
Optional Built-in PC
On-site warranty
Lesson creation software tools
Teacher training
Support
"Multi-touch functionality is useful for schools. For example, a 20-touch panel allows for up to 10 students to use the product simultaneously but it is also important to consider the physical space available, in other words how many students can comfortably fit in around or in front of the panel?
"I've noticed that popular sizes for classroom interactive LEDs are currently 65" and 75", although other sizes are available, including 55", 86" and 98". Adding high quality webcams to the panels is becoming more and more popular, especially with COVID and teachers often having to teach student online."