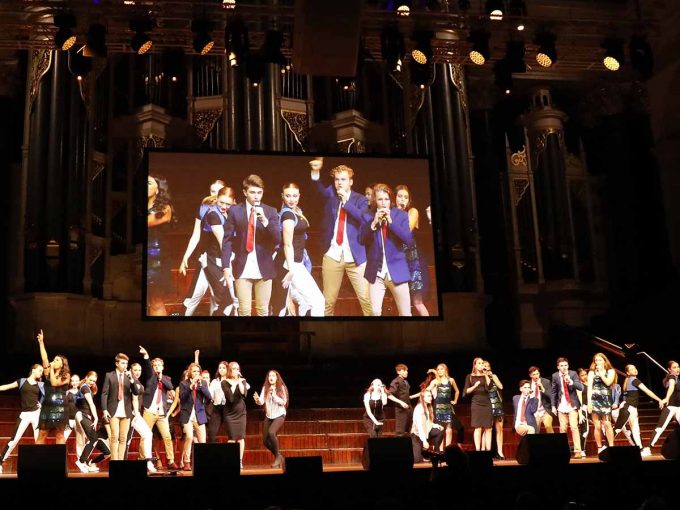 The Public Education Foundation annual awards again turned the focus on students and educators achieving against the odds.
Daniel Lahood from Ashfield Boys High last night became the 1,000th scholar to receive a Public Education Foundation scholarship.
Speaking at the 10th Proudly Public! Celebrating Excellence in Public Schools awards night at Sydney Town Hall, Daniel said he was honoured to be awarded the 2019 Unions NSW Jeff Shaw Memorial Scholarship.
"When I reflect on the life of The Hon Jeff Shaw, it is an inspiration to me as I feel we both represent very similar values, especially as staunch defenders and advocates for public education in NSW," Daniel said.
"The opportunities I have been given at Ashfield Boys High School to assist me in following my dream career paths of law and politics is more than I ever could have asked for."
Daniel was among 131 public school students and educators from across NSW to receive scholarships at the national awards.
Bankstown Senior College – a public high school for senior secondary and adult students – was a big winner on the night with 25 of its current and former students receiving scholarships and awards.
Among its winners was Somali refugee and 2018 HSC graduate Hani Abdile, a former Christmas Island internee and published slam poet.
Ms Abdile, who is now studying communications at UTS, won the inaugural Western Sydney Leadership Dialogue Scholarship.
In the 10 years since it was launched the Public Education Foundation has awarded more than $3 million in scholarship funding.
The Department of Education Secretary, Mark Scott, thanked the foundation for its ongoing support of public education in NSW.
"These scholarships are about recognising and rewarding student excellence to encourage high-achieving students to continue to maximise their potential," he said.
"I congratulate our students, teachers and leaders who have won scholarships – it is their efforts that combine to create the extraordinary public education system we have in NSW."
David Hetherington, Public Education Foundation executive director, said the awards were about celebrating "enduring values of our public education system, a system that provides the greatest of all opportunities for young people to succeed in life".
"It has been an enormous privilege to work with so many inspiring students and educators who recognise the transformational power of education," Mr Hetherington said.
More than 40 students, predominantly from the Illawarra and Shoalhaven area, provided the entertainment for the Public Education Awards.
The students are all featured vocalists and dancers who have auditioned to be part of the Southern Stars performing company in 2019.
Southern Stars Executive Producer, Paul Roger, said it was a testament to the world-class quality of student performances that Southern Stars was asked to take part in the Sydney awards show.
Southern Stars is the premier performing arts event in southern NSW, involving 3,000 public school students performing at the WIN Entertainment Centre in Wollongong each year in August.
Read the full list of the 2019 scholarship recipients.