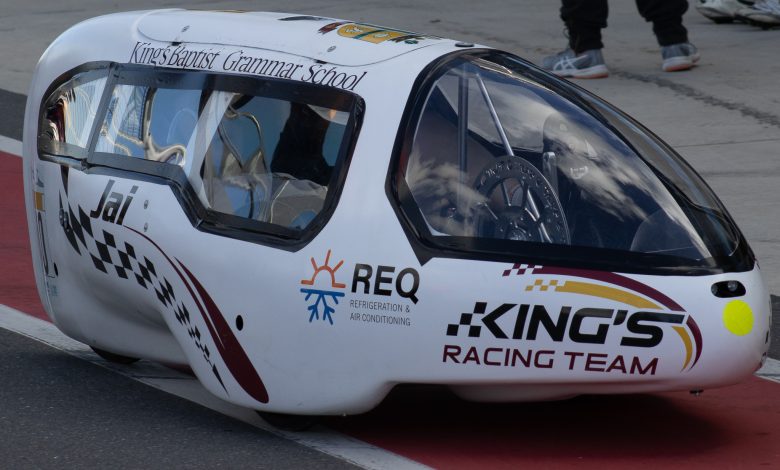 Name a subject where students ranging from Year 7 to 12 can work collectively to learn about everything from Newton's Law of Motion to elite athlete diet management, while honing practical skills from welding to writing press releases. If you can't think of one, then you've probably never heard of the Pedal Prix.
Read the latest issue of School News HERE
King's Baptist Grammar School is a co-educational ELC to Year 12 Christian school in the north-eastern suburbs of Adelaide. For two years they have been participating in the UniSA Australian HPV (Human Powered Vehicle) Super Series, otherwise known as the Pedal Prix.
Wayne Grady, Senior School House Leader at King's and Team Manager for Pedal Prix explains what the program is: "The Pedal Prix program is the combination of fitness, driving skills, construction, pit management, rider management, vehicle tracking and timing with software and GPS, in an effort to propel a human powered vehicle around a track as many times as possible in a set amount of time."
That 'set amount of time' ranges from 6 hours up to 24 hours; races of stamina and teamwork with six main races of 6 to 8 hours during the year, culminating in the Murray Bridge 24-hour race, with drivers constantly rotated throughout the event. From King's very first race in the AHPV Super Series the team was highly competitive finishing in the top third of the field.
The school has two HPVs – a Middle School vehicle with about 14 students and the Senior School vehicle with 10. While 'Human Powered Vehicle, (HPV), Engineering and Racing' is a SACE course delivered as a Year 10 elective, around 25 students from across Years 7 to 12 are involved in the program as drivers, pit crew and management when racing on weekends.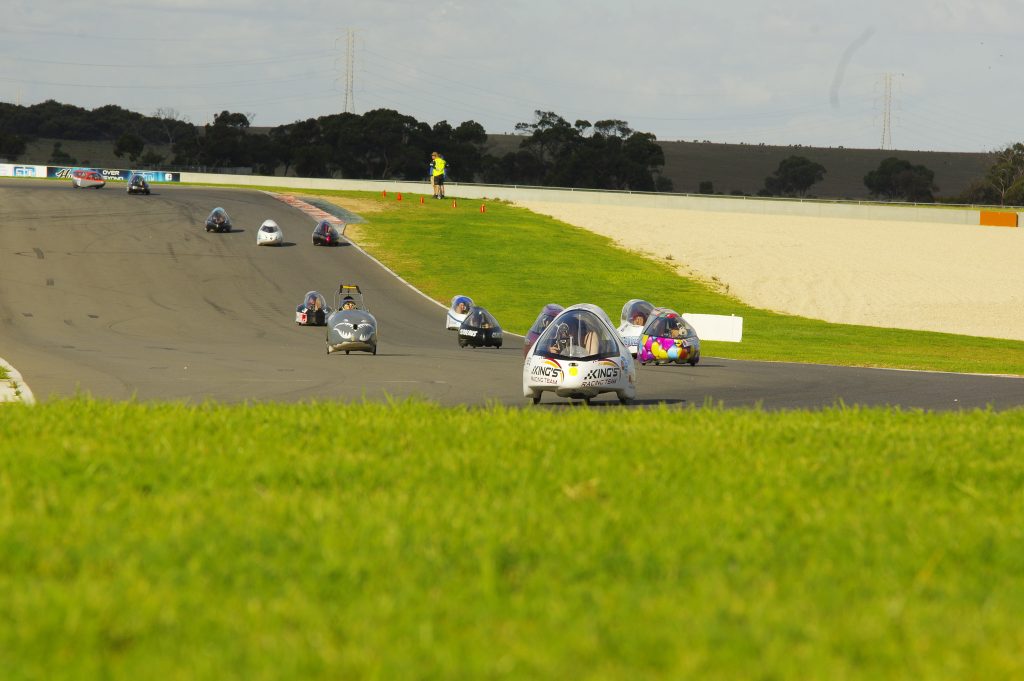 The resulting sense of community that develops over the race year is one of the many positive aspects of the program. The other is the broad range of learning areas that are encompassed by the Pedal Prix.
The ultimate STEM program
"Simplistically, the practical outcome is HPV racing in the Australian International HPV Super Series," says Steve Marshall, Technology Leader at King's and Pedal Prix Team Manager.
"However, the penultimate outcome is the STEM engagement of students when applying skills and knowledge from every learning area to achieve a shared goal. It really is the ultimate STEM course – I think it would be difficult to find a STEM program as comprehensive as the Pedal Prix."
Students apply mathematics and physics laws in practical application while designing and manufacturing components for HPV racing vehicles. They learn welding and engineering skills. They learn how to disassemble and rebuild the vehicles, repairing and tuning them for race performance.
Students also run a data and logistics team to set up GPS tracking race telemetry and monitor the vehicle on the track, analysing performance of both rider and vehicle, adjusting race strategy for optimum outcome.
Beyond STEM, the Pedal Prix has many cross-curriculum links including: Budgeting and event logistics; fitness testing and training; vehicle maintenance, modification and repairs; elite athlete diet management and event catering; writing press releases and marketing; advanced mathematics with steering geometry and gear ratios; climate control, wind resistance and environmental issues; fabricating and 3D printing tools and; designing vehicle graphics, signage and logos.
Steve Marshall adds: "HPV Racing and Engineering engages students and community members to capture their attention in a manner which brings them back year after year. The goal of making the team better each race results in students undertaking their own research and learning far beyond the classroom."
"The HPV Racing and Engineering program at King's Baptist Grammar School really is an outstanding example of best practice in co-curricular educational programs because it links so strongly to every other subject. The value in this project-based program is that students see relevance in their learning and bring knowledge and skills from a diverse range of subjects to work together in cooperation to achieve a team goal. The program has developed enough now that students are wanting to enrol at King's Baptist Grammar School so that they can be involved in HPV Racing and Engineering." Steve Marshall, Pedal Prix Team Manager.
Beyond the curriculum
King's Baptist Grammar School promotes the FISHER principles – fairness, integrity, service, humility, excellence, respect and responsibility – all qualities demonstrated by the students involved in the Pedal Prix program.
"The King's Racing program has been highly effective in developing personal skills," says Steve Marshall.
"Drivers have demonstrated integrity and responsibility by sticking to an afterhours training program in preparation for races. They also demonstrate fairness by learning race rules and track etiquette and conducting themselves in a manner which gained the respect of other teams. Each team member also assisted in setting up and packing up at races as well as assisting with driver changeovers. Some students were involved simply in a service capacity, supporting other students as pit crew or in data management. Possibly the fantastic teamwork developed was the biggest win for the students."
The students involved in Pedal Prix come from a wide variety of backgrounds, with different athletic and academic abilities. Jason Urquhart, Technologies and Pastoral Teacher and acting Pedal Prix Team Manager, says this is another strength of the program.
"The students come from a broad cross section as it draws on a variety of interests. We definitely have those who would be considered competitive from a sporting perspective but that wouldn't necessarily be the norm. The mechanical and tech aspect draws some, a desire to lead team and formulate strategy others. For me, one of the strengths of the Program is the diversity of students who come together and the community that it creates."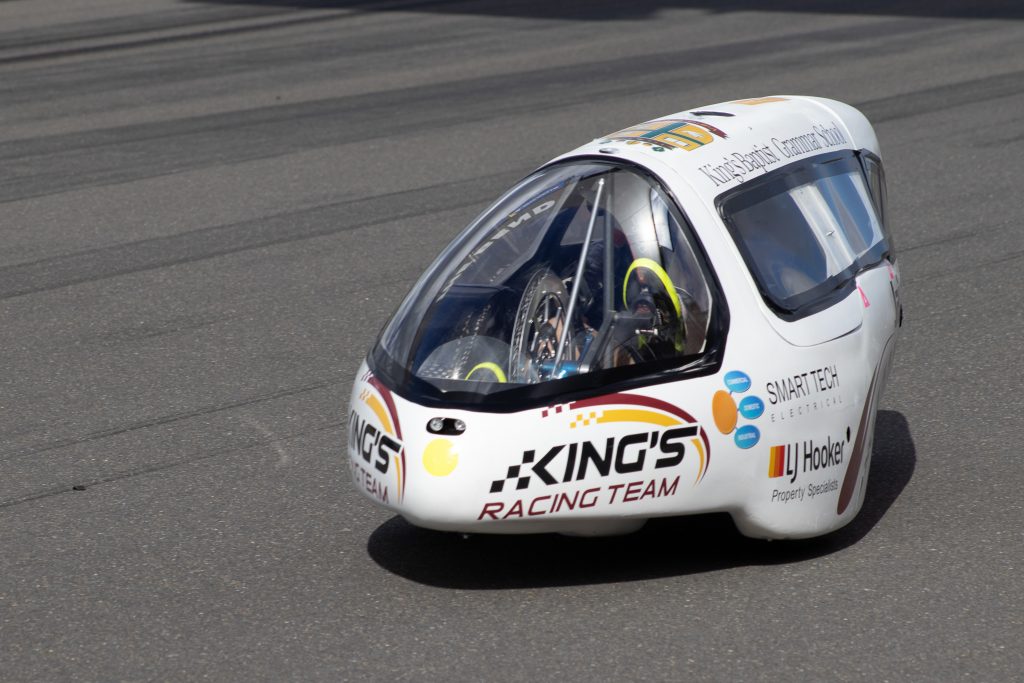 That community stretches beyond staff and students, with families and parents often involved in race events from catering and sponsorship to track marshalling and helping with vehicle maintenance.
King's Baptist Grammar School is now in its second year of participating in the Pedal Prix, having identified a need for a program to cater for students with an interest in cars and mechanical engineering.
The Year 10 HPV Racing and Engineering course has met that gap, providing a strong school connection for students with a unique set of skills and interests. Extending involvement across the entire senior school has meant students from other year groups bring expertise from other subject areas and life experience. The result has been highly motivated and engaged students who can see real world relevance in their learning.