Education
NSW Update: STEM comp, HSC prep & regional school restrictions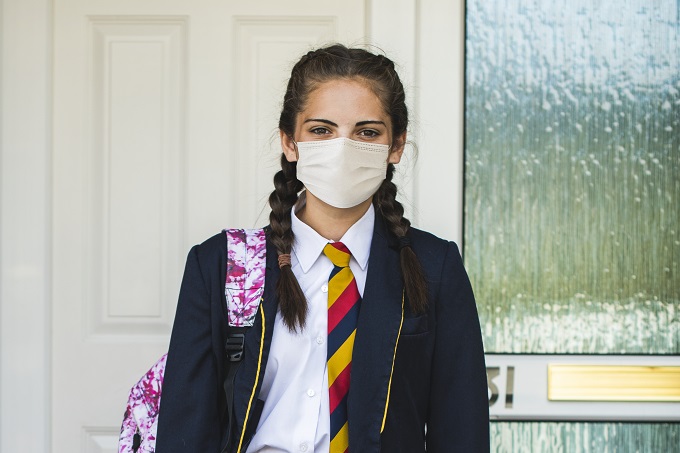 STEM students prove they are masters of the universe
Vanessa Lahey meets a team of budding astronauts from Newcastle that has won an international space race.
A student team from Toronto High School has taken a giant leap on the international stage, winning a prestigious space race competition.
Twenty-five schools from three nations – Australia, Egypt and the United States – were involved in the virtual race to the fictional planet Vulcan.
The six-day challenge required contestants to design a concept spacecraft and plot its interstellar navigation through outer space.
Year 9 students Chris Olde, Sebastian Hornsby and William Roberts along with Finn Pirret in Year 8 also had to create a simulated base station and overcome challenges such as optimising fuel usage on transfer orbits between planets.
The students used the virtual reality software SpaceCRAFT, a program that models space and planetary environments using planetary and physics data from NASA, during the competition.
Race manager, former NASA astronaut Professor Gregory Chamitoff, said the results from Australia's Hunter region in its first year of the competition were truly outstanding.
"The dedication and skill level of the students can't be overestimated, it bodes well for the future international space community," Dr Chamitoff said.
The students were mentored through the competition by professional astronauts, engineers and scientists, all of whom have been directly involved in actual space missions.
Toronto High School Principal Mark McConville said the competition was part of his school's High Potential and Gifted Education Accelerated Class called LEAP – Learning Enrichment and Accelerated Program (LEAP).
"The Regional Development Australia – Hunter Manufacturing Education partnership program facilitated the SpaceCRAFT Exploration Challenge," Mr McConville said.
"It's a partnership focused on skills and workforce development and links industry with schools in order to make the curriculum more interesting and workplace-relevant.
"The LEAP team engaged deeply with the program and have an ongoing interest in this area. It's sparked possible career pathways for these students."
Team member Sebastian Hornsby, who also received the perseverance award in the competition, is one of those inspired by a future space-related career.
"I enjoyed listening to the talks from previous astronauts, as well as the Australian robotics expert Ben Morel," Sebastian told local media.
"It has helped me realise why this is an excellent avenue for me to pursue later in life."
New 'study bubbles' for HSC students
HSC students will be allowed to organise study groups on school grounds to help in their preparation for exams.
HSC students will be allowed to study at school with four of their peers, in the lead-up to the HSC exams which start on 9 November 2021.
From Tuesday, 5 October Year 12 students and those completing HSC exams this year will be able to meet in groups of five at school in a "study bubble", in line with NSW Health advice.
The HSC study group can comprise of no more than five students from within the same daily scheduled groupings or study sessions. They must be the same five students for the day; and students in a bubble cannot move between or mingle with other study bubbles during the day.
A study bubble is separate from the buddy bubble for students aged under 18, announced last week.
NSW Department of Education's COVID-19 Taskforce Lead Ruth Owen said the study bubble was in addition to the scheduled on-site individual and small-group support currently available to all NSW HSC students in stay-at-home areas.
"Until the staggered start to face-to-face learning begins on the 18 October, Year 12 students and those sitting HSC exams, even if they're in lockdown LGAs, will be able to access school sites for up to three hours per day, five days a week for revision, wellbeing support and their peer study bubbles," Ms Owen said.
"All activities must comply with current Public Health Orders and that will mean the study bubble groups must meet only in outdoor areas, or well-ventilated indoor open spaces such as school halls or libraries.  
"This HSC cohort have had such a challenging time with COVID, we hope this study bubble will help ease some of their anxieties ahead of their exams.
"While at school, HSC students will also be able to access essential curriculum revision, wellbeing support from staff and participate in scheduled, small-group, face-to-face learning with the class teacher.
Schools will continue to provide support for students preparing for the HSC at home.
Regional schools welcome students back for Term 4
As the final term of 2021 begins, students in some regional parts of NSW are returning to the classroom and face-to-face learning.
More than 140,000 students across NSW return to face-to-face learning today for the start of Term 4.
With COVID-19 restrictions eased across many parts of rural and regional NSW, 721 schools – almost a third of the State's public schools – will welcome all students back on site.
Students will return to COVID-safe settings that include QR code check-ins, no visitors, restricted activities, increased hygiene practices and mask wearing.
Minister for Education and Early Childhood Learning Sarah Mitchell said she understood how important it was to have children back in classrooms.
"Thousands of excited students are returning to the classroom in the regions today, and will soon be followed by students in other parts of the state with either a staged return from 18 October, or via the easing of local restrictions," Ms Mitchell said.
"After a disrupted Term 3, it is more important than ever that students receive the academic, social and wellbeing benefits of being in the classroom. Despite this excitement, it is important that parents and students follow their school's guidelines for safe operations, and practice physical distancing at school pick-ups and drop-offs.
"I know there remain some concerns in the community around the return to school, but students, staff and parents should feel confident our schools are as safe as possible."
Several measures are in place for a return to school, including increased cleaning activities and additional hygiene and safety practices, which have been bolstered by supplies of face masks, hand sanitiser and surface wipes made available to schools.
Support and guidance will continue to be provided to principals to support ventilation, personal hygiene, and school activities to ensure schools can operate in a COVID safe way throughout the term.
Parents are encouraged to look at their school website, Facebook page or newsletters to learn about new procedures that have been introduced, such as changes to parents' access to the school grounds, drop off and pick up points as well as new safety and hygiene rules.
For updated information on the return to school and restrictions, visit the Advice for Families page.
Wellbeing support and advice is also available online.