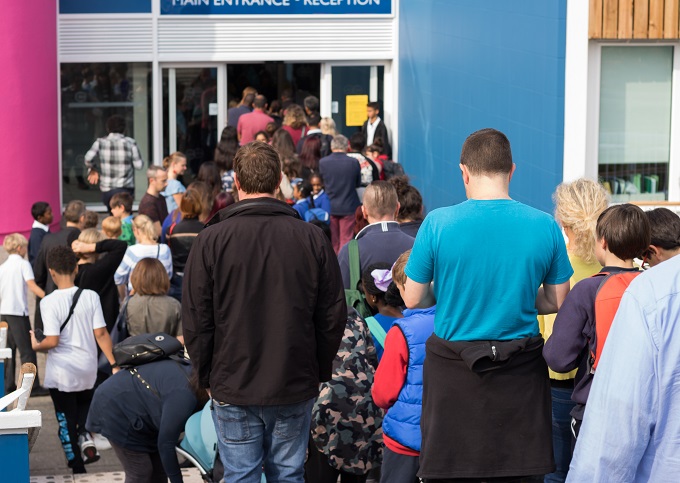 Back in the day when life seemed much simpler and tasks were less risk-assessed, teachers marked student's attendance roll on paper and visitors were greeted with a friendly smile at the reception desk and were asked to sign their name in a register.
This story was originally published in our Term 1 issue: read the full magazine here. 
Today, teachers and administrators are far more security-conscious and starkly aware of the risks posed to absent students and dangers from unwelcome visitors leading to schools beefing up their visitor management procedures.
Schools are under increased pressure to check the legitimacy and credentials of visitors entering school grounds. Many aspects of school administration and classroom preparation have been streamlined through a variety of software programs that can be a 'one-stop-shop' for teachers, students and parents where everything can be recorded and tracked in real-time.
Of course, visitors to a school should be welcomed with a warm smile but registration procedures are vital and differ from school to school but the most efficient method is digital. The new processes generally involve guests digitally entering their names into an iPad stationed at the front counter and selecting their visitor type from a list of drop-down boxes. A person signing in may also need to complete a background and credential checking to ensure they have been cleared to work with children.
Visitor management policies differ from state to state but all aim to create safer school environments able to manage the legal demands of the modern world and minimise any liability. For instance, the Victorian education department provides an extensive explanation of its visitor management procedures and categorises visitors into the following: prospective parents and employees; guest speakers and other invited members of society arriving for a teaching purpose; salespeople such as uniform suppliers, book sellers, talent scouts and photographers; and, religious leaders or instructors providing special religious instruction. 
As a minimum, Victorian schools are required to ensure they have a record of all visitors in case of emergency or for future investigations and in other states the sign-in procedures also include checking whether guests who will be working with students have the appropriate approvals for example the Working with Children Check in Victoria or the Blue Card in Queensland.
A good visitor management system can also cover other day-to-day tasks, such as staff signing in and out, tracking the provision of first aid to students, or reporting and tracking late student arrivals and early departures. The system can also notify teachers of student movements and alert staff to the arrival of their visitor with an email or SMS.
Keeping in mind other benefits, such as data collection can be undertaken and used for future marketing and communications. The system can also be customised to your school and even link to school signage. A thorough school management system may do almost everything from visitor monitoring and student attendance, to lesson planning, bill paying and curriculum creating.
There are many software platforms on the market, so do your homework and make sure that the system you choose will save you time and enable meaningful communication with students, teachers and parents.
Implementing a visitor management system can be a challenging process, and your school leadership team must proactively drive the project forward, have a plan and ensure everyone is on the same page and enthusiastically implementing the new system.
Remember to embrace all new digital technologies because they could dramatically reduce your workload and more importantly, they will add a greater measure of security for all, to your school day.
Specialty insights from the industry
School News spoke with Stephen Darracott from Pitney Bowes to find out more about services now available to schools.
"The different devices available really come down to footprint in the school. Some people prefer a standalone device while others prefer a desktop tablet device that can sit tidily on the counter where the book would have sat.
"Different devices meet the varying needs of communicating with the visitors. For example, when contractors visit the school they need to sign an acknowledgement that explains the conditions of being onsite, emergency procedures and exits. Likewise, for parents signing in, schools can use the same device to promote a school event to parents.  With a visitor management system schools can do all this electronically, rather than signing a physical paper and then storing it somewhere for future audit needs. There is a shift from physical to digital.
In the future, he revealed: "I think we will find more automation in schools. As the world digitises, people expect to have information at the touch of a button.
"On that front, I think visitor management is a good start to digitizing schools' processes to ensure the safety and security of its premises."