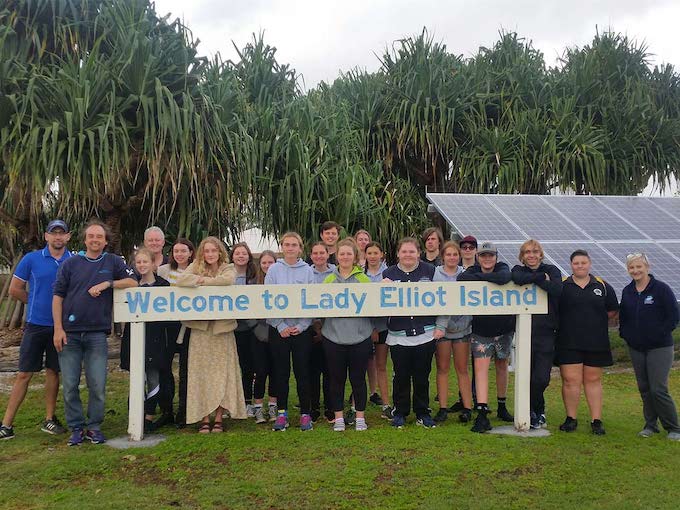 Department Secretary Mark Scott investigates why adventurer and aquanaut Lloyd Godson made the transition into secondary school teaching and how he is using his experiences to inspire students.
Lloyd Godson has spent a month living underwater, propelled himself through the Greek Islands in a human-powered submarine and holds the Guinness World Record for the most electricity generated by peddling underwater.
Now the adventurer is facing another challenge as he moves from a life pushing the boundaries of human existence in an aquatic environment to a career as a science and marine studies teacher at Hastings Secondary College in Port Macquarie.
In the latest episode of the Every Student Podcast series, Mr Godson told Mr Scott the decision to move into the classroom was inspired by an American teacher he met during his adventures.
Mr Godson had always used his adventures to "engage kids with whacky out-of-the-box thinking" and use the science behind the adventure to educate them.
He admitted to Mr Scott he had never thought about teaching until he was exposed to "some really amazing teachers who inspired me eventually that, 'Hey, maybe this teaching thing wouldn't be so bad'"
"I [realised] I would be able to pass on my passion and enthusiasm to a lot more children on a daily basis."
Mr Godson said the project to live underwater in 2007 involved students from an American school who designed the life-support system.
"They raised about $US30,000 on their own in their community, flew over to Australia, built my bio-coil and installed it in my underwater habitat," Mr Godson recalled.
"The teacher took a back step and let these kids work. He stepped in when he needed to, he guided them, and he mentored them. They had a very special relationship – I saw the way that they respected each other and I was really impressed with the way he worked.
"Like me now he had entered teaching late in his life. He had a huge influence on my decision to take what I had done previously and incorporate that into the classroom and I have tried to mimic his teaching style and give students opportunities and allow them to work as teams and be there to guide them."
This has included helping students work on real-world problems within the school and community, during class but also in lunch hours and after school.
"I had one group, in particular, from Year 7 who really grabbed this opportunity and ran with it. They wanted to improve the wellbeing in our school and they came up with a therapy dog program," he said.
The project was a success within the school and was selected as the Australian entry at the international Be the Change Celebration in Taiwan late last year.
"I took two students over to Taiwan in November and they presented their design- thinking project to an audience of 4,000 people in Taipei," he said.
"That was a really empowering experience for the children but also for me, as a teacher, to see what was possible when you give these kids the opportunity to work in a small group like that and take on a problem that means a lot to the students."
He also received an $18,000 grant to take a group of 18 marine studies students to Lady Elliot Island in July, and most recently received a State Government grant for a machine that will help his students build prosthetics from recycled plastic.
Mr Godson said he had received incredible support from his head teacher who had encouraged his creative approach to teaching as a way to engage students.
He said students behaved "completely differently" when they worked on projects that had a real value.
"Kids that might give you a hard time in the classroom, you can have amazing discussions with them out in the field and you form completely different relationships with students when you are doing something like that," he said.
Hear the full episode: