As part of the Cathy Freeman Foundation's 10th anniversary on June 6, 2017, schools around Australia are being asked to celebrate and support the foundation's work by holding a gold coin fundraiser. 
"Kids helping other kids is a very Australian thing to do. It's also a great way for all children to understand more about inequalities in education outcomes in Australia," said Cathy Freeman, co-founder and director of the Cathy Freeman Foundation. 
Ms Freeman says it all starts with the school environment is where it starts: "The expectations should be the same for everyone inside a classroom. When kids walk into that room each day, they need to know that their dreams are as important, real and achievable as the person sitting next to them. But unfortunately today in Australia, not all kids have the same access to a good education."
The Cathy Freeman Foundation works in partnership with local communities – schools, parents, Elders and community members, as well as organisations – to deliver its programs.
"Raising funds is vital to our work, but it's just as important that we bring all kids into the conversation to feel empowered about the issue, and become part of our work," said Jamie Howden, CEO.
"We support children's education from the early years at home, right through to adulthood. We stay with the child for the long haul. And it's an approach that is getting results. 
"School attendance and Year 12 completion have improved out of sight on Palm Island, where the program has been in place the longest," said Jamie.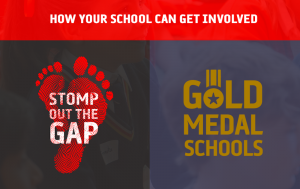 Let's hear it from the students:  
"I want to graduate Year 12 and get my own car and house. The Cathy Freeman Foundation has helped me with my dreams, culture, being brave, having a good education, being proud of myself" – Lendell, aged 11, Palm Island. 
"I want to go to uni to study and I want to be a teacher when I finish uni. The things that will help me are my community, my family and my culture. On this Horizons Camp I have learnt to have a go, try my best and behaviour all the time." – Joanne, aged 11, Palm Island.
"My dream is to be a footy player, have a good job and own a house. To achieve my dream I need lots of training, be fit, eat healthy and work hard. This camp I made new friends from Elcho and Woorabinda. I learnt how to be confident." – John, Wurrumiyanga, Tiwi Islands
Where did the Cathy Freeman Foundation all begin? 
Ten years ago, the Cathy Freeman Foundation gave out bicycles to kids on Palm Island to encourage school attendance.
Today, the Foundation works directly with some of the largest Indigenous communities in Australia where education is at its most fragile.  
Its programs are specifically designed to improve attendance and Year 12 completion, through education programs, scholarships and sports activities.  
The Cathy Freeman Foundation firmly believes that education starts at home. This is why its programs start before a child even reaches school, by working with parents and children on literacy and school readiness skills in their pre-prep years. 
The education programs then follow the child through major stages of their education journey as they move into primary school, and then onto the all important secondary years.
In 2016, the foundation reported: 
  A 350% increase in the number of Palm Island students completing Year 12
  2400 student awards for above 90% school attendance 
  86% of 'Horizons' students say the program contributed to their completion of Year 12 
The Cathy Freeman Foundation partners with four remote Indigenous communities: 
Palm Island, Queensland; 
Wurrumiyanga, Bathurst Island, Northern Territory;
Woorabinda, central Queensland;
Galiwin'ku, Elcho Island, Arnhem Land, Northern Territory 
Link for schools: https://www.cathyfreemanfoundation.org.au/schools