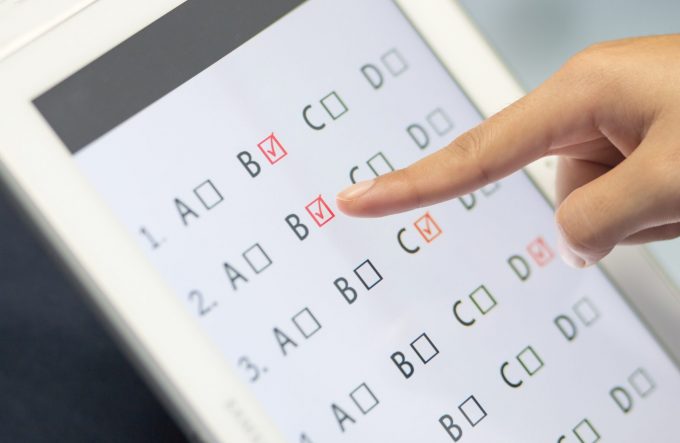 Love it or loathe it, NAPLAN testing starts this month and this year schools will begin transitioning from pen and paper to online testing.
NAPLAN Online is being rolled out this year with the aim of providing "better assessment, more precise results and faster turnaround of information".
According to NAPLAN's website the online testing will be "tailored testing" which gives students questions better suited to their ability.
The "precision and improved timing" of the results will help teachers tailor their teaching more specifically to student needs.
The federal government says "significant planning, development, research and trialling have been ongoing since 2012 to support the move to NAPLAN Online".
State/territory education authorities will determine the timing of their move to NAPLAN Online and lead implementation for their state/territory.
Frequently asked questions about NAPLAN Online
Q: When will NAPLAN Online start?
A: Schools across Australia will start to go online from 2018 on an opt-in basis. State/territory education authorities are responsible for determining when their state/territory moves to NAPLAN Online.  
Q: Can students use their own tablet or laptop?
A: NAPLAN Online supports BYOD (bring your own device) for students. BYOD devices must be secured so students do not have access to unauthorised websites, applications and spell-checking features. NAP locked-down browser applications are available to support schools in ensuring online assessments run smoothly.
Q: How secure will the online platform be?
A: The NAPLAN Online assessment platform (under Education Services Australia's direction) has state-of-the-art security protections. The online platform is designed and has been extensively tested to be compliant with government and industry standards for security, interoperability, privacy and accessibility.
In preparing for NAPLAN Online, the online test environment has been used in various online assessment activities as well as the National Assessment Program: Civics and Citizenship sample assessment in 2016. These activities have allowed us to test the security of the system. 
Q: How will tailored testing work?
A: During the test, students are presented with sets of questions based on their performance. Many of these questions are of mid-range complexity for each year level, but some are of higher or lower complexity. Students who experience difficulty early in the test are given some questions of lower complexity, more suited to their performance. These students are less likely to become discouraged as they progress through the tests. High-achieving students are given questions that they find more challenging.
Students who complete a more complex pathway are more likely to achieve a higher score (and a higher band placement). Students who answer the same number of questions correctly, but follow a less complex pathway, will achieve a lower score.
Q: Will student be completing the same test?
A NAPLAN questions have always assessed a wide range of difficulty. What differs from student to student in the online test is targeted questions of either higher or lower complexity, depending on the student's performance. These targeted questions are designed to provide more focused, detailed results that can be used to target teaching.
Q:  Have schools used tailored testing in the past?
A: Many school testing programs use a form of tailored testing; for example, the Progressive Achievement Test in Reading Comprehension, Vocabulary and Spelling, which uses adaptive testing to match questions to each student's level of achievement.
Most recently, ACARA has trialled tailored testing in more than 250 schools across Australia, using the actual test platform and real NAPLAN items, looking at both student performance during the test and the impact on the cognitive engagement and behaviour of students. More than 2,500 students in Years 3 and 5, and 1,500 students in Years 7 and 9 participated in the trials.
ACARA's research found that most students completed the test feeling positive and motivated to do their best and the test results were more useful in supporting the next stage of their learning.
Q: What is automated essay scoring?
A: Automated essay scoring (AES) can mark thousands of essays consistently, reliably and quickly. The system uses computer algorithms that are designed to mirror human scoring.
Q: How can you compare the results of NAPLAN Online testing and pen and paper?
A: Following extensive research undertaken by ACARA, NAPLAN online and paper forms have been explicitly designed to be comparable. Results for both paper and online tests will be reported on the same NAPLAN assessment scale for each test. The use of a common assessment scale, covering Years 3, 5, 7 and 9 in each of the areas of conventions of language, numeracy, reading and writing, allows for an individual student's achievement to be mapped as the student progresses through his or her schooling.
Q: How will schools with poor internet and limited computers run NAPLAN Online?
A: NAPLAN Online works best when schools have suitable hardware and reliable access to the internet. To assist schools in ensuring they have a sufficient number of devices, the test window for NAPLAN Online is extended from three to nine days to allow flexibility for tests to be staggered. As such, students will not all need to complete the tests at the same time.
Students will also be allowed to complete NAPLAN Online using a variety of devices such as laptops and tablets.
Q: Will there be staff training?
A: Education Services Australia will train key staff from states and territories on the functionality of the platform. Students and teachers can familiarise themselves with the testing experience, as well as the types of items to be included in the online tests by using the public demonstration site. Schools determine the device that students should practise on. Encourage students to practise on a device similar to the one they plan to use for the NAPLAN Online tests.