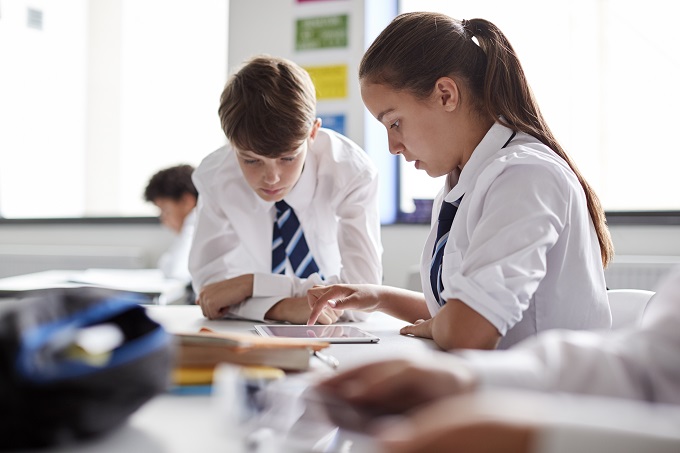 Including psychology in the Queensland senior secondary curriculum brings it in line with all other Australian states and territories except New South Wales, which is now the only jurisdiction not to offer psychology as a university entrance subject.
This year has been filled with challenges: the COVID-19 pandemic; the anguish and subsequent rebuilding efforts following the devastating bushfires; fake news on social media and its various impacts on decision-making and mental wellbeing; deep concern around the climate crisis; and the urgent need to address racism, emphasised through the #BlackLivesMatter movement.
These issues have placed real pressure on schools as they adapted and supported both staff and students. They've also highlighted the vital role schools play in our society. There's no one solution to address these complex issues, but it's led to a reconsideration of the school curriculum.
It's an exciting and significant time for this cohort, and their teachers and schools, as they pave the way for future students to study psychology.
The introduction of this study to Queensland represents a strong commitment of resources and exceptional efforts from the curriculum authority (QCAA), schools and teachers.
The learning of psychology can offer valuable contributions
When students study psychology, they examine the scientific basis of psychological research as they explore a wide range of topics, such as memory, consciousness, perception, social psychology, attention, motivation, emotion, human development, mental health, as well as the influencing roles of biological processes and social and cultural contexts on individual and collective behaviours.
They learn about psychology's unique contributions, its science base, and ways to scientifically think and apply psychology in socially responsible and ethical ways.
For example, in the lead-up to the Year 12 psychology examinations, teachers of psychology are encouraging their students to apply what they've learnt about memory, learning, thinking and managing stress as they study these topics for their upcoming examination.
During National Science Week in August, students of psychology in some schools ran activities for the entire school community, drawing on what they were currently learning to promote positive health messages related to dealing with the pandemic.
Students are applying their psychology knowledge, skills and capabilities to support their current study, reflecting the real world and authentic learning experiences that psychology can offer.
Introducing QCE psychology
I've been fortunate to work with Queensland Certificate of Education (QCE) psychology teachers during the past two years as they've implemented this subject. They've found teaching psychology incredibly rewarding, both working with students and collaborating with other teachers.
In my research, I asked them: "What are the most important reasons for teaching psychology in schools?" Their answers were multifaceted, and consistent with my other research with secondary teachers and pre-service teachers.
One teacher remarked:
"Psychology is such a broad and fascinating subject. It is highly relevant to everyone's lives, as it's embedded in everything we do. In learning about psychology, we can have a greater understanding of each other and the role of our society. It can really assist in thinking more scientifically and critically about what is seen in the media, and help students make better decisions in their own lives.
"We could possibly make the world a kinder, more compassionate and understanding place with the teaching of psychology."
Teachers' survey responses as to why psychology is important to be taught in schools include:
Psychology is interesting and enjoyable.
"Students find psychology fascinating. Students love it, teachers love teaching it."
Psychology is relevant and beneficial for:
"[Psychology] fosters deeper understandings about mental processes and behaviours that are highly applicable to their own personal and social lives."
"[Psychology is] helpful not only in school study and further study of psychology, but in every career."
"… working towards a caring, more accepting, ethically responsible and productive society."
Psychology is a unique offering in the curriculum.
"It is the missing link in schools, a lens on thoughts, feelings and behaviours that is not taught elsewhere."
Psychology promotes knowledge, skills and dispositions for scientific thinking.
"It allows students to learn how psychological science is carried out, analysed and evaluated, and to think critically and scientifically about research."
Psychology includes specific content areas that are important to teach.
"It is so important for teenagers to understand topics such as the importance of sleep, how memory operates, and how their brain works."
Psychology across Australia
Psychology is extremely popular in most places it's taught, both in Australia (refer to table) and internationally. For example, Victorian Certificate of Education (VCE) psychology has been the third-most-popular study for the past 15 years. Similarly, international curricula such as International Baccalaureate (IB), Advanced Placement (AP) and A-Level Psychology attract large numbers of students.
If Queensland follows the lead of other jurisdictions where it's taught, it's set to become a very popular senior secondary study.
Despite its popularity in secondary schools, psychology is not yet included in any foundation to Year 10 state curricula in Australia, nor is it part of the Australian Curriculum (AC). With Queensland coming on board, a stronger case for establishing a place for psychology in the AC now exists, especially in the senior years.
That said, I have seen psychology taught across all year levels. Many schools offer psychology in the younger levels, particularly years 9 and 10, often as part of science or an elective study.
Given the multiple demands on school curriculum, this inclusion shows there's groundswell support from school communities. They see great value in learning psychology across multiple year levels.
The diversity of psychology as a school subject
Psychology as a school subject must never be confused with a self-help course or clinical therapy or counselling, as sometimes happens in our community. Psychology's diverse nature means it can be integrated with a range of other subjects, and align with schools' learning agendas and wellbeing programs. Teachers of psychology can, and often do, work with other teachers to share expertise in such programs, as well as bring that learning into their teaching of psychology as a subject in its own right.
When offered, psychology is consistently one of the most popular subjects for final-year studies in Australia. Learning psychology appeals to students, and has the potential to build their capabilities to enhance their lives, their future careers and their communities – the very essence of what education should be about.
The enormous challenges we've faced, and continue to face, makes psychology even more relevant for students. Offering psychology education, and valuing it through inclusion in the Australian curriculum, will equip them to understand and cope with inevitable changes in the future.
Author: Karen Marangio, Lecturer, Science Education, Faculty of Education. This article was first published on Monash Lens. Read the original article