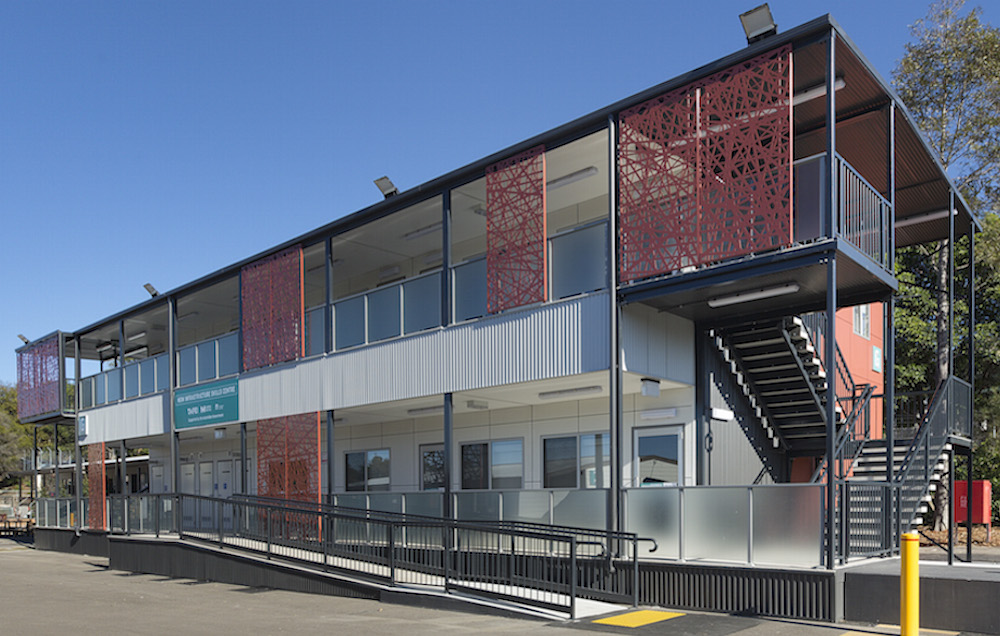 Innovative learning spaces have taken Australian education by the horns and dispersed classrooms with rows of desks all over the country – replacing them with flexible spaces, comfortable seating, reading nooks and breakaway collaboration hubs. While educationalists tear down the walls of traditional education, building providers increasingly field requests from school management teams for innovative, cost-effective solutions to provide learning environments that support the objectives of 21st century learning.
School News caught up with Clint Cunial, an education building veteran of 15 years' experience, and Business Development Manager – Education for ATCO Structures & Logistics.
Mr Cunial says schools are requesting bigger spaces with operable walls to provide the flexibility to open up spaces or close them off depending on the learning activity.
"They're after open spaces for kids to engage in a variety of learning activities, and to accommodate alternative furniture items, such as beanbags and collaboration pods."
He says the profile of requests has shifted: "They are also asking for structures that create outdoor learning areas for children to learn closer to their natural environment."
"We also work with some after school care clients and they need a large open space with the versatility to set up on 'nooks' for reading, or media corners, as well as kitchen and toilet facilities."
He said, "in the past, schools only cared about a square classroom, and now they are looking for spaces that accommodate their new teaching styles. They are thinking more about how the space can influence learning outcomes".
With this sort of flexibility requirement, versatility of design is key: "Modular buildings can be built to order, using the same quality of materials as regular buildings."
The buildings are fabricated with steel frames, and anything from plasterboard, fibre cement or Colorbond material.  Mr Cunial says interiors for modular buildings have also come a long way with top of the range carpets, glass, and timber feature walls.
"The design is flexible: designers can put together different modules of any scale and dimensions to custom build whatever space suits the school's pedagogical aims."
"You can move it to another site once built, or if initial outlay is a problem, classrooms can be hired for a period of months or years, while capital is raised for outright purchase."
Modular buildings may conjure images of the old rural transportable that sweltered in the midday sun, but Mr Cunial reports that the modern modular building is as sustainable and comfortable as it is versatile.
"All buildings have either reverse cycle air conditioning or fans, depending on the climate of their intended location," he said. Sustainable building applications for modular classrooms include solar panels, as well as careful planning of placement and orientation, to optimise energy efficiency. "The buildings can be positioned anywhere, and as the buildings sit on stumps, level ground is not even necessary," he added.
The interior is also a far cry from the blue carpeted boxes of days gone by. "Schools can request anything they need: amenities, food technology kitchens, and science labs, fitted out with gas taps, benches and sinks."
Certain applications require altered specifications such as manual arts spaces, which require heavy duty benches, and three-phase power. "We also need to reinforce the steel in the flooring, because of the heavy equipment," Mr Cunial added.
He says the flexibility extends over time: While it's a permanent design, schools can add on modules, pull off modules or remove internal walls to create a new space of any dimensions.
He says the solution has attracted schools with fluctuating student populations: "The offsite manufacturing also means reduced disruption and less external personnel on school grounds – not to mention the cost factor." 
With overheads considerably lower for factory construction than onsite building, and a possible turnaround of six classrooms in six weeks, Mr Cunial says schools are applying the responsiveness of modular building to the demands of 21st century learning.