News
Equip your canteen 101: kitchen must-haves
A quality school kitchen requires a quality fit-out, and that means commercial grade equipment.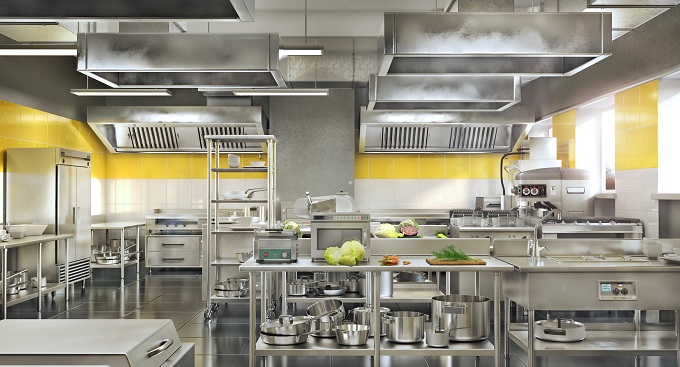 Whether you're upgrading a small tuckshop, or building a massive canteen from scratch, operating without commercial grade, high quality equipment is inefficient and unsafe.
What items do you need first?
No school can manage adequately without the following basic pieces: an oven and hobs, a large microwave, fridge, freezer, warm cupboard/drawer, water heater, slicer, mixer, and a large toaster. A fire extinguisher is also compulsory.
Once you've got those big pieces sorted, you're going to want to look at ordering the smaller must haves for your kitchen. These will allow you to maintain a high standard of food preparation and hygiene, whatever your catering needs. These include cooking utensils, kitchen knives, chopping boards, cookware, protective clothing and safety signage, as well as a first aid kit.
Kitchen storage solutions
The aforementioned items will allow you to cook tasty meals and snacks hygienically. But you also need to store it. Beyond a spacious fridge, you're going to need a walk-in cold cupboard or pantry to keep the food fresh. This must be well organised with storage containers and systemically labelled for safety as well as convenience.
Fridges and refrigeration cabinets
Ensuring your food is kept at the correct temperature is vital for health and safety, so having a fridge with sufficient capacity and layout is crucial. Traditional single-doored fridges, larger double door units, hi-tech touch screen operated outfits and dispenser fridges are all options to consider, depending on space, needs and budget.
Refrigeration or cooling cabinets allow you to ensure food remains chilled prior to serving or for self-serve selection. They can also provide an overflow to fridges for ingredients if fridge space is at a premium, but these units will mainly be used to store prepared cold food prior to consumption.
As with all equipment, cleaning and maintenance should not be neglected and fridges and refrigeration cabinets should be kept to a high standard of cleanliness. They should be serviced regularly to ensure seals continue to remain effective and all parts are in good working order to avoid bacteria build up, temperature loss or electrical safety risk.
Food warming and holding equipment
Many ovens contain a 'warm drawer', but this will offer insufficient space for your school catering set up. Hot food display cabinets allow you to present food and maintain temperature, either for kitchen or self-service.
Holding and proofing cabinets can be separate entities or combination systems. They are used to proof dough and keep food at the perfect serving temperature and start from around $1200 for a basic model.
Steam tables are the ideal food holding solution for high-volume operations. Food sits in metal trays, heating from below by steam, which work well for presentation and service. They are available as liquid propane steam tables or electric versions and can be mobile or static. Open well steam tables and sealed well options are available depending on your requirements and start from around $600 for a two pan open well steam table with undershelf.
Stainless steel drop-in hot food wells start from a one tray electrical unit, which can be purchased new from around $500. It is likely you'll need several trays however, and the multi-tray units generally cost in the region of $2000 for three tray options, and $3000 for four. These can be placed on top of your existing counter space and used for serving.
Commercial slicers and mixers
Manual gravity feed meat slicers will cost your school from around $400 for a 12-inch stainless steel slicing plate model. An adjustable rotary fruit / vegetable slicer is a handy purchase to have and allows your cooks to quickly produce a variety of sliced fruit and vegetables safely and effectively. These are for sale new from around $120.
Counter-top bread slicing machines will set you back around $1200 and can be adjusted to different slice size settings – perfect if you bake your own bread on site.
Commercial mixers are a Godsend in the school kitchen and should be a staple item. Prices vary, but for around $1000 you can get a sizeable, sturdy model that can deal with most of your mixing needs. Similarly with food processors, $1000 will generally be money well spent.
Ovens
As much a matter of preference for each individual head chef, ovens are a science unto themselves. There is little way of procuring a brand new one for under $1500 and they can stretch upwards of $7000 for all the bells and whistles. Gas, ceramic or electric hobs, counter-top, freestanding, built-in, double-deck, convention, griddle… deciding will be a project in itself! Most chefs will know what they prefer and what will best suits the needs of their kitchen, if not always the school's budget.
Dishwasher
Commercial under-counter dishwashers start from around $3000. Tall, free-standing dishwashers are an easy to load option, avoiding the need to bend over regularly to add in the dirty dishes. These are generally pricier, running more into the $5000-$10,000s. There are also specific high or low temperature models, counter top versions and ones that cater especially for heavy duty pots and pans.
For the latest in School News visit the online magazine here.