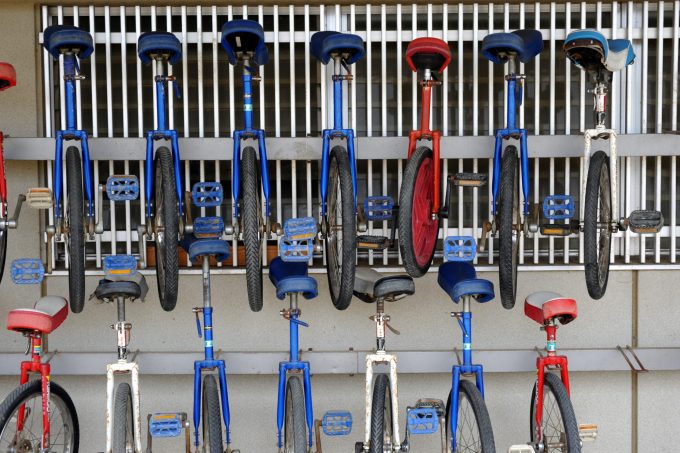 Aussie kids are among the most chauffeured in the developed world, with only two out of ten children riding bikes to school.
In the 1970s, the number of cycling school children was the complete reversal, with eight out of ten children peddling from home (and that was before helmets were compulsory).
Despite years of public campaigns, school programs and government initiatives promoting riding, driving to school remains the dominant mode of transport.
Whether it be parents' fears for their children's safety, or the often-misguided belief that driving is quicker, mums and dads are more often the ones buckling the children in rather than handing them the helmet.
The result is that students are missing out on the physical benefits and emotional joys of coasting down a footpath, the wind in their hair and their heart beating.
They also do not get the opportunity to experience a true level of independence where they feel in charge of their own safety and can earn the trust of their parents to act responsibly.
The benefits of riding have been well promoted. School-aged children are said to require about 60 minutes per day of exercise to maintain a healthy lifestyle and riding would certainly contribute.
Some health benefits include better concentration, brighter moods from the endorphins of exercise and sounder sleep.
Riding is often faster than driving because a nimble cyclist can avoid the traffic congestion around schools. The more children who ride to school, the fewer cars there will be on the roads.
Jumping on a bike also contributes to a cleaner breathing environment, with road transport the biggest cause of air pollution from car exhausts.
With so many benefits to riding, and with such positive encouragement of riding by authorities, the question is why hasn't the trend turned around?
Perhaps the key is parents. For parents to want their children to ride they must feel confident that their children are safe, that roads are safe and that bikes are safe.
Providing plenty of cycling infrastructure such as bicycle paths, bike lanes and crossings and bike safety products such as bike shelters, racks and cages may help alleviate parents' fears and ensure kids don't have their prized bicycles stolen.
Many schools are investing in new bike storage facilities and incorporating attractive design principles so the facilities look pleasing as well as provide peace of mind.
Rusted old bike racks with very little security can be replaced by a range of modern options including:
*Bike racks: Vertical racks allow bikes to be stacked above one another to conserve space. Horizontal racks catering from one to 12 bikes in a row. Numerous designs cater to aesthetic tastes and include wall and floor mounted.
*Bikes rails: In keeping with modern minimalist principles, sleek bike rails blend into the school environment and are simple to use.
*Bike Shelters: Providing extra protection from the elements for bikes, shelters provide a roof and act as a central location for bike storage.
*Bike cages: Single cages or large cages for multiple bikes, cages take shelter to the next level with the addition of mesh walls and lockable doors to ensure bikes are protected from theft throughout the day.
*Bike lockers: Single or multiple, these enable bikes to be locked and riders to store apparel.
Industry insights
Securabike CEO Sandy Capannolo says bike and scooter racks are the most popular products sought by schools but there is an increasing trend towards bike cages to replace school sheds.
Securabike is one of Australia's largest manufacturers of bicycle parking and says it has been experiencing an uptake in demand from schools that are eager to promote riding.
Sandy says schools that invest in bike safety have been experiencing an increase in the number of students riding.
"We are getting quite a number of inquiries from schools with kids who live within 5km of school and prefer to ride rather than take other means of transport," says Sandy.
"With new and improved bicycle paths and cycle routes, more and more students are taking the opportunity to use their bicycles to cycle to their schools and learning centres.
"Installing secure bicycle parking facilities for either short or long term encourages greater use of bicycles – particularly in schools."
Sandy says schools are modernising their bike racks and incorporating attractive design principles. Whereas the U-shaped rack was popular in the past, schools are now opting for new designs or ordering powder-coating to match the campus colours.
Schools can also choose from a range of security levels to suit their budget and needs. Rails provide the lowest level of security compared to bike lockers at the most secure end.
Cora Bike Rack director Jon Routledge says the current Australian standards for bicycle racks (AS2890.3) require that bikes not be damaged, that racks support the bike and allow the frames and wheels to be locked.
"The old designs don't do that, for example, you can't lock the frame," he says.
"A lot of schools have the old designs and think that is good enough but they don't comply with the new standards.
"Therefore the racks will remain unused if they can't be locked because bikes are expensive."
Jon says the lack of security provided by older bike racks is one of the key reasons students are reluctant to ride and risk losing their prized wheels.
"If you build it, they will come," he says.
"If you provide high-quality bike racks you will have more students cycling, as well as building safe cycle ways and paths to school which are equally important.
"I think there's a greater interest in riding now; a bigger focus on kids' exercise especially now they're not doing enough fitness in school."
Jon says there is plenty of scope for schools to choose favoured designs, colours or materials to suit budgets and aesthetics.
 "Students are bringing scooters and skateboards to school and they are a hazard in the classroom so they need somewhere to park them."