Industry voices
Opinion
Teacher's Desk
Op-Ed: Linking character education & wellbeing with community service learning
School life typically revolves around exams, classrooms, and instruction-based learning.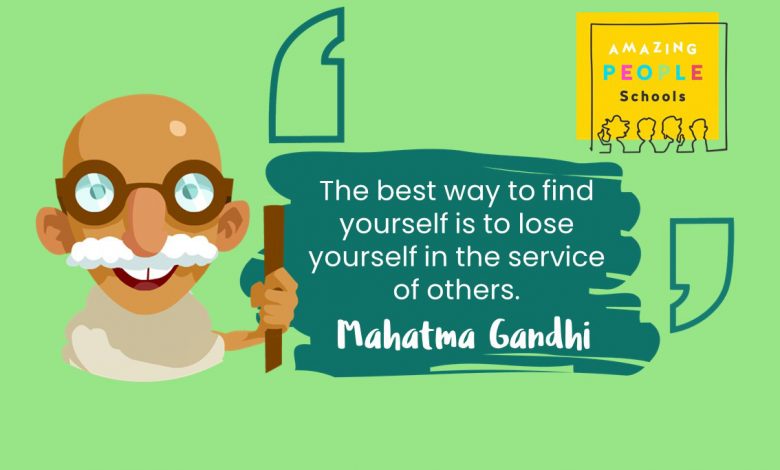 But is this routine enough for young minds looking for guidance, insight, and future direction, for their lives?
Does this constitute a 'good school'?
In 2006, Christopher Peterson released, A Primer in Positive Psychology and argued that schools needed to be enabling institutions. He identified the 'good school' as one that fosters academic excellence, while also contributing to moral fulfillment. He claimed that it was partly in schools that individuals were taught how to be caring and responsible, and social-minded young adults. For this, schools need to explicitly teach character strengths such as those of kindness and empathy. And to do so, a well-planned curriculum involving the same degree of planning and research as the traditional academic subjects, is needed.
Gandhi once said:
The best way to find yourself is to lose yourself in the service of others.
It is practical advice that continues to resonate with passionate educators who create best practice, through implementing a variety of volunteer programs and service learning in schools. Students who are connected to their community and experience a purpose from authentic learning, begin to understand the challenges that life throws at people. It is this kind of experience that contributes to authentic leadership, problem solving and social responsibility.
Action learning supporting character development
More recently, schools are realising that providing a structured service-learning component to education is an essential part of building character and educating holistically. In Australia, there is a shifting role of schools to reflect the need for students to be engaged within their community. Students are required to be 'active and informed citizens' as highlighted by the Melbourne Declaration and the Australian Curriculum. They are required to commit to 'national values of democracy, equity and justice' and they must 'participate in Australia's civic life.'
The document also highlights the need to see students 'behave with ethical integrity' and 'act with responsibility at local, regional and global levels.' These policy documents point to the significance of core values and the need for strong character education. Developing key character strengths, to support service learning is one way that schools can harness these policies into practice, in a meaningful and relevant way. It is this kind of holistic education that supports the academic approach because it gives students a meaningful understanding as to what is required in the real world.
From our work in Amazing People Schools, it has been fascinating to hear how action learning from engaging in community service supports character development in a very real way. Teachers have told us that it is the implementation of service-learning programs that show students an outward perspective:
Service-learning offers students the opportunity to recognise the needs of others and respond.
And, it is in these moments that student's lives can change, because they are offered purpose. With purpose, they are given a chance to achieve.
Yet, merely providing volunteer work for students in schools, does not go far enough. In addition to the co-ordinated community programs, there is much to be learned from clearly designed lessons that embed self-development and awareness of character, using life stories from amazing achievers in history who also made significant contribution to their societies. Amazing People Schools has been successfully embedding character-based education, via interactive stories and activities that are based on the contribution of key influencers in history. 
In one Brisbane school, students were fascinated by the story of Mary Seacole. Teachers focused on her tolerance, integrity, and selflessness, as students compared her story to their own perspectives, about how to strengthen their own character strengths to contribute by volunteering. One of the students commented that "a combination of service activities with character building resources helped me come to know myself better". This, in turn, contributes to raising self-esteem and self-worth, which results in increased feelings of wellbeing.
Knowing thyself, building character
We know that schools are committed to the vision of character building. Their mottos exude character and wellbeing. Their school vision statements hero 'globally minded' citizens, committed to integrity, fairness, and leadership. These are the kind of character strengths that all societies surely favour.
Yet, increasingly in this age of cloud and wireless technology, we need to remember the importance of empathy, and have a healthy appreciation of diversity and inclusivity. Explicitly teaching these character strengths using stories from amazing role models and linking them to a service-learning program is a vital part of 21st century education.
References
Leming, J. S. (1997). Whither goes character education? Objectives, pedagogy, and research in education programs. Journal of Education, 179, 522–574.
Peterson (2006 Peterson, C. (2006). A Primer in Positive Psychology. New York, NY: Oxford University Press. 
Peterson, C., & Seligman, M. E. P. (2004). Character Strengths and Virtues: A Handbook and Classification. New York, NY: Oxford University Press. 
Park, N., Peterson, C., & Seligman, M. E. P. (2006). Character strengths in fifty-four nations and the fifty US states. The Journal of Positive Psychology, 1, 118–129.
Waters, L. (2011). A review of school-based positive psychology interventions. The Australian Educational and Developmental Psychologist, 28, 75–90.