Administration
Save your voice, cut the noise
How often do you raise your voice during class?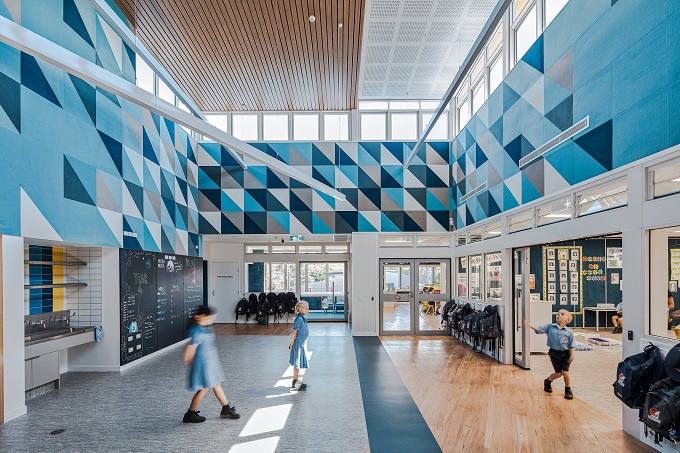 Teachers are at a higher risk of developing voice disorders, according to multiple studies.
In fact, while exact statistics vary by survey, research suggests between 10 and 70 percent of teachers develop a voice issue. Primary school teachers are at a higher risk, along with teachers using a loud voice, excessive voice use, teaching in noisy environments, and those who have worked for more than 15 years.  
Check out the full article in our latest print issue. 
A comparative study undertaken in the US, 'Voice Disorders in Teachers and the General Population: Effects on Work Performance, Attendance, and Future Career Choices' found that 94 percent more teachers reported voice symptoms than nonteachers.
Moreover, according to a 2016 review of national and international classroom acoustic standards by Macquarie University and the National Acoustic Laboratories in Sydney, students spend 45-75 percent of classroom time listening to their teacher and classmates. Kiri Mealings, noted in the report that "as current teaching methods have a strong focus on group work activities, contemporary classrooms are prone to high noise levels".
"Therefore, the classroom acoustic environment needs to be designed appropriately."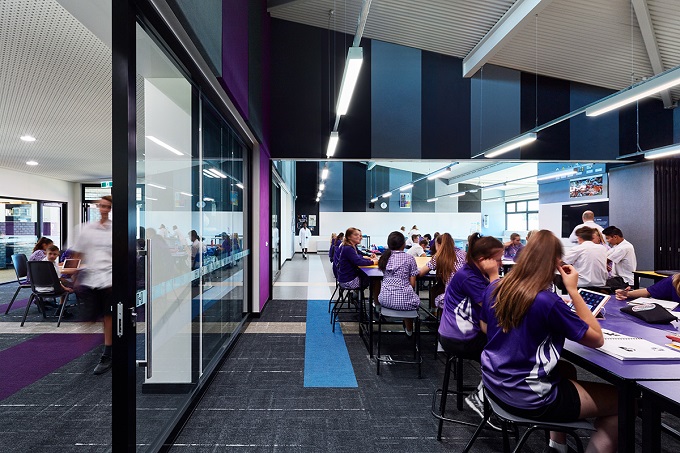 Studies have found that not only do noisy classrooms contribute to voice damage among teachers, but that noise also impairs speech perception in children more than adults. For children with speech or language processing disorders, attention deficits or other learning difficulties, this poses even more significant concern. Background noise from traffic, HVAC systems, and appliances are not the only source of noise pollution. According to studies, flexible learning environments where moving furniture is encouraged and students take on a more active learning role rather than remain seated quietly at desks, have contributed to noisier activity-led classroom environments.
While these modern pedagogies prioritise collaborative learning in flexible environments, they can be a recipe for excessive noise unless paired with careful planning and design. So, how can schools manage noise without compromising modern learning experiences?
Acoustic tips from trend-setting flexible learning solution suppliers…
Autex Australia's national technical manager, Rob Jones discussed the differences in approach to acoustic design when schools are dealing with a new facility versus a refurbishment: "First up, floor planning. This is key for both new and existing projects. Make sure activities likely to be disruptive are separated from spaces with more sensitive acoustic requirements. This is easier when creating a new facility but should be considered for refurbishments wherever possible.
"Given the importance of acoustics in facilitating positive educational outcomes, the design should ensure acoustics are embedded into its core construction and not just part of the aesthetic. Something that is often ignored is that each state sets out mandatory minimum acoustic performance specifications. This is because not achieving the acoustic performance compromises the building's primary function, 'learning'. The negative impacts of this will be played out repeatedly for many year groups using the space well into the future."
Flexible learning spaces, on the other hand, pose some challenge to every acoustic engineer: "There simply won't be sufficient surface area in proportion to the rooms volume and physical dimensions to achieve the required reverberation times. With many dividing walls deleted and those that remain often consisting of glazing, the importance of considering the room geometry along with material selections will be required to not only control RT and reduce noise flows through the spaces."
He had some other hot tips to share with us this issue: "The humble old notice board is just that – a notice board! "The use of continuous acoustically absorptive lining like composition provides not only a practical and maintainable display space, but greatly assists in controlling lateral reflections and lowering reverberation times. Being continuous, this also improve the noise separation (transmission loss) between adjoining spaces while improving the thermal efficiency of external walls.
Another core design element worth investigating: "Modern ceiling systems should effectively soak up a wide range of noise types while allowing access and adaptability for future technologies. Once upon a time, all we really had was a drop in ceiling tile effectively a one function and not so high up on the aesthetic scale. Suspended canopies and baffles provide good acoustic performance while visually defining zones with textural and height variations and can be quickly changed or even relocated should the need arise. Being adaptable to suit the site they offer up good value and performance."
Architectural solutions manager for Lotus, Gary Wardle had some practical advice for schools looking to refurbish existing buildings: "Works are limited by the current build, structural requirements, and site conditions. How much additional work are you willing to do on the surrounding structures? I.e., installing additional support beams, acoustic baffling, levelling floors. Without treating the surrounding areas, the full benefits of a high specification product may not be achieved.
Moving on to new builds, he suggested "there is more flexibility to put forward the most appropriate system and for the architect to ensure the surrounding elements are treated accordingly. Key to effective flexible learning spaces is incorporating a mix of products, including traditional high acoustic build-operable walls. These can incorporate 'usable' surfaces, such as pinboards and whiteboards. Along with glazed sliders and solid, higher rated sliders with or without viewing windows and other acoustic soft furnishings in a space."
In recent years, he explained, "there has been an increase in the use of acoustic glazed sliders between classrooms, for visual connectivity, where traditionally it would have been an operable wall or a solid acoustic slider".
"While glazed sliders are quicker to operate than operable walls and more visually appealing than solid sliders, they have a lower performance in terms of sound transmission. This compromise has an impact on noise transmission between classrooms, however it is generally acknowledged that two groups will generate a lesser volume of 'noise' if it is observed there are others potentially impacted in the adjoining room.
"Among the finish materials available for acoustic sliders and operable walls, the most commonly used material in schools is typically pinboards. These are cost-effective as teachers and students can pin or Velcro their artwork to them, they have a good noise reduction (NRC) rating which assists in absorbing sound and are available in a range of vibrant colours that are perfect for classrooms. Matching acoustic wall panels which provide an even higher NRC value are also commonplace, even suspended from ceilings as a design feature. Perforated timber panels with acoustic backing for spaces requiring an integrated aesthetic look are also an option should budgets allow."