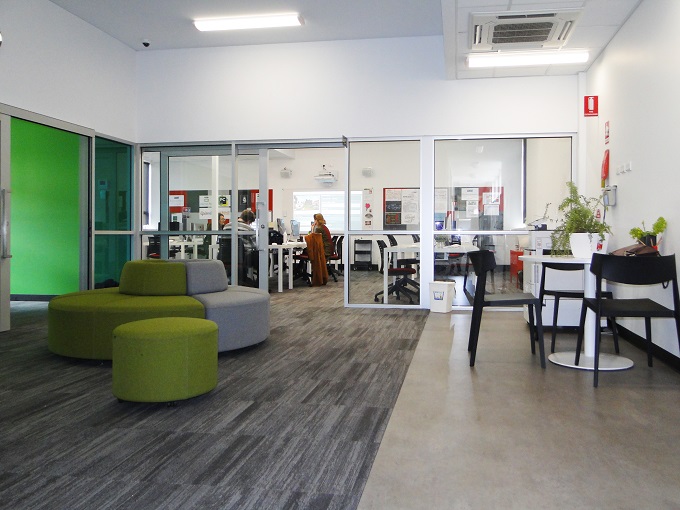 New forms of teaching and rapidly evolving instructional technologies demand educators present new, innovative and more flexible classroom environments.
It is possible to transform a traditional desk/chair format with some creativity and adaptable furniture. You can turn your classrooms into wonderful and flexible learning spaces (FLEs).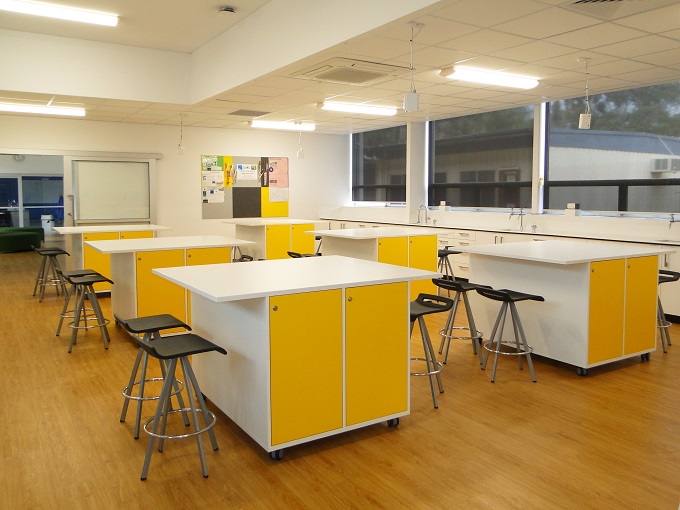 FLEs integrate pedagogy, physical design and instructional technology to support a variety of learners and their learning experiences. These spaces should be able to facilitate a shift from teacher-to-student instruction to collaborative activities and self-discovery. To achieve this, schools must move away from fixed seating towards flexible furniture that can be re-designed for each learning activity or new teaching method. The more creative you are with your approach to a learning area, the better you can adapt these spaces. How do you want students to approach their learning in this task? In small groups or individually? Quiet discussions or class-wide debate?
For inspiration, do not feel restricted to Googling other classroom designs: there are astonishing FLE creations to be found in libraries, cafeterias and even corridors!
Consider this… an award-winning, innovative design for a flexible learning space was set-up in Switzerland, at St. Johann Primary School. Pioneering designers ZMIK re-imagined three main corridors of the school into quirky hubs for places to study, retreat and collaborate. The design took ideas and wishes from pupils and teachers to construct unique learning zones that would inspire study and get plenty of use. St. Johann's corridor space now has a cave and high seat for quiet retreat, plus several different work surfaces ideal for individual and group work. There is also a slide, balancing paths and even jumping balls for 'moving lessons', comfortable alcoves for meetings, contemplative reading areas and even a few clever storage solutions.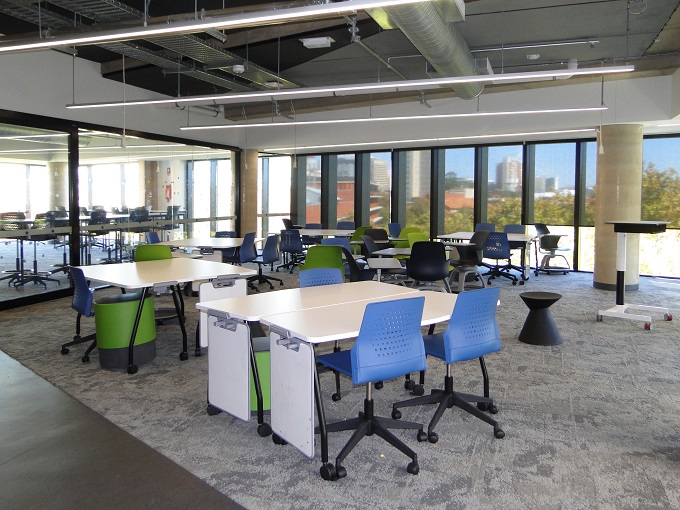 Why should you design a flexible learning space?
Because extensive research shows that not all learners experience the same 'way in' to learning. If you create a flexible variety of learning 'zones' and "ways in", you are creating a much more inclusive and supportive learning environment for all your students.
Tips for creating effective flexible learning spaces…
Make use of up-to-date research and educational theory.
Create your environment around effective educational pedagogy.
Collaborate with the school community – educators, parents and students and be inclusive of all learners.
Work with creative designers to make the most of your spaces to accommodate and support different student needs.
Source quality furniture that has dual or multiple uses.
Create spaces that promote effective communication. Spaces that allow students to actively participate. Spaces that inspire inquiry and wonder not boredom. Spaces for the delivery of flexible lesson styles. Spaces that encourage positive relationships and spaces that are fun, with clever use of colour, textures, materials and furniture.
Finally, remember that some students actually do prefer a more traditional desk and chair set up, so your flexible learning environment should always provide an effective space for that child as well.
Insights from the flexible learning sector:
Resource Furniture senior product designer, Michael Merlino emphasises need for planning in the rush for innovation.
"Start with space planning. How will the space/s will be used? Engage students and staff in the design process. Research shows they have a greater sense of belonging and ownership if they are actively involved in the design process. Learn how the teachers actually want to use and teach in the space before furniture shopping.
"Provide a centralised common meeting and breakout space that students want to use. Fun and well-designed furniture, including soft seating options and a mix of small meeting tables and bench height tables provide furniture options with freedom.
"Booth seating is very popular because it is so variable; from individual pods to six-seater collaborative configurations. Booths with in-built power allow students to charge devices as required and many booth options also have acoustic properties that reduce sound in busy breakout spaces.
"Low stools are another popular option for flexible spaces as an alternative to (or in combination with) traditional desk chairs. Many of these options are now available with curved bases to encourage movement or adjustable heights to cater to students with different needs and of different ages. They are also a great way to add pops of colour with fabric choices.
"Depending on age, some students prefer to work on the floor or in beanbags. Some like little pods where they can focus on individual work and some prefer to work higher up on benches where drafting chairs or stools are popular. Students are drawn to higher seating options, so those are usually the first seating options they take-up. When students have the freedom to choose, they are comfortable and more engaged."