News
Independent school staff want "the right to take protected industrial action"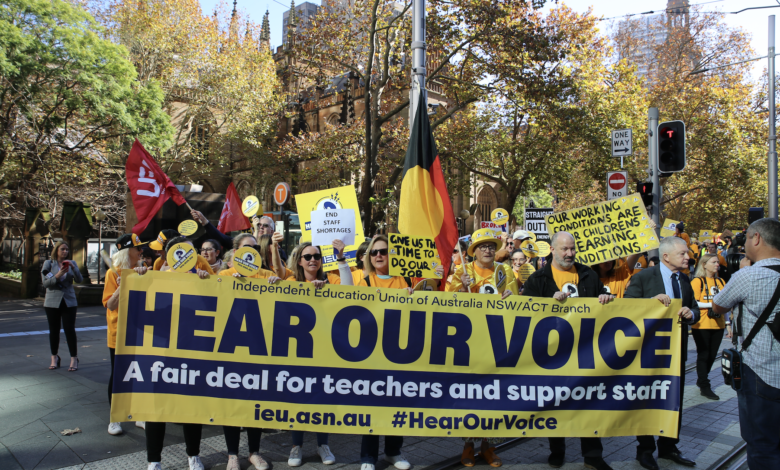 Following Tuesday's industrial action by Catholic school teachers and support staff in NSW and ACT, who stopped work for one hour, the Independent Education Union of Australia NSW/ACT branch has released a statement demanding that independent school staff be allowed to take industrial action. 
The union says that teachers, support staff and principals in Catholic diocesan schools can take protected action as they are considered to have a single-interest employer while thousands of independent school employees throughout Australia, who are covered by multi-enterprise agreements, cannot. Independent school employers, however, are able to unite and bargain for these agreements, which the union calls "an obvious imbalance of power".
Labor's Secure Jobs, Better Pay Bill "updates the rules for multi-employer bargaining and removes many of the complex legal restrictions that are holding back wages and conditions," said Independent Education Union of Australia NSW/ACT Acting Secretary Carol Matthews.
"As it stands, employees in independent schools cannot get assistance from the Fair Work Commission if bargaining breaks down, because the schools are offering a multi-enterprise agreement. In no circumstances can these employees take protected industrial action."  
The IEU's Vice President ACT, Angela McDonald, who is a teacher at St Thomas Aquinas Primary School in Charnwood, said: "All teachers and support staff in ACT schools should be able to have their say about their pay and conditions, including the right to take protected industrial action." 
Alex Thompson, a history teacher at Canberra Grammar School, said: "When bargaining is delayed, we have few ways of getting the employer to the table, leaving staff relying on the goodwill of schools for any pay rise."
David Caton, a teacher at Daramalan College, Dickson, said: "We are glad to teach in a school that stands for social justice and fairness, but under the current industrial relations system, there is no fairness for teachers and support staff. It's highly unlikely we would take industrial action, but we should have the right to do so in bargaining for a better deal. Employers can act collectively, we should have that right as well."