Take your career to the next level with Deakin's Master of Education (Leadership and Management)
Deakin University's Master of Education (Leadership and Management) is founded on the principle that leadership consists of a multiplicity of practices that respond to local circumstances in ways that embrace gender, race, and cultural diversity.
The course commences from the position that there is no one simple formula for effective school leadership in all settings. "Every teacher has different sets of skills and abilities and every school is different so there isn't one right way to do school leadership", Dr Julie Rowlands, Course Director remarked. Publicity surrounding high profile charismatic leadership of 'turnaround schools' might indicate that only transformational leadership can effect change, but Dr Rowlands wants to make it clear that this is simply not the case. With a number of established leadership approaches possible, Deakin's course is designed to promote critical evaluation of school leadership tools and approaches, and their suitability for particular situations. "We highlight those approaches and help teachers to evaluate the available research in relation to each one, so they determine which of the approaches might better suit their circumstances, and the circumstances of their school".
The Master of Education (Leadership and Management) sits within a faculty of considerable world standing. Deakin's School of Education is ranked fifth in Australia, and number 31 in the world (QS World University Rankings). The range of education courses include the Master of Education (with specialist strands in Professional Education and Training, Inclusive Education and International Education); Master of Education (Leadership and Management); and Master of Languages Teaching (Graduate Certificate also available).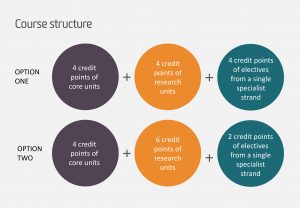 Two main themes underpinning the course are achieving leadership for social justice outcomes, and leading for enhancing student learning. These areas of focus are explored through a series of four core coursework units followed by research units with a strong focus on 'action research projects', whereby supported practical application of leadership approaches is facilitated. The course is aimed specifically at current principals and assistant/vice-principals, and those who aspire to those positions.
The focus within Deakin's Master of Education (Leadership and Management) on 'authentic assessment' and real world learning allows students to work on real life issues within their schools. "Teachers not only identify possible ways to solve issues at their schools, but they actually trial them as part of their formal assessment" within some units. The course can lead to PhD study if desired.
Students are required to successfully complete 12 credit points to be awarded the Master of Education (Leadership and Management) through a flexible combination of core, research and specialist elective units. (See fig. 1). Four credit points for recognition of prior learning are awarded to those with five or more years of experience in a principal-class role.
The course is conducted online, but Dr Rowlands assures that it is by no means "set and forget". With online discussion boards and other online technologies, in which Deakin is a sector leader, there is plenty of opportunity to interact with lecturers, tutors and other students, providing a platform for critical thinking and rigorous academic discussion within learning communities. "With each of the units we create a very active community of practice where the students engage in critical reflection about learning resources, and then draw on their own experiences to actively engage in online discussion".
Student satisfaction at Deakin is consistently high. The university as a whole has the highest student satisfaction rating of any university in Victoria, and has held this position for the past five years. Within the Master of Education (Leadership and Management), for example,
Dr Rowlands reports that "the core units achieved 100 percent student satisfaction ratings in all fields for Trimester 2, 2016". Deakin's unique trimester system also provides students with an incredible amount of flexibility and the option to fast track your degree allowing you to complete your studies while you work.
The course team comprises Deakin academics who are leading international researchers in the fields of education policy, education governance and educational leadership. All have prior experience as teachers within Australian schools, including within school leadership positions.