Sora reading app digitally links Harlandale ISD & San Antonio Public Library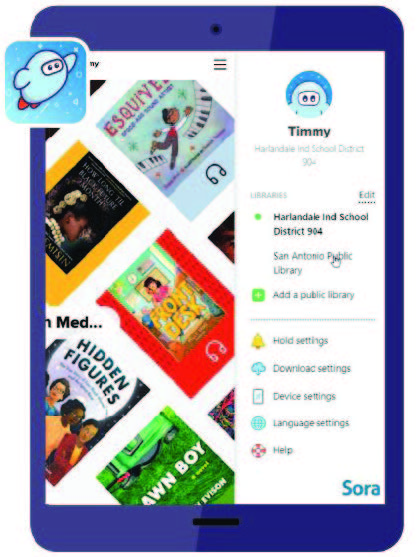 Powerful partnership expands student access to age-appropriate reading materials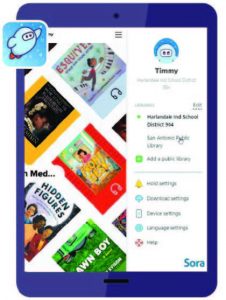 As coordinator for libraries and instructional materials at Harlandale ISD in San Antonio, Lisa Kulka faces the persistent challenge of increasing the number of age-appropriate books available to students inside and outside the classroom.
Enter Sora, the student reading app from OverDrive Education.
Sora gives Harlandale students the ability to borrow titles from the district's OverDrive digital collection and access juvenile and young adult e-books and audiobooks from the San Antonio Public Library (SAPL). To support the unique needs of all readers, Sora also offers inclusive tools, including Read-Alongs, dyslexic font, adjustable text, a multilingual interface and Google Translate.
One platform, thousands of e-books and audiobooks
For Kulka, it was important to find a unified platform for Harlandale's digital collection. When discussing possible solutions with OverDrive staff, Sora was mentioned, and the integration with SAPL made it the "perfect solution," she says.
The partnership between Harlandale and SAPL also enables students who do not have library cards to check out digital titles through Sora using their school credentials.
"Sora is the equivalent of us receiving thousands of quality books for free," Kulka says.
Doubling access to digital reading materials
The district has experienced some promising early returns since adopting Sora in August.
"One teacher was looking for a specific number of books; across our school libraries, we only had four English and four Spanish copies of the book, which was not enough," Kulka says. "I then thought: 'Wait a minute, let's see what we've got in Sora.' The public library had six [digital] copies of the book. Sora essentially doubles what we have access to."
Interactive and informative
According to librarians, Harlandale students appreciate that Sora validates their reading achievements in the form of badges, which are earned by finishing books and using different app features. The app also offers educators an aggregate view of student reading data, including the number of books opened and average reading time per session, which can be refined by school building and date.
Students also benefit from private insight into their personal reading stats. Kulka concludes, "I love that Sora shows the amount of time students read because we want students to be aware of their learning  while developing reading stamina."
---
Discover how your students can read more with Sora at DiscoverSora.com