Planning & Record Solutions for Teachers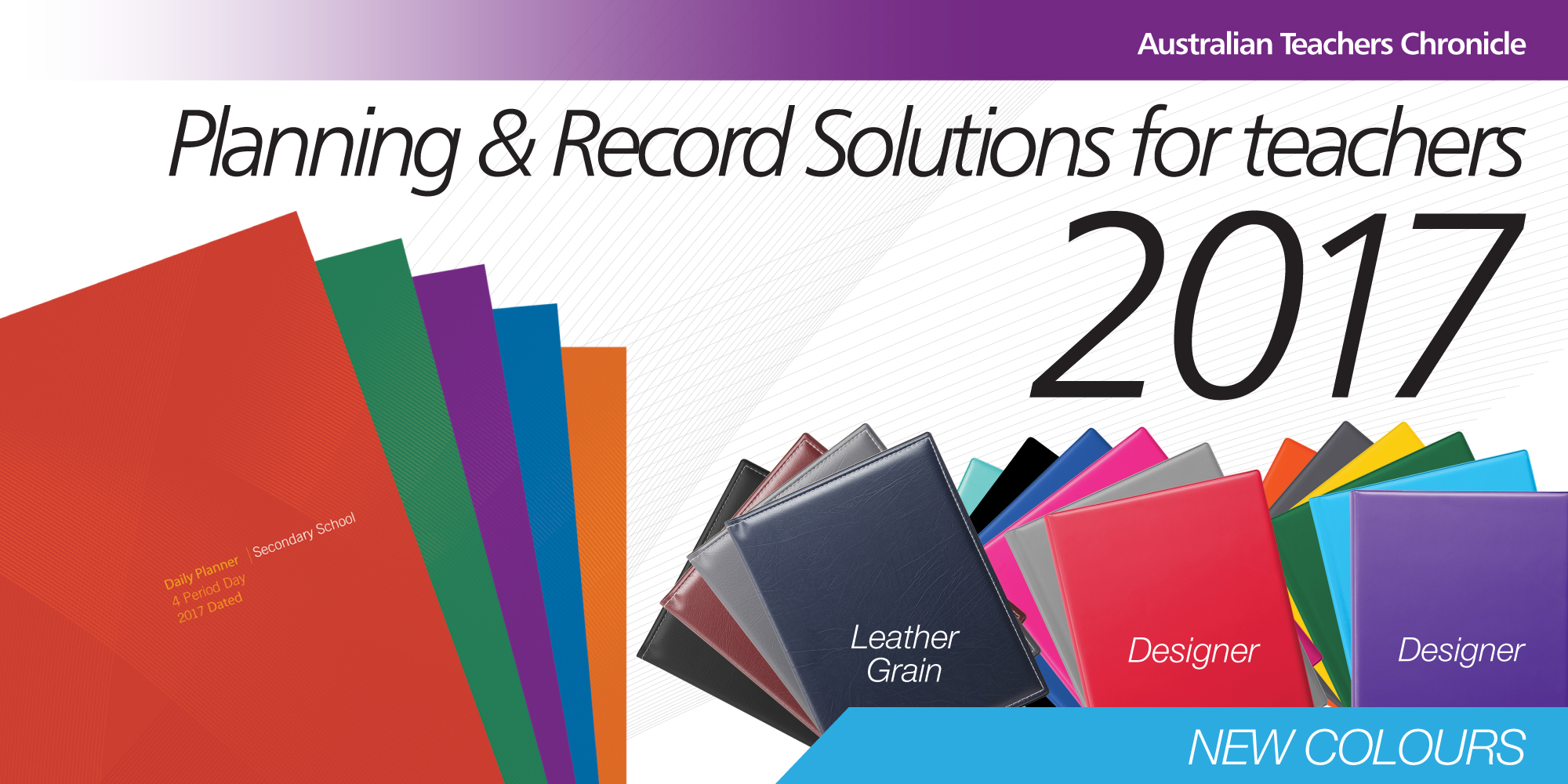 Australian Teachers Chronicle
Planning & Record Solutions for Teachers
For over 50 years The Australian Teachers Chronicle all-in-one diary and planner has evolved to meet teachers'  changing needs and increasingly demanding schedules.
The All-in-One Diary and Planner 
The diaries are wire-o bound using sturdy twin loop wire on one edge, allowing you to open the diary back to back. It stays flat when opened and includes a spacious layout with ample room for notes. 
As an alternative, the ATC loose-leaf planner is offered and has 4-holes drilled on one side for insertion into their 4 ring binders.
A range of extras to accompany the diaries include additional pages and pockets, designer covers, deluxe leather grain covers, bookmark rulers, wall planners, pen holders and stylus pens.
New Colours for 2017
Designer Covers
Lightly padded vinyl designer covers offer good protection and the bright vibrant colours add a sense of fun and a feel good factor to your diary and planner.
• Fits all ATC wiro-bound and loose leaf diaries and planners
• Available in dated / undated and daily / weekly formats
• Notes pocket on inside front cover
Colours
Bright Orange, Ice Green, Hot Pink, Purple, Ocean Blue, Red, Royal Blue, Black, Metallic, Charcoal, Forest Green, Canary
Deluxe Leather Grain Covers
Foam padded on both sides with a leather grain finish offers maximum protection for your diary and planner. The leather looks and feels impressive and adds a touch of style. Looks the goods at the boardroom meeting!
• Fits all ATC wiro-bound and loose leaf diaries and planners
• Available in dated / undated and daily / weekly formats
• Notes pocket on inside front cover
Colours 
Navy, Black, Burgundy, Grey
For more information and to order your diary for 2017 please visit

www.atc.com.au

or call 03 9532 1399