Galvin Specialised product selection guide for education solutions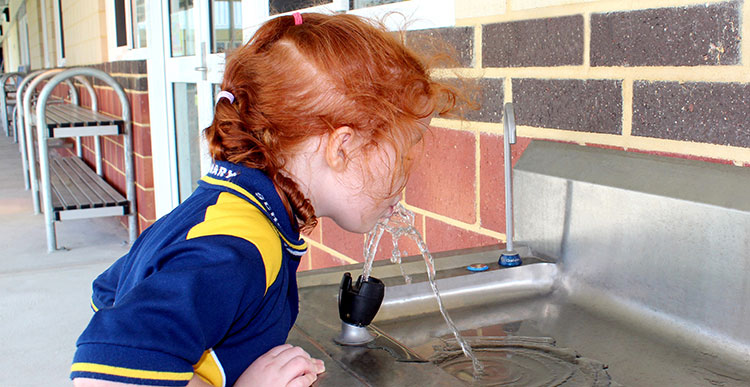 Well-designed schools can improve learning outcomes, health, and wellbeing. Government Architects NSW outlines the following design objectives as key considerations for new school developments and upgrades:
Better fit
Better performance
Better for community
Better for people
Better working
Better value
Better look and feel
While factors such as air quality, ventilation, natural lighting, thermal comfort, and acoustic performance have increasingly become front of mind, others like the mundane plumbing system don't always get the attention they deserve. But recent health scares and the increasing pressure on costs have put the focus on providing safe water, and minimising costs for water usage and maintenance. When looking at the whole-of-lifecycle costs, a careful material selection is key to ensure that the products chosen are robust and durable requiring minimal maintenance.
Common challenges when designing a restroom in a school environment are:
Misuse, vandalism, and bullying
Maintenance and operating costs
Optimal use of space
Ensuring good health
Having provided solutions for the education sector for over 30 years, we understand all the needs and offer an extensive range of specifically designed products.
Lead Safe™
At Galvin Engineering, our purpose is to provide Water Solutions for a Healthier Environment. Our focus is on the supply of specialised tapware, water management systems and fixtures for education, health, and public facilities. With increasing anxiety in the community around elevated lead levels in drinking water, we have responded by designing and manufacturing an innovative range of premium quality taps in new lead free and low lead materials – the GalvinClear® Lead Safe™ product range.

While all our products are safe and compliant with the stringent Australian standards, we wanted to provide you with the choice to future-proof your project by offering Lead Safe™ DZR and stainless steel options for your taps and bubbler selection.
Infection Control
With hand hygiene being an important part of any infection control program, minimising cross-contamination that can occur through touching of door handles, taps and other everyday items germs can be effectively stopped in a simple and easy way. In our quest to provide solutions for better health and safer communities, we are proud to offer anti-microbial germ-shield® coated handle options for optimal protection.

Additionally, we also offer handsfree tapware solutions for indoor and outdoor areas, ranging from simple self-closing push button taps over fully automatic sensor taps to point of use (PoU) thermostatic progressive mixing valves (TMVs) and highly specialised all-in-one hand wash dryers.

Our taps and bubblers are easy to use, hardwearing and vandal-resistant, safe and water-conserving.
The Ezy range
Ezy-Drink®
Reliable and hardwearing, our drinking bubblers and bottle fillers are the perfect choice for an internal or external school environment; offering a selection of handles and activation mechanisms to choose from, our product range not only assists in infection control through handsfree operation, but also ensures efficient water use.
Ezy-Lever, Ezy-Push®, Ezy-Twist®
We offer a wide range of taps, mixers and accessories for sinks and showers so you can choose the option that is best suited to your needs and environment. Select from cam action, lever action or push button activation. The product range not only assists in infection control through handsfree operation but also ensures efficient water use.
Ezy-Wash®
With a multitude of configurations available and easily to be serviced, the Ezy-Wash® pre-rinse range offers the perfect solution for highly demanding environments such as commercial kitchens and food preparation areas.
Vandal Resistant Tapware
Designed for heavy use and rough handling, our durable vandal resistant tapware is AS/NZS 3718 approved and finished in an attractive and practical chrome plate.
GalvinLab™
Our AS/NZS 3718 approved laboratory tapware and AS 4617 AGA certified gas outlets are specifically designed to be used in a school laboratory environment. They feature tough vandal resistant handles with a unique locking system for additional safety, and a comprehensive range of interchangeable nozzles for flexible use. Every tap is quality tested and can be ordered in a satin chrome plated finish or chemical resistant epoxy coating to suit your environment.
Browse through our newly available product selection guide that was specifically compiled to offer you the best suited product solutions for your education projects. Offering Australia's largest range of Lead Safe™ school tapware we can cater for all your needs in areas such as amenities, laboratories, kitchens, bathrooms, and outdoor areas.
Discover our full room indoor and outdoor product offering on galvinengineering.com.au/education-solutions-guide/ or contact us for a customised solution for your next education project.