An aerial experience like no other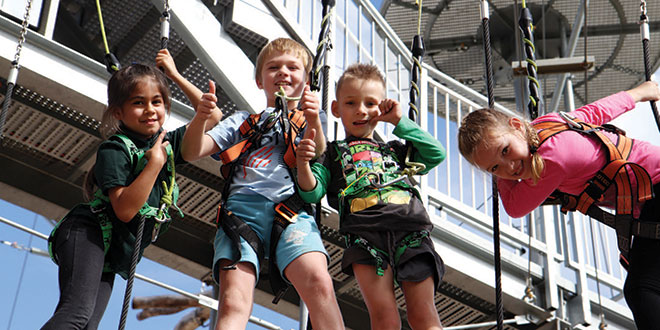 See the world from new heights with Skypeak Adventures, a world-class aerial facility that soars over 25-metres high and features over 60 challenges.
Ideal for school excursions, it fosters leadership, teamwork, self-confidence, proper risk assessment and all-round fun. Whether you're a novice or thrill seeker at heart, this exhilarating attraction based at St Marys in Western Sydney (one hour from Sydney CBD) will see climbers test their mettle as they clamber up a series of towers and platforms, some as high as six storeys.
At the heart of Skypeak Adventures is a 300-year-old river red gum from Victoria. The tree has been repurposed and integrated into the structure in such a way to inspire students (and even teachers) to embrace their "inner kid" who once loved to climb trees. The aerial adventure course is packed with plenty of adrenalin-fuelled activities – including bridge walks, high trapeze swings, monkey bars, barrel runs, swinging branch clusters, rope swings, zip lines and free-fall drops.
Skypeak Adventures' CEO and Founder Amgad Botros said that the aerial park aims to cater for Sydney's growing population and challenge people to overcome their fears in a safe and fun environment. One thing he said Skypeak always guarantees is that every student will be challenged, and no one will be bored. "Whilst three out of four adults enjoyed outside play more often
than being indoors as kids, in comparison today, only one in ten children have the same experience," he said.
"Skypeak Adventures will take kids away from the technology in their bedrooms and get them into an environment that allows them to enjoy the simple things in life – being outdoors and engaging with other people and their peers in a new way."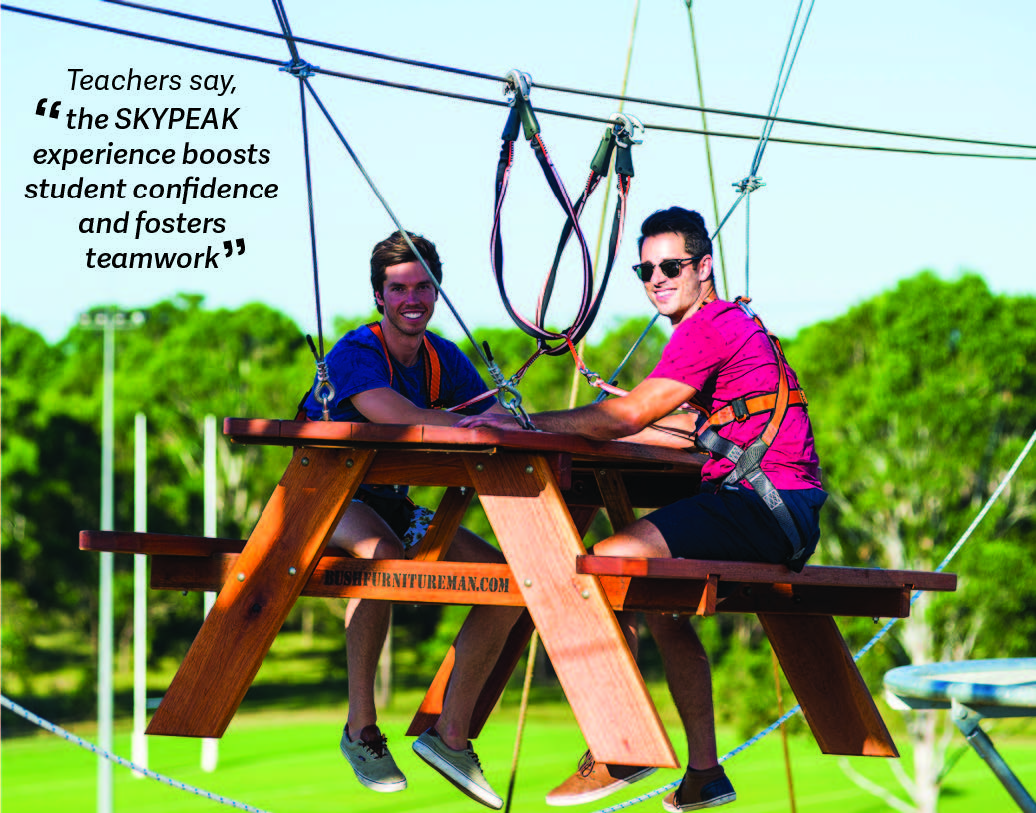 VicRoads Director Trevor Boyd said that he was excited to see the tree used in such an innovative way at Skypeak Adventures in Western Sydney. "This is a wonderful example of people thinking outside the square – to make something truly fantastic happen!" he enthused. Set over a 2000sqm site and based on extensive world-wide research, each activity has been specifically designed to maximise the high-flying fun. School groups have an opportunity to schedule customised leadership development and team-building programs at the site in St Marys.
Our programs and challenges enable student to confront their assumptions about what is possible whilst building upper-body strength and decision-making competence in a completely non-judgmental setting. Skypeak is easily accessible for Sydney and regional schools. Located less than one hour's drive from Sydney CBD near the M7 and M4 intersection, Skypeak will save schools the need to travel for extended periods and avoids the costs of overnight accommodation. There is plenty of free level parking for buses and cars.
Part of the BIG TIME entertainment complex at St Marys, students and teachers will have the opportunity to relax in the full air-conditioned café and entertainment area. Visiting students tell us that it is enormous fun. It proves their ability to face challenges they have never faced before, choosing their own difficulty level and going at their own pace. It is a fantastic way to build student self-confidence and boost self-esteem!
For some, the memory and exhilaration of overcoming that one "scary" challenge will last with them forever. Skypeak Adventures is a unique and universally enjoyable choice for schools. It is ideal for students from upper primary school-age to tertiary groups. Skypeak offers customised programs including catering if needed, tailored to your budget and to suit specific timeframe or curriculum requirements.
Skypeak has activity packages designed specifically to support school curriculum outcomes in a safe, social and physically challenging environment.
For more information please contact Skypeak Adventures
to organise your next school excursion on 02 9677 7759,
email [email protected] or visit www.skypeak.com.au