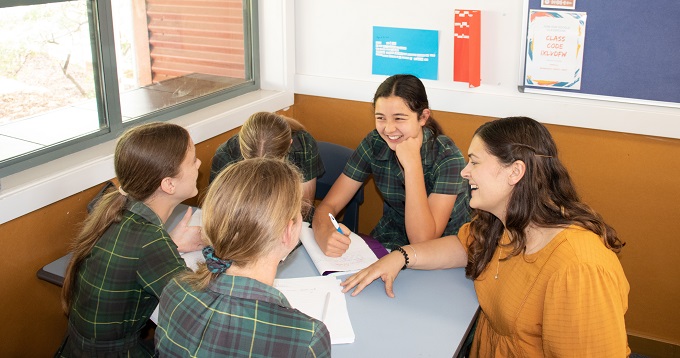 One of the many things that the COVID pandemic has brought to the fore at Macarthur Anglican School is the importance of good relationships between teachers and students.
And while it's certainly not a new observation, it was starkly highlighted when schools, including Macarthur, had to quickly move to online learning, removing that all-important face-to-face element of teaching.
A 2019 UNSW study[1] showed that students' relationships with teachers have a major impact on their engagement at school. Researchers from UNSW surveyed 2,079 students in 18 high schools across Australia, then again 12 months later. Students were surveyed across English, mathematics, science, history, and geography.
The researchers discovered that the more subjects in which there were positive teacher-student relationships, the more students' engagement at school increased.
The Headmaster of Macarthur Anglican School, Dr David Nockles, also found that relationships between students and teachers were paramount in his research published in 2012[2].
"While the technically skilled teachers were important, it was the caring teachers who were considered of greatest importance in an effective school…What was most fascinating is that the role of caring teachers became increasingly important as the students progressed through their schooling," said Dr Nockles.
Macarthur Secondary English teacher Hayley Tuft, who has been with the school for eight years, has certainly experienced the same thing with her students. Students responded well to her teaching style, where she places a strong emphasis on connecting with all her pupils.
"My first role at Macarthur was teaching Year 5 and while I enjoyed it, I felt that teaching in the Secondary School allowed me the opportunity to connect with more students, and I was passionate about connecting with teenagers," said Mrs Tuft.
"Along the way I retrained as a secondary English teacher, which the school was very supportive of, and I'm confident I've found the right role for me. I am also involved in other school activities, like our Thailand outreach program and bible study, which I find fulfilling as these are great opportunities to connect with the students.
"I learnt the importance of great teaching during my final years of high school. I made really strong connections with a few of my teachers who made me feel valued and stuck by me. I also saw the damage disengaged teachers can have on students with my younger brother who has dyslexia. He never felt understood by his teachers and as a consequence he disliked school," Mrs Tuft added.
Hayley's focus is firmly on building rapport with her students and getting to know them. "We still learn about English and cover the content of the curriculum, but I place a lot of importance on the wellbeing of the students because if they don't feel safe and secure, it is a barrier to their learning.
"In my classroom I never want my students to think they can't do something. I encourage them to look for the best in themselves and others. All students are unique and I make it a goal to see that in my classroom no one is ever antagonised or put down for not fitting the mould.
"I regularly invite my students to send me their 'brutally honest' feedback via Google forms. I also ask them to contact me if they have any issues. My classroom has a very relaxed atmosphere and I encourage every student to contribute.
"For example, a student might confide via a survey that they don't like reading out loud in front of others. So, I can avoid that awkward moment in class and find a way for them to still participate," said Mrs Tuft.
Student Erin Shacallis was in Hayley Tuft's English class last year and said of her experience, "I can say on behalf of my entire English class that we miss having you as our teacher so much and loved learning with you in Year 8. You made it so much fun and taught us so much that we still remember because we had such a great teacher. Thank you for making me love English again," said Erin Shacallis.
During the online teaching period precipitated by the COVID pandemic earlier this year Mrs Tuft really missed seeing the students face-to-face.
"When we switched to online learning earlier this year it was much harder to connect with the students. We did most of our lessons via video, which didn't allow for group discussion. I had several students ask me to schedule extra time for group discussions. We couldn't do this as much as I would have liked. Thankfully, it was only a few months and we all valued each other more when we returned to the classroom," concluded Mrs Tuft.
[1] https://newsroom.unsw.edu.au/news/social-affairs/teacher-student-relationships-crucial-student-engagement
[2] David Nockles, Determining Effective Schools for Parents and Adolescents, Lambert Academic Publishing, 2012, Page 205.