News
Year 10 STEM champions design winning product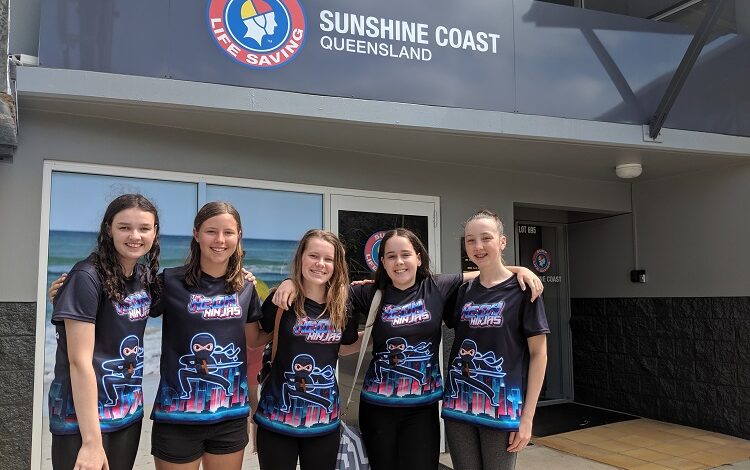 As the days warm up with Summer around the corner, our Queensland beaches will once again be full of beach balls, boogie boards, brightly-coloured bathers and our Surf Life Savers on high alert.  
But there's a new beach essential being proposed by a team of Year 10 students from St Eugene College in Burpengary aimed at saving lives in the surf – BeachMate.   
A waterproof wristband to track a swimmer's heart rate, location and oxygen levels, the prototype was developed by the Science, Technology, Engineering and Mathematics (STEM) students Gianna, Isabelle, Jade and Gabrielle as part of Brisbane Catholic Education's Inaugural STEM MAD (Making a Difference) competition.  
Winning both the Future STEM Award and the Executive Director Award, team mentor and College Digital Learning and Resourcing teacher, Scott Letts, said "the dangers of the beach, possibility of drowning and the stress on lifesavers drew this team to create a device to assist swimmers and address the large numbers of drownings that still occur every year". 
"The STEM MAD competition provided a platform for students to solve a real-world problem just like this using their STEM knowledge and abilities that could potentially make a positive difference in our community," Mr Letts said. 
Team member Gabrielle said BeachMate "would provide real-time location data of all beachgoers as well as oxygen saturation and heart rate monitoring to alert lifeguards of people in distress." 
"To test the functionality of our product, we created a breadboard featuring off-the-shelf components including a GPS sensor, SpO2 sensor for oxygen content, a heartrate sensor, and an SP32 to process the sensors. These would provide communication to the lifeguard tower," student Gianna said.  
"We then created a user interface that will make use of the cameras already on beaches, giving the lifeguards intel on a person's levels and whether someone needs priority attention or keeping an eye on." 
As part of the prototype development, the students reached out and visited external experts for feedback and to think through how their device would work.  
Team member Isabelle said they "consulted with lifeguards and visited Surfcom, where we discovered how our product could easily integrate into their technology already available, such as beach cameras and iOS features like the Apple Watch".   
"We also consulted with an expert in antenna theory whose feedback helped us develop a viable system to accurately report location and sensor data back to the lifeguard tower," she said.  
"To create our prototype, we discussed with electrical and computer engineering specialists to assist in the design using computer-aided design software. We then 3D laser-printed the design to create our physical final product."  
Mr Letts said their device is "a unique solution that is about keeping people of all ages and all swimming abilities safe in the surf.  
"From the young to the experienced, and even tourists who are not accustomed to the Australian surf conditions, this device would be an extremely valuable to all."  
The students also proposed having some devices available for rent, making it accessible to everyone.  
The team will now represent our diocese at the National Catholic Schools STEM MAD Showcase hosted in Melbourne on November 16.  
Leading up to the competition, the students have been working with a local electrical engineering and product development company, Intemp, to further explore the viability of the product. 
Team member Jade said in preparation they have also been perfecting their pitch. 
"We were so blown away by the awards – to not only have this opportunity to put forward and create our ideas that could have a positive impact in the community, but to also be recognised by our hard work is very rewarding," Jade said.  
"We're really excited about Nationals and taking our solution further. Also, to join schools from all over the country will be a great opportunity."