News
Health & Safety
School RATs rollout as restrictions ease across QLD and NSW
A state-by-state round-up of the RATs distributed to schools via government bodies.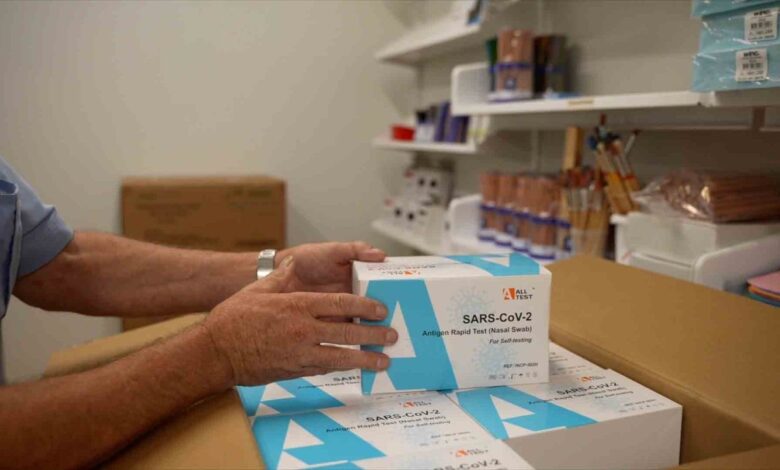 Queensland Education Minister Grace Grace said the massive RATs rollout was a huge logistical success and was a core element of the comprehensive back to school plan.
"Thanks to the hard work of our teachers, principals, staff and school communities, there have been no class or school closures," Ms Grace said.  "The Department of Education and our stakeholders have worked tirelessly to ensure schools across every stretch of Queensland had the RATs they needed for a COVID-safe start to the year.
"Across the state, we've had courier drivers, pilots and staff managing boots-on-the-ground deliveries around the clock to ensure RATs turned up on time.
Our RATs have had quite the journey, travelling by road, air or water to reach remote places such as the Palm Island, Urandangi, Cape York, the Torres Strait islands, Longreach and Emerald.
"More than 700,000 tests have reached their destinations with more on the way next week."
Minister Grace said she was pleased that staff and students have been COVID-safe by wearing face masks.
"More than 1.2 million masks are on their way to schools across the state, with another 1.2 million to go out this week," she said.
The Premier announced that from 6pm Friday 4 March, masks will no longer be required in most venues, including schools. 
In addition, schools will also be able to host assemblies and excursions while restrictions on visitors to schools are also lifting.
Minister Grace said she is delighted that we have approximately 98% of our teachers who are fully vaccinated.
"They know that going out and getting vaccinated is the right thing to do and will help save lives," she said.
"We know there are cases in our schools, just as there are in the wider community, but we are well prepared to ensure schools are COVID-safe and keep parents and carers informed.
"Queensland Health is providing the daily case numbers among school aged children, and schools are communicating directly with staff and families to alert them to COVID in the school community, reminding people to monitor their symptoms and stay home if unwell.
"As the Chief Health Officer said, we know the virus is very well spread and there is lot of circulating virus in the community. However, this is not something that is concerning us greatly, but we will continue to work closely with our stakeholders to ensure the health, safety and wellbeing of our staff, students and school community."
Free family and staff RAT packs for NSW schools
In NSW, the rapid antigen test (RAT) surveillance program in schools will cease but RAT kits will be issued to students and staff to use if COVID symptomatic. The NSW Government will continue supporting face-to-face learning by offering eight RAT kits per student and staff member to use when families consider necessary so they have peace of mind.
The RAT packs will be distributed to parents and staff in two drops to be used at their discretion. The first round of packs are already arriving at schools. Premier Dominic Perrottet thanked parents, teachers, school administrators and Principals across NSW for their commitment to return children to classrooms on day one of term one.
"It was vital we got our students back in the classroom after two years of disruption to their education, social lives and well-being, and RATs have played an important part in enabling their safe return," Mr Perrottet said.
"We are therefore providing every student and staff member across the state with another eight RATs for them to use at their discretion when they consider necessary, following a four week program of surveillance testing.
"The packs are there for families and staff to use at their discretion for their own peace of mind, for example, when a student is feeling unwell with a sore throat or cough, or if family members are sick."
Minister for Education Sarah Mitchell said over 90 per cent of parents have been using the RATs provided.
"It is important we help students, staff and families retain their levels of confidence as we get back to a more normal school life," Ms Mitchell said.
We know our measures work; transmission in schools is extremely low, and there have been no school closures since students returned this year, despite the levels of community transmission
"Testing children twice a week was not an easy task and I'd like to thank all of the parents and carers for their efforts in these critical first few weeks of term. Additional RAT packs will allow parents to stay vigilant and help us all continue to reduce the impact of COVID on schools."
Early childhood staff will also receive the additional RAT kits to be used when necessary.
Research conducted by the National Centre for Immunisation Research and Surveillance (NCIRS) showed that in Term 4 2021, three to four per cent of people exposed to a positive case in school and ECE settings contracted COVID-19 compared to around 70 per cent in residential settings.