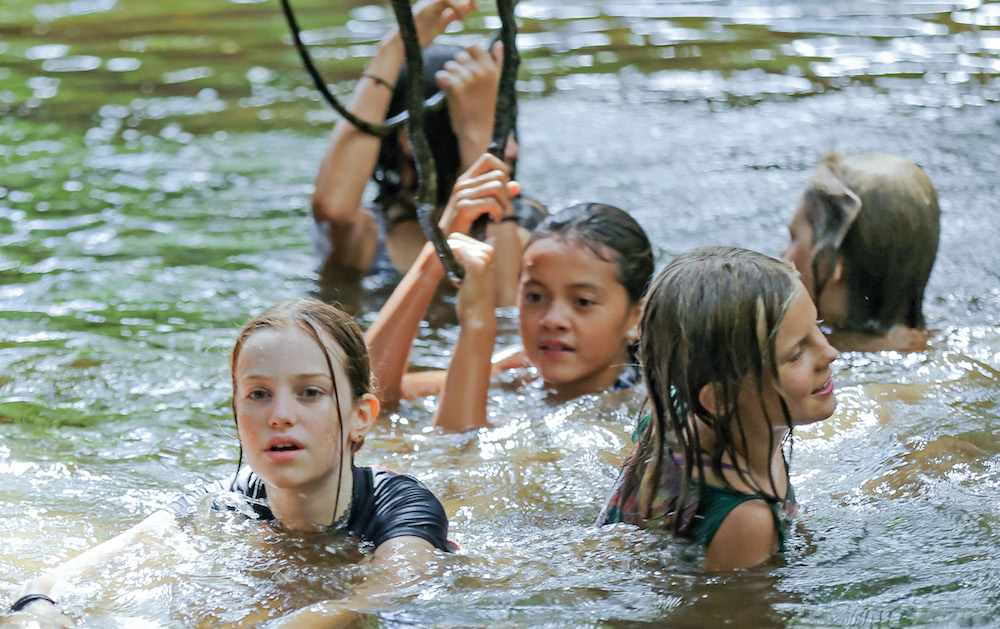 Located in the heart of Maleny, a Queensland town with a population of around 3,500, Maleny Independent School is a brand-new school with a vision to "instil a love of learning with a deep, intrinsic understanding of self within each student".
The school was born from the determination of a dedicated group of local parents and their collaboration with River Stanley, an exceptional and passionate teacher, who is now the school's principal.
School News spoke with Mr Stanley about both the rationale, and the mechanics, of the new school. He began, "on January 22, 2018, after three years of planning and preparation by a core group of local parents and specialists, Maleny Independent School opened its doors with 12 amazing students, enrolled in years seven and eight".
"This is a fantastic core group to start with to set the foundation for our neo-humanist educational journey ahead. Facilitating academic success, while providing life-skills and a nurturing path of self-development are all part of the aims for our students," Mr Stanley said.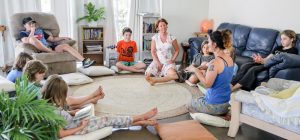 So, what is neo-humanism and how does it relate to educating adolescents, or even just general education?
Mr Stanley says neo-humanism "relates to life full stop", but in the sense of education, he says it's about educating the whole child – with a focus on each child's "inner core and innate self-worth", also with an emphasis on how the individual fits into the "web of life". Characteristics of a neo-humanist education include a focus on service to others; compassion for all living things, and a prioritisation of the development of self-awareness.
This philosophy will underpin the culture of the school, permeating everything from pedagogy and activity design to service projects and excursions. The students will be knowledge seekers, and not only in the areas of maths, science and English, though these will be well catered for, but also in matters of society, relationships, community engagement, and in humanity itself.
"The school offers a neo-humanist, holistic approach, where students can create experiences linked to their interests and initiatives. Students will be encouraged to learn through 'real world' experiences, extension programs, and through making educated choices themselves; managing risks, and aiming for their personal best, at all times," Mr Stanley elucidated.
While senior years will see students branching off into their individualised education plans, Mr Stanley says that in years seven and eight "there's so much in the curriculum" the format will, necessarily, be more 'conventional'.
"I've said to the parents, 'seven and eight will be more like a normal classroom – I'll make it as engaging as I can, we'll do as many project-based and multi-curricular things as we can, but, in essence, there's a lot to get through."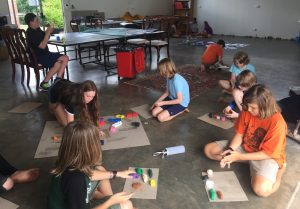 "I wanted to expose them to all the different subjects. At some schools, they do an art strand for half a year and maybe another one in another semester, but they still don't get all five over the two years. This is usually because of staffing and timetabling issues, but we are hoping to harness the experts in our community and aim to cover everything."
 "I find it sad when students only get exposure to one or two arts strands, and in a place like Maleny where it's so arts-enriched, we thought, 'let's expose them to all five arts strands of visual arts, media arts, dance, drama, music'."
The local community has a statistically high proportion of artists, and arts-based events for a country town, and Mr Stanley says this has provided a resource for the school: "I can bring people in to teach the different elements – so long as I am there, so long as I am writing the program and learning outcomes are met – I can bring in 'experts' to assist."
"The example I give to people is: 'if you saw me dance, you wouldn't want me teaching your child dance', but I match each subject to the curriculum requirements, I set the assessment task for it." Essentially, Mr Stanley is the 'teaching expert', and the other party is the 'talent' whom students can emulate, learn from, and draw on as a source of inspiration.
The school has invited a STEM and robotics expert trainer, Mike Dash, and he will be providing the stimulation for their STEAM specialisation.
Mr Stanley said he wanted to avoid the common situation where the school is guided in what subjects they can offer by the teachers they have on staff – rather than the talents and interests of their students.
This is where the benefit of the small school really shines: "if we had 500 kids it would be a nightmare bringing in all these extra people, but for me, it will be the norm."
Maleny Independent School has bypassed the usual timetabling regime of 'exposure bytes' once a week, in favour of block teaching. Students have maths, science and English instruction every day, and the rest of the time is dedicated to one elective at a time – in an 'intensive' block.
This serves a dual purpose: students are immersed in their learning and allowed the time and space to deeply engage in projects and activities, without the jolt of the bell signalling the need to shift their focus or losing the thread of engagement, during week-long gaps between classes.
"The other benefit is that we bring a specialist in just for the block of subject learning, as opposed to having them on staff forever and a day," Mr Stanley reasoned.
Although he "had to explain to the parents, 'the first two years are going to be more like a normal classroom situation'", every effort has been made to maintain exposure to the Australian Curriculum, but to spice it up, so learning is more engaging.
A major focus of the school management team is to "bring our amazing community together, through community workshops and service opportunities that focus on enhancing the Maleny community, while supporting students in their understanding of being an integral part of an enriched community".
In an era where politicians lament the lack of 'civics and citizenship' awareness in the younger generations, Maleny Independent School has a firm focus on community engagement, and importantly, contribution. 
Every Friday afternoon is a community engagement session, and this term, the students have committed to work on a local community garden – revitalising it for use by the local community. The students will be assisting a local arts group that has obtained a community grant to reinvigorate the space, so it can be enjoyed by all.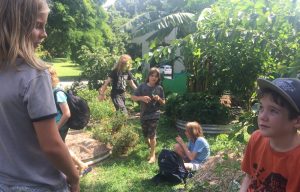 Food will be grown, as well as native plants for the purpose of species regeneration and community enjoyment. Mr Stanley said the early childhood directors are keen to use it as a mini-excursion for their energetic little charges, but to do so, they require some infrastructure. Maleny Independent School students will be engaged in building, working with wood and stone, to create a sandpit and a stage for community performances, such as poetry readings and live music.
This school leader is determined to get his students into the real world as much as possible and the all-inclusive school fees include the cost of regular excursions on the last three Fridays of every term. These will be planned responsively to interest, and naturally, will be curriculum aligned.
Yet another benefit of the small school, Mr Stanley says these will be entirely managed using public transport, another real-world skill he would like to impart. "I'd really like to take them to Melbourne to the National Gallery Victoria, to participate in an amazing cross-curricular visual arts and literacy program; we can do it in one Friday. We will have to be at the airport at 6 am, and wouldn't be back till 9 pm, but what an experience!"
"For me, the point of camps and excursions is to expose students to things they wouldn't do otherwise, due to family constraints and so on." He says school trips of any sort must be educational but also fun: "It's about making memories that students will keep with them forever."
This real-world engagement is not all fun and adventure; the students also engage in real-life work. The school doesn't employ a cleaner; after being inspired by the TED talk of Peter Hutton of Templestowe College, Maleny Independent School students are required to clean their own school. The students will be responsible for the upkeep of the space they share with their school 'family', and as the saying goes, 'a family that eats together stays together' – and this family eats breakfast together every morning. School starts at 8.45am with sport, followed by a leisurely breakfast and catch up session, from 9.15am. 
Students enjoy the company of their families during school hours as well, due to the open-door policy at the school. Mr Stanley says while the school doesn't require parent participation, they welcome it. "It's about including, rather than excluding the parents," he continued, and the welcoming atmosphere is creating a groundswell for our community connections. "One parent is running adult singing workshops at school," he noted, expressing an expectation that the activity would subsequently capture the students' enthusiasm.
Mr Stanley welcomes parental input: "We say, 'if you've got something to share, let us know and we'll find a way to use it'".
"The Maleny community has so many talented professionals who have already offered their services to encourage the students to achieve their potential and follow their individual passions throughout their high school years."
The school currently offers years seven and eight, and Mr Stanley said each year, another grade will be added: "Thus, in 2019, we will have students enrolled in years seven, eight and nine."
Maleny Independent School is a registered school and will follow curriculum benchmarks, however, as a small school, Mr Stanley says staff can offer alternative methods to achieving these benchmarks.
"With plenty of project-based learning and encouraging the families to be interactive in the process, students will be guided through their learning journey with support from local specialists and mentors to enrich the educational experience."
With the key objectives centred around rich, engaging and varied learning, the school will "use pedagogical approaches that account for students' needs, interests, and the school and community context".
For River Stanley, it's always been "about the kids" – after 20 years in holistic neo-humanist education, he took a couple of years away, working in rural and remote locations – including some projects that challenged him and provided a deeper context for his vision to create real-world learning within a school setting. He has scheduled weekly one-on-one mentoring sessions with each student, to explore goals, concerns, or just to check in about progress and emotional wellbeing. This is something he will continue to manage himself as the school grows, even if, as principal, the increased workload means he must step back from teaching somewhat.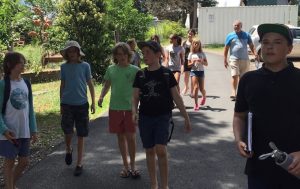 Hearing him talk, that old analogy of the 'two legs of the compass' came to mind. This approach to education provides a solid anchor point, embedded deeply in a warm engaged school and wider community. The other leg of the compass reaches along the circumference of a 'wide enough' circle, as students engage in inquiry-based learning that addresses individual needs and allows them to grow as a person – gathering perspective, life skills and direction – until they are ready to unhinge from the centre leg and follow their path.
And all this "aligns with the established protocols of the Australian Curriculum and the Queensland Curriculum and Assessment Authority" – operating within its constraints, which brings to mind a certain Sir Ken Robinson assertion, which appears in this very volume of School News. He said, "In education there are constraints, but that shouldn't lead us to believe that there are not options about the way we do things…".