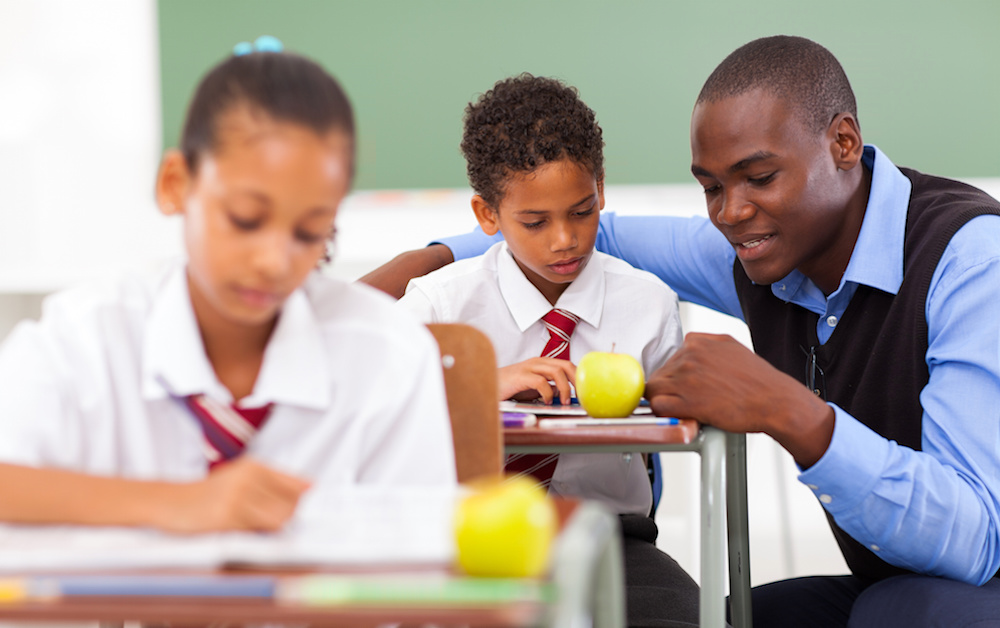 Male teachers may face extinction in Australian primary schools by the year 2067 unless urgent policy action is taken. In government schools, the year is 2054.
This finding comes from our analysis of more than 50 years of national annual workplace data – the first of its kind in any country.
We found a sharp decrease in the percentage of male teachers since records of teacher gender began in 1965. This includes classroom teachers, head teachers, and principals.
This rapid decline of men is not limited to primary schools. From 1977, when numbers of primary and secondary teachers were first recorded separately, we find an equally rapid decline of male representation in Australia's secondary schools. In primary schools, there has been a steady decline from 28.5% to 18.3%; in secondary schools, it has dropped from 53.9% to 40%.
---
---
Looking at the data by state and school sector, the lowest representation of men in primary schools is just 12.2% in Northern Territory Independent schools and 36.4% in Queensland government secondary schools.
Causes of the decline
Factors that deter men from teaching have been discussed in both the media and research literature. While some men (and women) may be deterred from teaching because it is perceived to have low salary and status, men also face social pressures to conform to particular masculine ideals. And teaching is often seen as "women's work". It is unclear if these pressures have intensified over the last 50 years.
There may also be a social stigma in advocating for more male teachers when women still face adversity in many other fields. In this way, policymakers may assume that declining male representation in schools is not a problem, or of less importance compared to other professions.
Alternatively, hiring policies may play a role.
We have little data on the hiring policies of different teacher employers around Australia. When looking at the percentage of male teachers in government, Independent, and Catholic sectors separately, we see that government schools show the sharpest drop over time. Independent primary and secondary schools and Catholic secondary schools also show a drop in male teachers, yet at a less rapid rate.
The impact on students
While teacher gender has little effect on student achievement, and students' role models are often their peers, there are important social and psychological reasons for Australian schools to include more male teachers.
Students themselves tell us that they want to be taught by both women and men. Just as some boys and girls find it easier to relate to female teachers, others find it easier to relate to male teachers. A teaching workforce that is diverse – in gender, ethnicity, religion, and sexual orientation – is most likely to appeal to diverse groups of students.
The decline in male representation in schools also limits opportunities for students to observe men outside their families who are caring, nurturing, and concerned about education. This may lead students to assume that only women are suited for such work, or that such traits are atypical in men.
Finally, for students with risky home lives, male representation may be particularly important. The presence of male and female teachers within the school environment allows students to see men and women interacting in positive, equal, and non-violent ways, and to observe men working with female leaders. In this way, male representation in schools may help to challenge misconceptions of what men can and cannot do.
The impact on schools
There are also important workplace reasons for Australian schools to include more male teachers.
Across professions, workforce diversity is pursued because it creates an inclusive environment, facilitates multiple perspectives, and ensures that various groups are included in decision-making processes. Importantly, links have also been found to job satisfaction and performance.
Extending these findings to Australian schools, we suggest benefits for the school community when men and women are more equally represented.
Given the importance of diversity, the Australian government has committed to ensuring that the teaching workforce broadly reflects both the student population and Australian community. There are policiesthat aim to increase the representation of Aboriginal people, racial and religious minority groups, people under the age of 25, people with a disability, and women in leadership positions.
But there are no current workforce diversity policies to redress the sharp decline in male teachers.
What can be done
We now know where the male teacher population is headed. It is becoming increasingly unlikely that Australian schools will genuinely reflect the student population or broader community. A review of Australian workforce diversity policies is urgently needed.
Fortunately, much can be learned about increasing male representation in schools by looking to professions where the representation of women has been increased. These include STEM and business. As we suggest elsewhere, targeted scholarships could be used to increase the number of men studying education.
Additionally, increasing teachers' salaries and permanent teaching positions may benefit the profession more broadly, while also providing incentives for men (and women) who consider a career in teaching later in life. Challenging negative perceptions is also important, and may require large-scale campaigns.
Both men and women are capable of being excellent teachers, and we want both in our schools. A more diverse teaching workforce benefits everyone – students, parents, and teachers alike.

This article was written by Kevin F. McGrath, Casual Academic, Department of Educational Studies, Macquarie University; Penny Van Bergen, Senior Lecturer in Educational Psychology, Macquarie University. The piece first appeared on The Conversation.