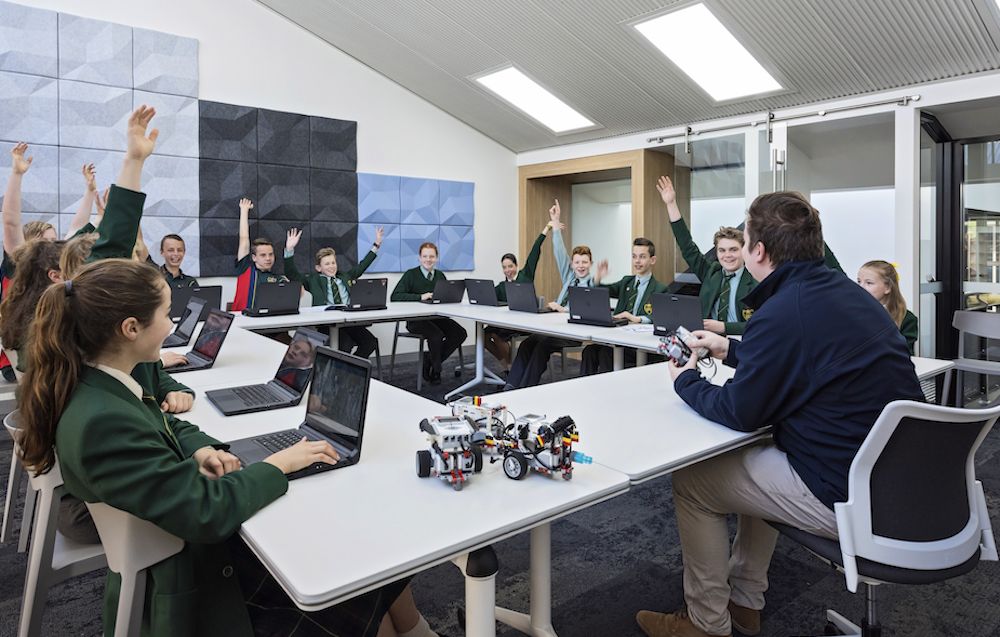 The Temple Christian College Student Learning Hub is housed in the iconic 'Thomas Hardy & Sons' building, situated at the Mile End Campus in Adelaide. Architecturally designed as a blend of traditional stone and wood with the latest in functional furnishings and digital media, the multi-level space provides a number of functional features including a new circulation desk, senior study areas, collaborative work areas, individual work areas, and storage for teacher resources.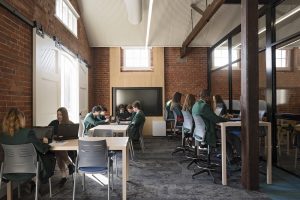 Teacher librarian Kelly Anderson said, "the Student Learning Hub provides a flexible range of spaces for classes and students. Taking on different forms and sizes these spaces are sometimes referred to as 'camp fires': spaces where an expert shares to a group, 'watering holes': where collaborative group work can occur and caves: spaces for individual study".
"The 'hub' is used for a variety of purposes but primarily it was designed as a versatile or flexible learning space, where students and teachers can approach learning in new ways, outside of the traditional "forward facing" classroom," Ms Anderson explained.
"By far one of the most important keys to the success of the area has been the deliberate selection of functional tables, chairs and work stations, which has afforded a level of versatility and flexibility to the 'hub', enabling quick format changes."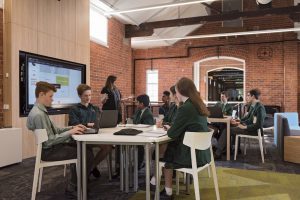 The chairs and tables were provided by Resource Furniture and Michael Merlino of Resource says they have proved their versatility in ways that have exceeded expectation: "In particular, Trama flip-top tables allow for swift redesign of learning spaces, and their mobility means you can arrange them however you like, and then nest them away in tight storage space."
"We supplied several types of chairs, one was a standard four-leg chair, Spacio, ergonomically designed for comfort, as well as a height-adjustable 'drafting chair' version – suitable for both standard desk height and the Prisma bench tables we provided. This allows the bench to be standing desk or a drafting desk with a 'stool'."
"Another flexible chair option is the Wing chair; these can accommodate a standard seating position. You can also swing around to have an arm rest," he said, and a real bonus is that these chairs only weight 5kg each, making it easy staff (and students) to move. "They also come in some funky colours," he added.
Mr Merlino says the hub is also being used for staff meetings, and all manner of learning activities, and teacher librarian, Ms Anderson, confirmed that the new Student Learning Hub provides flexible spaces for students and staff, in the surrounds of a welcoming and inspiring educational and study facility.