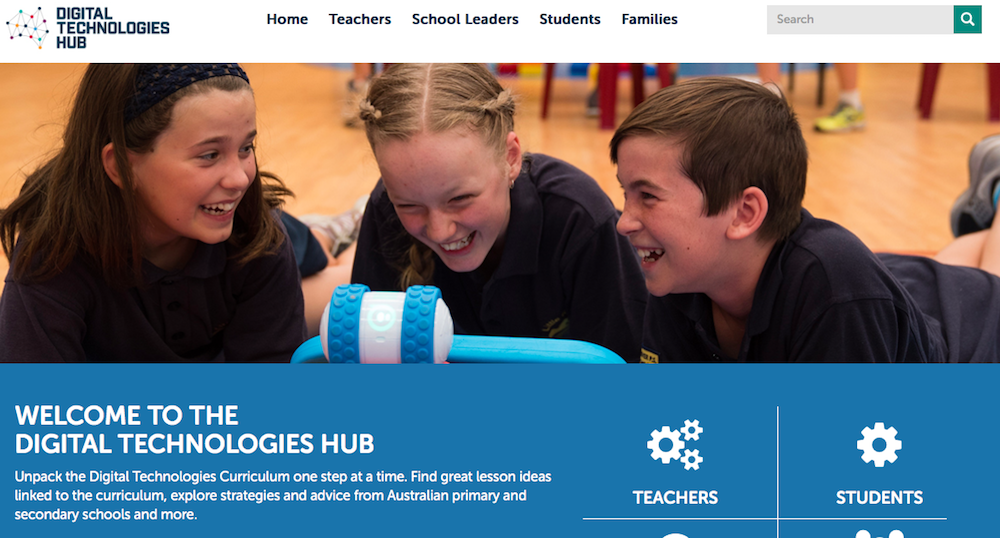 A new online learning hub will help to demystify computer coding and digital technologies in Australian classrooms, supporting teachers and students to produce digital solutions for the challenges of tomorrow.  
The Digital Technologies Hub is a new online learning resource that supports the implementation of the Digital Technologies component of the Australian Curriculum, in which students use computational thinking and information systems to deliver digital solutions.
Dr Roslyn Prinsley, senior advisor STEM education at the Department of Education and Training, said the Digital Technologies Hub is bursting with easy-to-use lesson plans, professional learning courses and student coding competitions that unpack the new Digital Technologies curriculum.
"Students can unleash their creativity by learning to build phone apps, create their own websites suited to the intended users or create innovative solutions to everyday problems – these are the skills that will prepare them for the jobs of tomorrow."
Dr Prinsley said a priority of the new website was to make it as easy as possible for educators across Australia to incorporate the new Digital Technologies curriculum into their teaching and learning programs.
"A wide variety of teachers, no matter their discipline or experience with technology, will benefit from this resource," she said.
Andrew Smith, CEO of Education Services Australia, said the website will have a transformative impact for educators and students.
"Incorporating Digital Technologies into everyday lessons is the future of Australian education," he said.
"Schools are using code to experiment with art and music, to improve spelling skills and to foster critical thinking and problem-solving skills.
"The Digital Technologies Hub includes up-to-date learning resources and activities that will equip students and teachers with the skills and capabilities they need to flourish in the digital world.
[pro_ad_display_adzone id="6125″]
"It includes an abundance of best practice content that is easy to navigate and implement," Mr Smith said.
The Digital Technologies Hub supports the Australian Curriculum for both primary and secondary schools, and includes the following resources:
Detailed and tailored Digital Technologies lesson plans, as well as best-practice teaching strategies
Professional learning events, courses and expert support to assist educators to deliver effective lessons
Student access to animation, game making and coding software to build Digital Technologies skills
Opportunities for students to go head to head with their peers in coding competitions
Relevant and up-to-date career resources for teachers.
The Digital Technologies Hub – a collaborative project – was funded by the Australian Government but received support and advice from all state and territory governments, Australian Curriculum, Assessment and Reporting Authority, National Catholic Education Commission, and the Independent Schools Council of Australia.
 It has been developed by Education Services Australia in consultation with a wide pool of experts, including teachers of Digital Technologies, academics, professional associations and industry providers.
 The Digital Technologies Hub is now online at digitaltechnologieshub.edu.au/