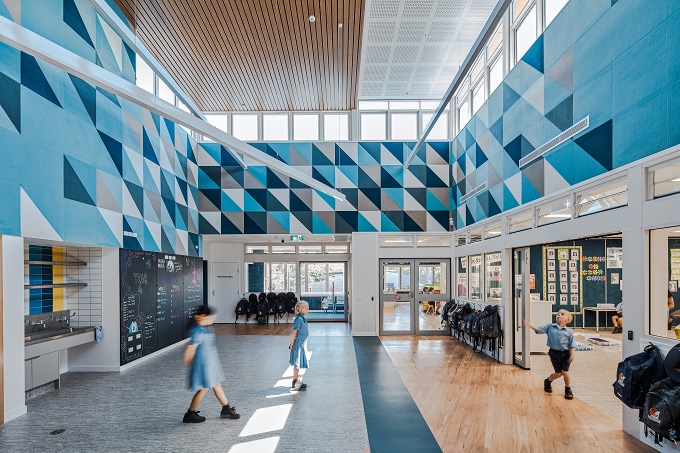 Children spend an average of four to five hours a day in classrooms, according to the Association of Australasian Acoustical Consultants, and experts estimate that between 45 and 75 percent of that time is spent comprehending their teachers' and classmates' speech (Mealings).
If students are unable to hear what is going on, they often become disconnected and can struggle to concentrate. The acoustic environment should be a prime consideration for any new classroom design. Modern educational practices and learning spaces have evolved: it is now expected that contemporary learning environments facilitate collaboration and interaction.
This often requires high noise levels with lots of conversation. Studies such as collaborative research undertaken last year by the University of Queensland and   Monash University on "the 'acoustic health' of primary school classrooms in Brisbane, Australia", have shown that when it comes to acoustic performance, Australian classrooms are well behind the mark.
However, designers and specifiers can make a difference in this area. Interior acoustic solutions are a high-performance means of reducing reverberation and other noise within educational environments, creating better learning outcomes for children. They are lightweight and easy to install, meaning they retrofit within existing spaces and new projects.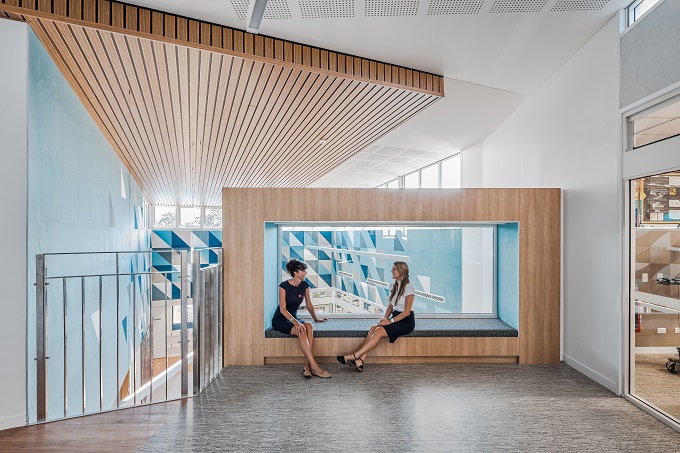 What are the issues around poor acoustics in educational environments?
Excessive noise and reverberation in classrooms can make it difficult to hear what is being said. This results in what is known as a low Speech Transmission Index (STI): put simply, the acoustics of the space make it difficult for students to determine what is being said. An Australian study found that more than 90 percent of Brisbane classrooms failed to achieve recommended STI levels, meaning that children would struggle to adequately decipher information in these environments (Wilson).
Younger children are particularly susceptible to the harmful effects of unfavourable acoustics: research indicates that poor school acoustics can lead to decreased learning outcomes for students through impaired speech perception and listening comprehension. In addition, these issues are exacerbated in children with learning difficulties, hearing impairment, and/or English as a second language (ESL).
Noise-induced disruption can also have an impact on students' abilities to perform non-auditory tasks. Excessive reverberation was linked to poor performance in verbal tasks, and high exposure to ambient noise with a reduced reading level (Berg). This shows that acoustic issues can negatively affect children's wider cognition and brain function at a time that is crucial for the healthy development of neural pathways (Flexer).
Poor classroom acoustics can also harm a teacher's greatest tool; vocal damage from excessive shouting poses serious occupational health and safety concerns. In fact, voice disorders are considered one of the major hazards of school teaching, affecting relationships between staff and students, as well productivity (Mattiskea).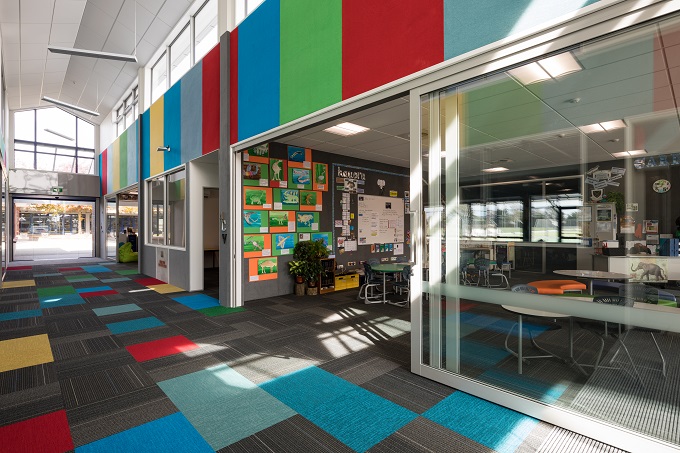 The need for acoustic-focused learning environments
The traditional idea of a theatre-style classroom with students' desks facing a teacher at one end is, for the most part, obsolete. 21st century education practices have evolved to a more immersive style, heavily integrated with technology as a means of preparing students for the realities of the modern world. Classrooms are now 'learning environments' centred around collaboration, problem solving, and interaction. These endeavours are all rooted in the development of strong language and clear communication practices, highlighting the need for good acoustic design.
A detailed 2019 study conducted acoustic surveys of 33 classrooms in Brisbane and found significant deficiencies in their acoustic performance. Unoccupied sound levels are used as an indication of ambient noise pollution. These ranged from 25-50 dBA, meaning 25 percent of classrooms were above the recommended 40dBA maximum, according to the Association of Australasian Acoustical Consultants. In addition, classrooms showed reverberation times (RTs) of up to 1.26 seconds, meaning 79 percent of classrooms were above the suggested 0.6 second maximum. Occupied sound levels were as loud as 64.8dBL, and STIs as low as 0.35 (on a scale of 0-1), meaning 92 percent of classrooms failed in these regards. When compared with similar studies using datasets from Sydney and broader Australia, findings were consistent with the results of the Brisbane study (Mealings). Overall, the high percentage of classrooms not meeting the recommended performance requirements for beneficial learning environments highlights a need for better acoustic solutions.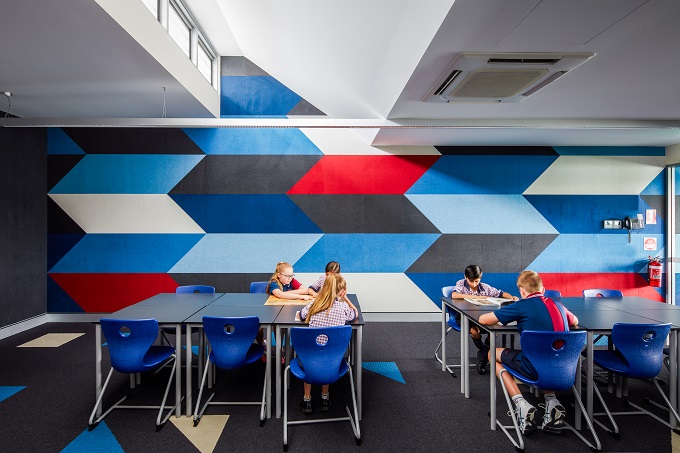 Regulations and guidelines
The Building Code of Australia (BCA) does not offer specific recommendations for educational facilities. It does, however, outline performance requirements as they relate to specific building types: class 9b buildings include public spaces such as kindergartens, childcare centres, schools and universities[i]. This may serve to assist specifiers with specific information relating to minimising airborne and structural noise transfer due to construction elements like heating, ventilations and air conditioning (HVAC) systems, but will not provide guidance with the specific mechanics of acoustic treatment for learning spaces. Specifiers may draw from AS/NZS 2107:2016 – Acoustics – Recommended design sound levels and reverberation times for building interiors, which contains acoustic design criteria for building interiors and provides a useful baseline for performance.
Again, this does not speak directly to the specific requirements of educational facilities so should be used as a guideline only. There are, however, state-based guidelines that must be adhered to. For example, the NSW Educational Facilities and Guidelines outlines mandatory parameters on acoustic indicators, such as reverb times, impact sound insulation, and more. Similarly, the Victorian School Building Authority's Building Quality Standards Handbook outlines deemed-to-satisfy provisions for onsite sound reduction measurements, amongst other things. Specifiers should contact reputable acoustics experts to discuss best practice and what solutions would work best for their particular project.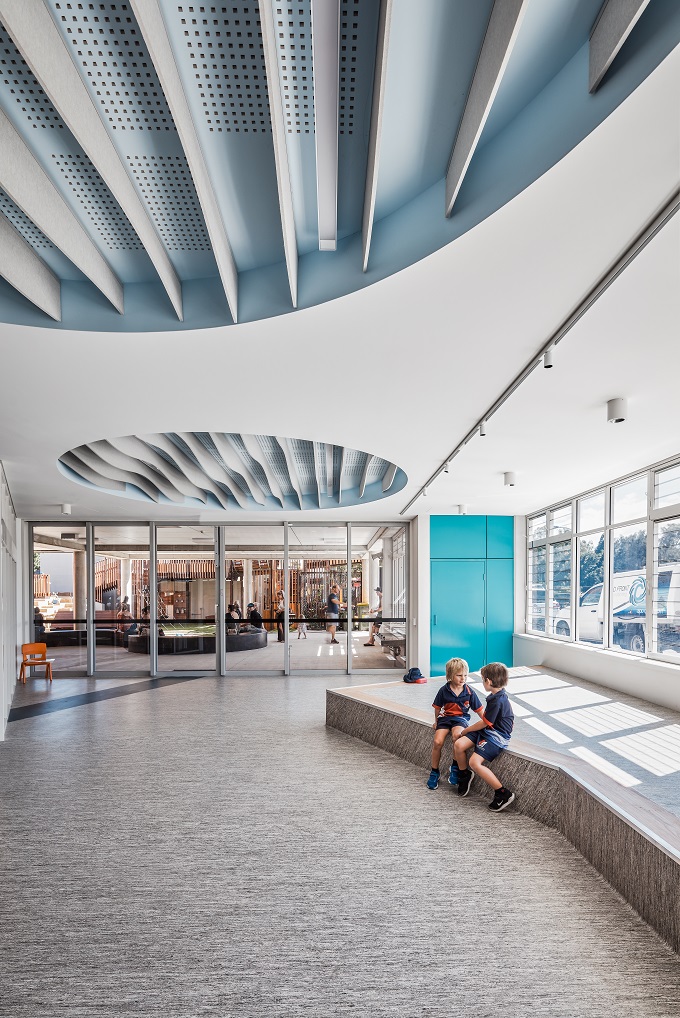 Interior acoustic solutions: high performance, low fuss
Noise can never be eliminated entirely, and nor should it be. The goal in acoustic design is to create a space that offers a high signal-to-noise ratio; that is, that the signal (in the case of classrooms, most often a teacher's voice) can be heard clearly above background noise.
In the educational context, noise comes most often from four sources:
External noise intrusion
Noise generated by building services (such as HVAC systems)
Noise transferred between individual spaces, including impact noise
Control of reverberation times to enhance speech intelligibility
Part of designing for optimum acoustics is the shape and design of the structure itself; whether rooms are large or small, have high ceilings or low, and what construction materials are used – for example, wood and concrete have different acoustic properties. However, many Australian schools are housed in buildings as old as 100 years, meaning that structural changes are not possible. Interior acoustic solutions can solve problems in these circumstances, as well as in new builds and contemporary designs.
Interior acoustic solutions absorb noise, preventing it from being reverberated within a room, while also providing a thicker membrane to protect from ambient, airborne, and structure-borne noise.
They provide particularly effective noise reduction in the region of 1kHz-4kHz, which is the region most sensitive to the human ear, and the region most occupied by the human voice.
Interior acoustic solutions are frequently supplied as tiles or panels, making them easy to transport and easy to install. Some are available with simple yet strong adhesive backing, making them possible for people with basic trade experience to install. Where possible, specifiers should opt for 100 percent polyester fibre interior acoustic solutions for education projects. In addition to providing excellent acoustic performance, polyester fibre is non-toxic, non-allergenic and contains no irritants, making it safe for use around children.
Interior acoustic solutions offer a versatile, customisable, functional aesthetic for educational design applications. They are available in a wide range of standard colours, with custom colours available for manufacturing as required. The colours can also be alternated between panels to keep in line with the wider interior design. Their hook-and-loop receptive surface means they can be used as staple or pin boards, or have things hung from them with velcro – including children's artwork in education spaces.
References
Berg, Frederick, et al. "Classroom Acoustics: The Problem, Impact, and Solution". Language, Speech, and Hearing Services in Schools, vol. 27, no. 1, 1996, pp. 16-20.
Flexer, Carol. "The Impact of Classroom Acoustics: Listening, Learning, and Literacy." Seminars in Hearing, vol. 25, no. 2, 2004, pp. 134-40.
Mattiskea, Jacqueline, et al. "Vocal problems among teachers: a review of prevalence, causes, prevention, and treatment." Journal of Voice, vol. 12, no. 4, 1998, pp. 489-99.
Mealings, Kiri. "Classroom acoustic conditions: Understanding what is suitable through a review of national and international standards, recommendations, and live classroom measurements." Proceedings of Acoustics. 2016, Brisbane, Australia, 9-11 November 2016. Macquarie University, 2016, pp. 1-10.
Wilson, Wayne, et al. "The 'acoustic health' of primary school classrooms in Brisbane, Australia." Speech, Language and Hearing, 2019.  DOI: 10.1080/2050571X.2019.1637042.
Article supplied by Autex
For over 50 years, Autex has been a market leader in the manufacture and development of textiles and advanced fibre technology. Beginning in New Zealand as a manufacturer of jute-based carpet and expanding its operation to Australia in 1991, Autex has stayed at the forefront of advances in technology to become a central innovator in textile engineering. Autex now offers a wide range of innovative and sustainable acoustic textiles to meet the ever-changing needs of the contemporary architecture and design industries.
Autex's range of interior acoustic solutions are ideal for use in Australian educational, commercial, hospitality and retail applications. Made from 100 percent polyester fibre and backing, they have no chemical binders and are certified low Volatile Organic Compounds (VOCs). They are manufactured using a minimum of 60 percent recycled materials and are resistant to colour fade, making them a durable and long-lasting solution for educational spaces.
Autex's panel and Peel 'n' Stick products are lightweight and easy to install, with a large range of bespoke and customisable ceiling products – such as the Frontier™ and Horizon™ systems – also available. For further information on product ranges, installation, maintenance, or to discuss the bespoke needs of a particular project, designers, and specifiers can contact their local specification manager.