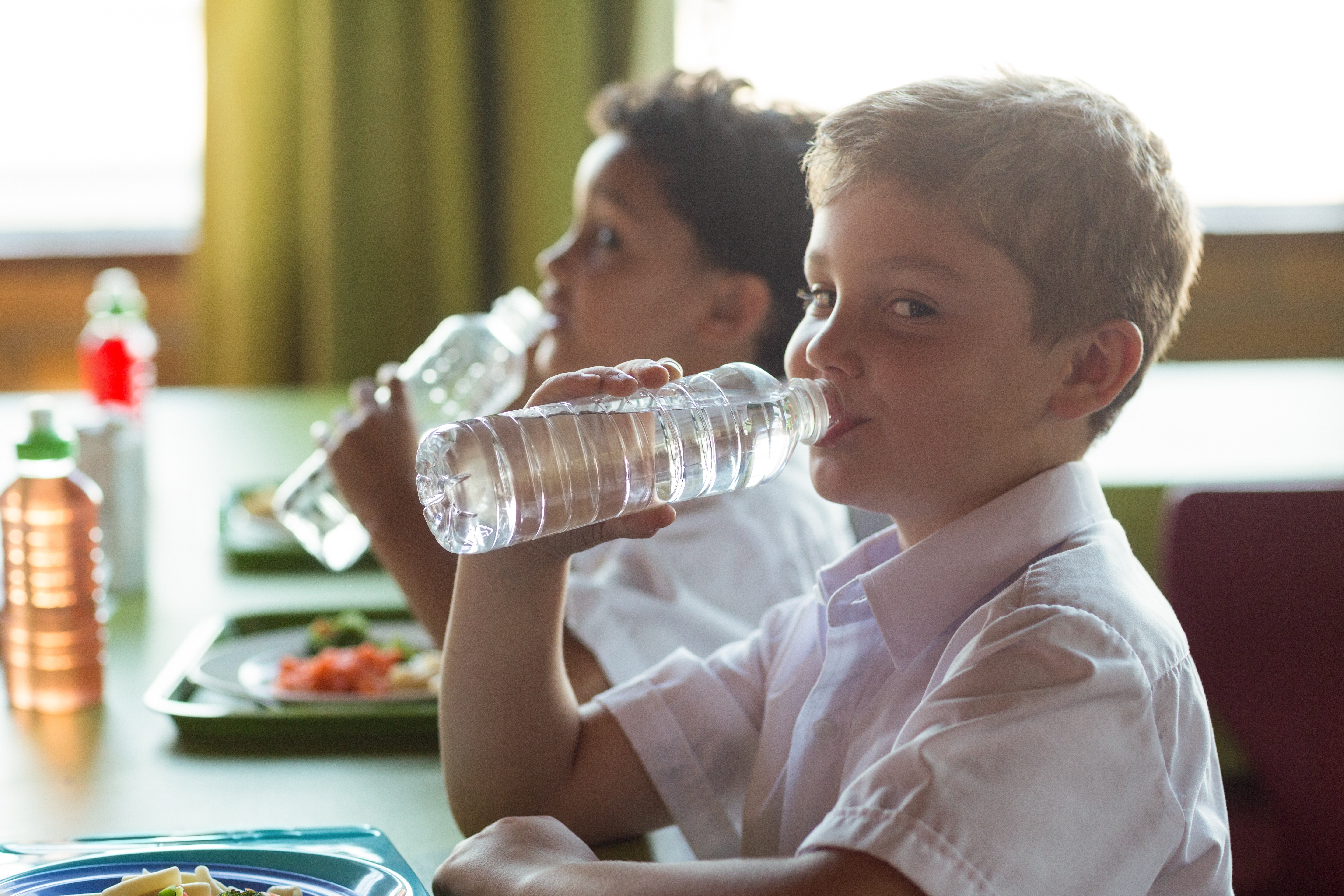 Dehydration is a leading cause of fatigue and poor mental function, and the impact of dehydration on cognition and mood is particularly relevant for children, who have poor fluid regulation. 
In a large proportion of mainland Australia, summers are long and hot. Even in southern Queensland, winters are short, and in locations like Darwin and Cairns, they struggle to earn the title of winter with their few weeks of sweater weather.
Government supported initiatives like Crunch and Sip, where state school students have some fruit and water in the classroom between breaks help to encourage healthy eating and hydration. When a child is pounding that playground playing tiggy or climbing on play equipment, water is just about the last thing on their mind. This is especially true if they have to line up for ten minutes for lukewarm water, or 'walk safely along concrete paths' back to the classroom for their water bottle. Australian students need water, and they need it to be clean, cool and readily available.
The Australian Drinking Water Guidelines are administered by a federal body: National Health and Medical Research Council. These minimum requirements determine the quality of drinking water in populated areas, with reticulated supplies (also called town water) supplying schools and public places.
For some regional schools, and all rural schools, a private water supply is required. This supply is regulated by local council and is usually filtered rainwater. Filtration system guidelines are constantly being upgraded, and water is regularly tested for microbial activity that could cause illness, especially when dealing with large numbers of immature immune systems at close quarters.
How the water is dispensed to the students is the domain of the school administration, and often influenced by the P&C. The classic bubblers that I remember from childhood, with that slow warm trickle from a spout easily hampered by a well-placed stone or piece of gum, are still present in some playgrounds. However, most have been replaced by their modern counterparts, bubblers or water fountains with more 'tomfoolery proof' fittings, and a consistent flow of cold water, either through thoughtful placement of pipes, or a water cooler.
I'm not sure if we were all chronically dehydrated, or just less fussy, but the fact remains, most children are not drinking enough at school.  Making the experience a little more satisfying may go a long way to avoiding those cranky dehydrated students every afternoon.
Children are at greater risk of dehydration due to their higher surface to mass ratio, that is, they have a more surface per kilo of body weight to lose water through, and they have different thirst sensitivities; they often need reminding. 
Children also differ from adults in total body water content, but it is not only primary school aged children whose hydration we need worry about. Research in young adults shows that mild dehydration (corresponding to only one percent to two percent of body weight in lost fluid) can lead to significant impairment in cognitive function. Studies have shown that dehydration in children may produce decrements in cognitive performance, so it is important to teach them to be good little water drinkers as well as the three 'R's.
So what is on offer for schools?
With new understanding about the importance hydration for concentration, schools are addressing concerns about clean, easily accessible drinking water for students. Solutions range from bottled water stocked in tuckshops, to bubblers and water coolers integrated into school water systems. Local councils responsible for regulating private water supplies are encouraging the installation of UV filtration systems in public to ensure bacterial contamination is kept to an absolute minimum.
Waterlogic Australia supplies integrated solutions for water provision in offices, public places and schools. Spokesperson, Michelle Keays explained the rationale behind the advanced technologies in their water dispensers. "We offer a range of technologies exclusive to the Australian drinking water market, combining both BioCote, an anti-microbial protection on the surface of our dispensers, with our inbuilt UV Firewall. UV light purifies the water, destroying bacteria like E. coli, Salmonella and hepatitis, to name a few. With Firewall, the UV lamp is positioned at the point of dispense, proven to destroy 99.9999% of germs".
With growing awareness about the impact of plastic bottles, and a commitment from government and non-government schools towards sustainability, bottleless solutions are being implemented.
In an initiative welcomed by industry professionals, the ACT has initiated a policy encouraging students to choose tap water. The program will provide two refilling stations for each school, as well as refillable water bottles for each student.
The objective of government bodies and school communities is a combination of access, palatability and sustainability.  The first of this three-part objective can be achieved through installing ample dispensers for the school's student population. Who doesn't  remember giving up on the bubbler line and sticking their head under the tap in the toilets? I shudder to think what microbes were collected on those sweltering days.
Palatability may include an inbuilt cooler for warmer climates, and schools are also interested in providing a solution in line with the sustainability policies most schools are working towards. "With a focus on preserving our planet and looking after it, a bottleless solution aligns with schools' messages regarding preservation and recycling", Michelle advised.
Perhaps we are seeing an education revolution about the importance of hydration, and its relationship to mood and cognitive behaviour. Schools are creating partnerships with suppliers to communicate the vital role of water in our bodies, and change the culture around health and hydration.
Implementation and education in schools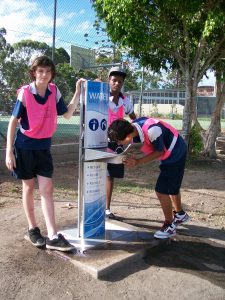 Aquafil supplies water refill stations and drinking fountains to schools, sporting facilities, universities, and councils. Full graphics are available on the units, either for branding, or in the following case study, as an educational tool.
Aquafil worked with Kempsey High School, a NSW coastal school with a long summer and surfing weather most of the year, and now, an excellent culture of hydration.
Like any great educators, the teachers at Kempsey High School have turned the school's acquisition of a new bottle refill station and bubbler into a learning opportunity.
Teacher Mark Baxter reported that his students have "flocked to the new filtered water bubbler" saying how much better the water tasted. "They want another one of the other side of the school" he added. Mr Baxter also reported fewer "temper tantrums and headaches".
Kempsey's HSC science teacher didn't let the occasion pass, and took the opportunity to conduct and experiment. "She took samples from the old bubblers, which revealed five beautifully coloured bacteria growing after some days incubating. This was compared with samples from the new filtered water bubbler; zero reading on the petri dish!" Mr Baxter announced.