Health & Safety
All-weather shade solutions create year-round usable spaces
Melanoma cases are projected to skyrocket by 50 percent over the next 18 years, according to a 2022 study by JAMA Dermatology.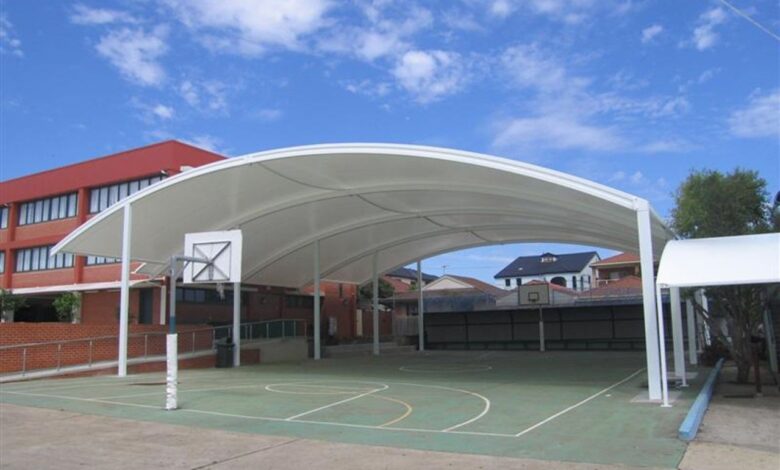 This is dangerous news for Australia, which the study pointed out has the highest incidence rates in the world, and more than 95 percent Australian cases in 2020 have been attributed to UV exposure.
It's also important to remember that hours spend outside in the sun take their toll not only on the skin, but on focus, stamina, and longer-term wellbeing; for instance, students can become lethargic and restless in the heat, and glare can also impair vision for students and teachers returning to the classroom after play or lunch time.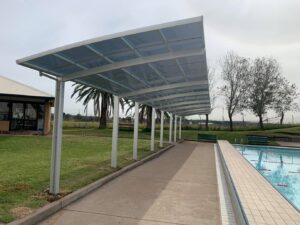 For children, shade protection at school is a critical tool for skin cancer prevention. And so, for schools, the UV risks of outdoor play and learning should be on the forefront of decision-making right now. As schools are well aware, hats and sunscreen are already a non-negotiable so although beefing up your school hat policy helps address part of the problem, a more robust option is providing more durable shade across your site.
The additional benefits to outdoor learning became evident during the pandemic, when outdoor learning spaces were one way for schools to minimise viral spread, or at least ease COVID anxiety. Notably, the benefits to effective outdoor learning spaces are many, but weather dependent so factor in your local weather conditions and engage a local specialist supplier for tailored advice. Additionally, shade and screen specialists often offer maintenance scheduling to ensure the structures remain compliant and last longer, so this is worth enquiring about.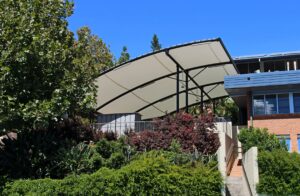 Shade structure options for your school
School News surveyed key options by talking to key shade suppliers to schools around the country. They identified the central option proving popular with educators at the moment: Covered Outdoor Learning Areas (COLAs), and tensile shade structures. Talking to us more in-depth later on, representatives from Rhino Shades and Makmax respectively outlined some of their tips and key considerations for schools aiming to invest in on-site shade structures.
Tensile membranes are a popular option as they can come in a variety of colours and designs, made from architectural fabrics such as woven-polymer or glass-fibre fabrics and coated with a synthetic protection layer. Membrane fabrics are tensioned over a steel frame to produce roofing, free-standing canopy structures or architectural umbrellas. The fabric quality must offer high UV protection, be strength tested, fire tested, and certified by structural engineers.
Another increasingly popular choice: COLAs offer a more permanent option. Classically made from steel, they can be designed, manufactured, and installed using a wide range of materials to suit different needs, spaces, and budgets. And they can be beneficial for not only the big, obvious purposes, such as covering a school playground area, but for high foot traffic areas between buildings or classrooms, to create permanently sun-protected pathways across your school site.
Australian COLA designs can adapt to a wide range of weather conditions year-round—particularly useful for outdoor learning. Considering the record-breaking floods NSW and Queensland just experienced, it's clear that Australia's harsh climate requires careful design, strong materials, and experienced suppliers. Hardy, all-weather materials like heavy polycarbonate sheeting can provide a permanent COLA or to create temporary outdoor covered space.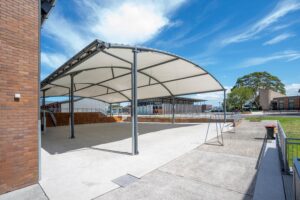 Makmax representative Alastair Morris took us through the advantages of tensile shade structures in schools. He said: "When considering shade solutions for your school, there are many different types of shade materials and shade structures, and one of the newest trends in school shade design is incorporating architecturally designed tensile membrane shade structures. Tensile membrane shade structures create sun-safe, weather-protected areas suitable for a wide range of applications specific to schools, including school COLAS and weather-proof sports court or pool canopies."
"Tensile membranes are modern, high-tech, premium architectural fabrics, made from woven-polymer or glass-fibre fabrics coated with a synthetic protection layer. Membrane fabrics are tensioned over a steel frame to produce roofing, free-standing canopy structures or architectural umbrellas.
"When designed, engineered, and installed correctly, tensile shade structures are highly durable, long lasting, and robust, with key advantages over metal roofing and conventional shade-mesh sails. Premium architectural-grade fabrics will have a 25-year+ lifespan and despite being lightweight, are incredibly strong, making them a safe building material for use in playground areas. Compared to metal roof COLAs, these light-coloured, reflective shade materials will reduce the amount of heat absorbed by the roof, keeping the area underneath cool and comfortable.
"Adding a unique tensile membrane shade structure to your school campus demonstrates your commitment to student welfare by creating sun-safe and healthy outdoor learning environments that will stimulate young bodies and minds.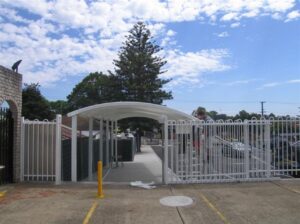 Rhino Shades representative Louise Blackshaw spoke to us about how shade for schools enhances safety and extends the classroom. She explained: "Schools are now looking for ways to expand the classroom and other activities, and that has become even more important since the COVID-19 pandemic. Social distancing, outdoor learning spaces, healthy sporting activities offer the opportunity to get fresh air, enjoy learning as well as keeping children in a safe and heathy environment.
Louise has worked with schools for many years, supplying and installing various shade solutions throughout NSW. She said that "schools should have peace of mind that their problem has been solved, and they can achieve that by working with a specialist supplier to help them plan and budget, as well as deliver, install, and provide maintenance and cleaning services for those shade installations, which can vary widely! COLAs can include shade canopies, shade sails, walkways, bus pickup zones, sandpit covers, and bumper pads".
Find the latest news and resources in the most recent print edition of School News here.