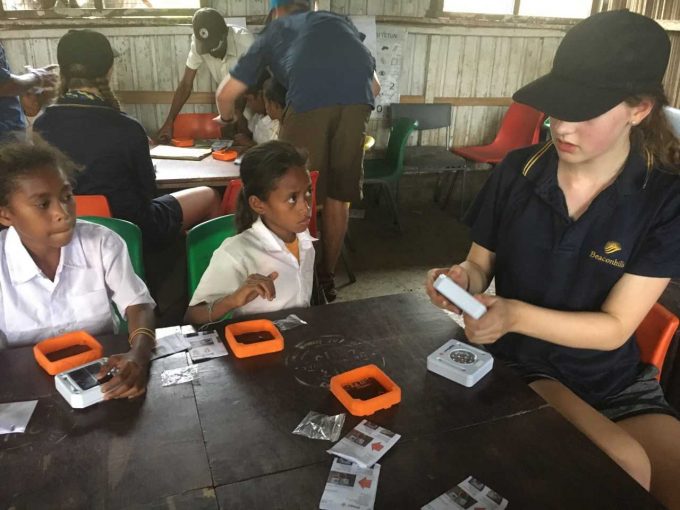 WHEN Simon Doble talks to students in Australian schools, he tells a story of what happens after sunset in poorer countries of this world.
As soon as the sun dips below the horizon in places like Papua New Guinea, East Timor and Cambodia, homes are plunged into darkness without electricity.
Unable to see, children cannot read, complete homework or study. Worse still, families that rely on fires and kerosene lamps inside their homes can become ill or die from smoke or kerosene inhalation or burns.
"There are 1.9 billion people who do not have access to electricity. Every night that's their situation," explains Simon.
"4.8million die each year from energy poverty, mostly from burns and smoke inhalation."
Simon founded the charity, SolarBuddy, 18 months ago specifically to educate students about the effects of "energy poverty" around the world.
SolarBuddy's schools program connects Australian students who want to make a difference with other children who live in energy poverty, combining learning and education with assistance and aid.
Students fundraise to purchase and build SolarBuddy solar lights in class while also learning about the positive impact of renewable energy on communities living in energy poverty.
The students then send the assembled solar lights to children in need, along with a personal letter to which they sometimes receive replies and small gifts from grateful recipients.
As well as its focus on empowering students to make a difference and become active global citizens, SolarBuddy's school program educates more broadly on issues such as climate change, 'good' and 'bad' energy, the fundamentals of how a solar lights work and how to assemble them.
So far it has been taught in 389 schools but Simon says he would love to see the program rolled out across thousands of schools in Australia and the world, with legions of students giving the gift of light to others.
So far more than 36,000 lights have been donated to 19 countries (although the program now focuses on six countries; Papua New Guinea, East Timor, Cambodia, Myanmar, India and Tazania) making SolarBuddy the world's second largest donator of solar lights
Simon says it "blows students' minds" when they discover that children in other countries are dying or being held back in life because they don't have access to power – something we take for granted in Australia.
 "We say to the students: 'What would you miss if you had no electricity?'," explains Simon.
"The kids say they would want to be able to play their PlayStation or charge their iPad. They look at you like you're mental because they can't grasp what it would be like not having a light."
The impact of energy poverty on a child's life can dramatically shape their future, explains Simon.
"The difference a light can make is that firstly it means they can do their homework," he says.
"In developing countries, education is highly valued and they know if they apply themselves to work they can get a slightly better job.
"So they will sit under street lamps in groups of 20 to do their homework and when you show that to the students here they can't believe it.
"Giving them a light is giving someone a future opportunity.
"A light is also safety. It means they can walk 100m to the toilet and be safe and we have designed the light to hang around their neck so they can wash their hands.
"The kids here literally fall off their chairs when we talk about the difference a light can make."
Simon says he was spurred into action about eight years ago after reading an article about people dying in refugee camps from burns and smoke inhalation.
He invented a tent pole with inbuilt lighting which was taken up by such agencies as the United Nations, Red Cross and World Vision and distributed around the world.
Building from there, Simon founded SolarBuddy to educate students but, more than that, to motivate them to make a difference.
The SolarBuddy schools program meets the objectives of the Australian curriculum's sustainability focus which encourages students to "act in ways that contribute to more sustainable patterns of living".
The curriculum policy states: "Sustainability education is futures-oriented, focusing on protecting environments and creating a more ecologically and socially just world through informed action."
Simon says that armed with knowledge and inspired to make a difference, today's young people will be tomorrow's 'gamechangers'.
"We want to teach people to be part of the solution," he says.
"It's about raising the consciousness of young people. Something so simple as a light. One solar light can literally change a kid's life."
To learn more visit www.solarbuddy.org