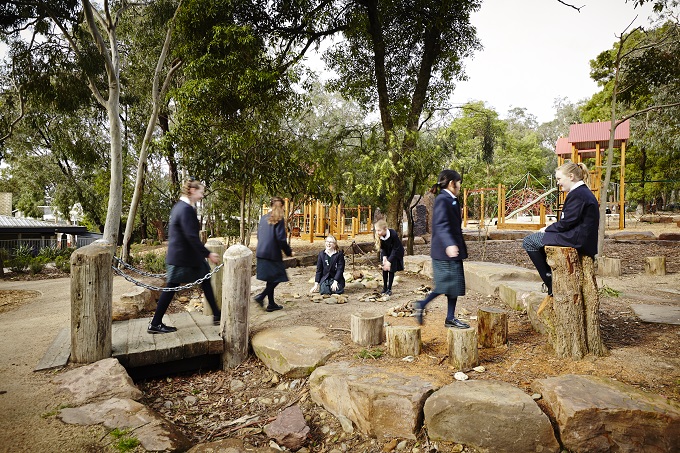 Australia desperately needs to make physical activity a way of life for its children, advocates the latest data in Active Healthy Kids Australia's (AHKA) Report Card on Physical Activity for Children and Young People.
Could nature play, increasingly popular among educators, be the solution?
Australia received a dismal D- overall on the AHKA report card, with "less than one-in-five children getting the recommended 60 minutes of huff and puff (aerobic) activity," said Dr Natasha Schranz from the University of South Australia. Parent-report data also revealed that most primary school children (54-65 percent) have more than two hours of screen time on a typical day.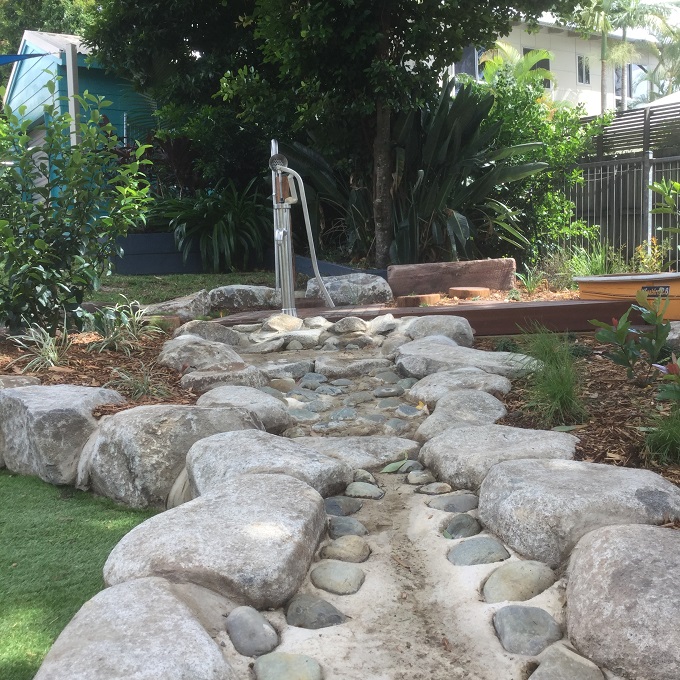 Boosting physical activity shouldn't just be about increasing the number of PE lessons, either, if we want to make it a 'way of life' for kids. Scheduling lots of sports or organised activity could send wrong message if it means the child will then equate 'rest time' with playing on their iPad.
Designing an environment for students to inhabit where physical activity is the norm, however; that might work. School News spoke to some of the country's biggest movers and shakers in the growing sector to find out what these spaces require to qualify as 'nature play'.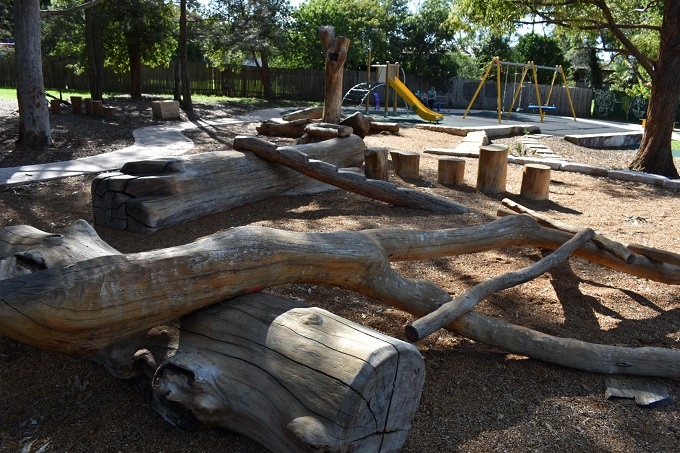 Jeavons Landscape Architects director, Mary Jeavons explained the three essential themes: "First is the concept of looseness, which invites true engagement; children building, constructing, arranging objects creatively (and often socially). Second is that materials are not perfectly smooth, purpose -designed, evenly spaced or predictable and are completely open-ended in how they may be used. Third, the setting ideally provides some living elements, most likely vegetation, that will in turn attract birds, insects and wildlife and expose children to the local environment, seasonal change and natural processes.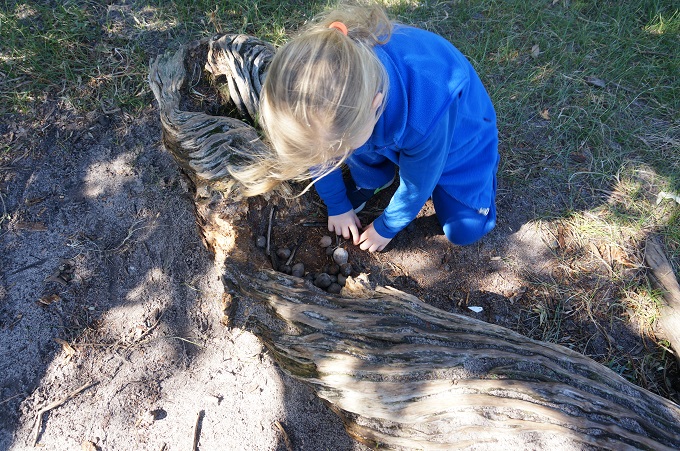 "Nature play challenges many of our adult  concepts about order, control, aesthetics, mess and perceptions of risk and safety but is an inherently important activity for children. They repeatedly demonstrate high levels of problem solving through the creative use of loose materials in their outdoor environments at school."
In 'An exploration of nature-based play at Australian pre-schools', Southern Cross University's Julia Truscott discusses this idea that 'risky play' is something children seek and may need for their healthy development. She explains that play areas designed to challenge children encourage them to lean on their risk perception while 'safer' equipment can become more hazardous if children misuse it to create a sense of risk.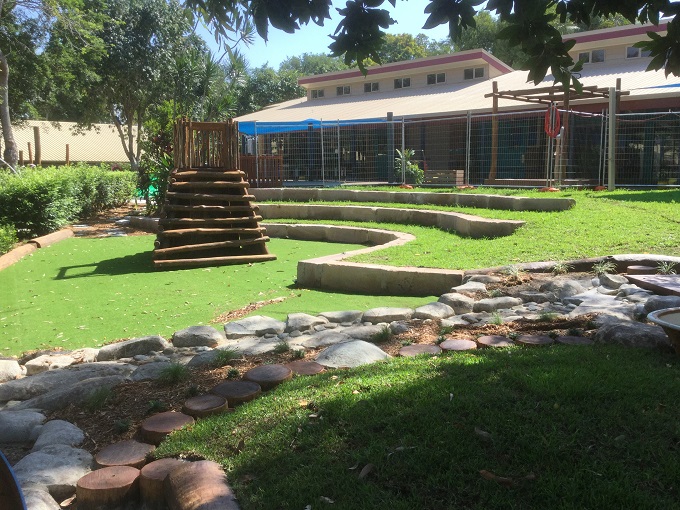 George Davidson from GDL Nature Play Spaces noted: "It's all about adding things to open up the senses and help teach children to take more risks in a natural environment."
Madelyn Smith from Timber Creations said: "One of the major factors in the decline of play over the last 50 years has been the overreaction to parental concerns about safety, leading manufacturers to attempt to eliminate all risk in their equipment. This has led to smooth surfaces and standardised gaps that children could never misstep or trip on, which has led to children lacking the motor skills and ability to assess risks required for essential development."
George listed popular nature play ideas, like building a cubby, playing in a stream or climbing a tree but revealed that water play is by far the biggest hit. "It can be used in so many ways, from a simple water channel and pump to a larger creek bed where you can dam and control the water."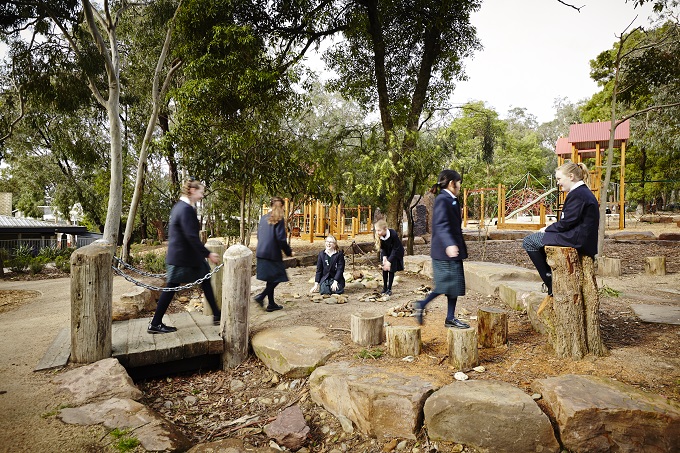 Madelyn emphasised the learning capacity of nature play: "Nature play equipment should have things to discover – uneven surfaces, interesting knobs and angles, natural bug trails and different textures. Exciting pieces of equipment highlight natural features and entice students to notice things about them, and wonder how they formed. For example a knot in a branch, smoothed for safety but placed for grabbing as you climb, and a good height to study.
Mary described what key elements your nature play design could have: "Nature play settings can be a forest, a vegetable garden, a sand pit, or a complex space with built structures and loose elements that enable children to make the most out of the relationship between the two."
What is involved in
the design process?
George gave us a detailed overview of what the design stage requires: "Sometimes, the school will have been working on their wish list for a year while researching funding options. But the design stage starts with a site visit to assess which areas are to be used and what the school wants out of their design. Sometimes, the space might not be big enough for what the school initially wants, or the site may lend itself to something completely different and quite unique.   
"From here, a simple concept plan is drawn up and the amount of detail required in the plan depends on whether the project will go out to tender or be constructed by the same company.
"In a space as small as 20m3 you can create a simple balance area and cubby surrounded by planting. One of the biggest things that eats up space is when you build anything above 600mm because then you need to include fall zones and clear spaces in your blueprint."

Photo courtesy of GDL Nature Play Spaces
Madelyn said: "The most elaborate nature play space will have trails through bush, and a mix of plenty of designed features encouraging interaction with natural features. Most schools do not have this opportunity, but with careful planning can still create an area that enables open-ended play and exploration.
"The typical size of school playgrounds we have done in the past would be about 80m2, and this can be anything from a 8x10m space, or a trail of elements weaving around a space. These are typically organised early to mid-term, for installation in the following holidays, with a minimum of four weeks lead time."
She also clarified that nature play is for older children too: "Though most studies have focused on the many benefits for early childhood, increasing evidence is coming to light about the important benefits for teenagers, especially in the digitized world of today. These benefits can be harnessed by schools by getting natural, non-prescriptive play elements installed."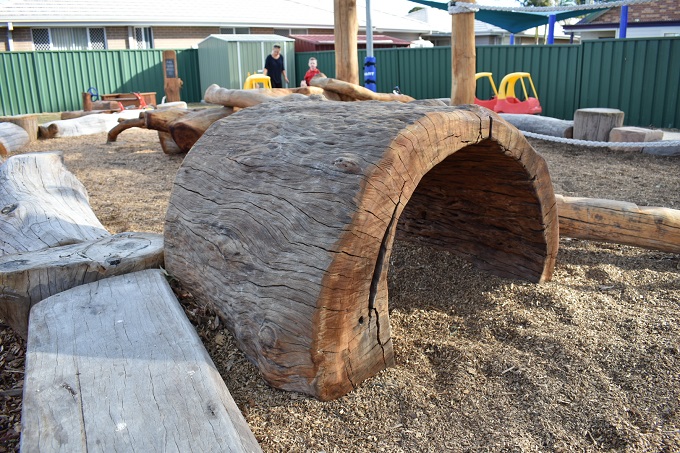 Creating a space for children to endlessly problem solve, create, take risks and play is essential in developing skills like resilience and flexibility. "This generation will face a range of challenges, including the impacts of climate change, increasing globalisation, and the consequences of rapid technological change," CHEO Research Institute scientist, Dr Tremblay says.
"They will need to be purposely physically active in order to grow into healthy, resilient adults who can survive and thrive in a changing world."
Case Study: Good Shepherd
Lutheran College
GDL Nature Play Spaces worked on a stunning space redesign at Good Shepherd Lutheran College, in collaboration with principal Tim Lambert. George Davidson shared: "The collaboration was to bring a dream to life for the teachers who had been planning their ideas for over two years. The playground was old and tired, so it was ready for a revamp and they gave us a lot of free reign on the site. That is always good news, as some of the best ideas come along as the space evolves. As the school is on a sloped site, that also gave us a lot more options, which was very exciting."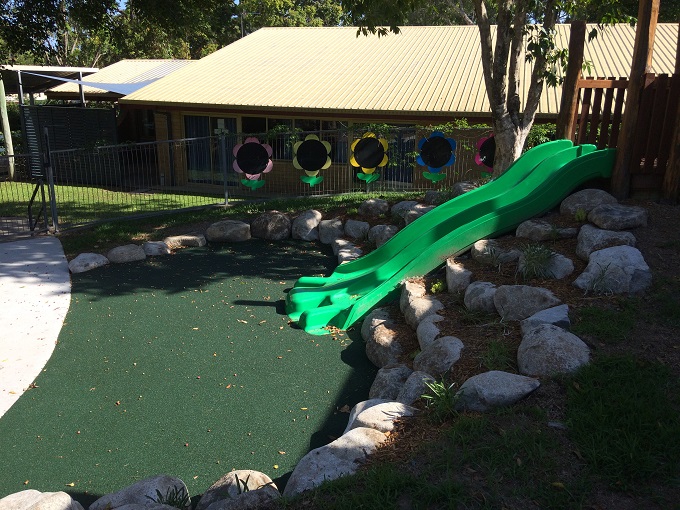 He advised any principals out there who are new to nature play but eager to bring their plans to life: "With the information available online it is quite possible for you to come up with the first concept for a play space but when it comes to making sure it will work, it's best to bring in a designer or company that builds them. There are still safety issues that need to be looked at and this is something that can be tricky for people who are not well-versed in the industry. It also helps to use someone who understand the materials and their limitations. A professional designer can also see more potential in a space as this is what they do for a living."
Case Study: Woy Woy
Public School
Woy Woy Public School recently had its playground designed by Timber Creations, winning a commendation award at the 2018 Kidsafe National Playspace Design Awards. Madelyn revealed that the school wanted to create a practical and engaging playground for its preschool, on a relatively small budget.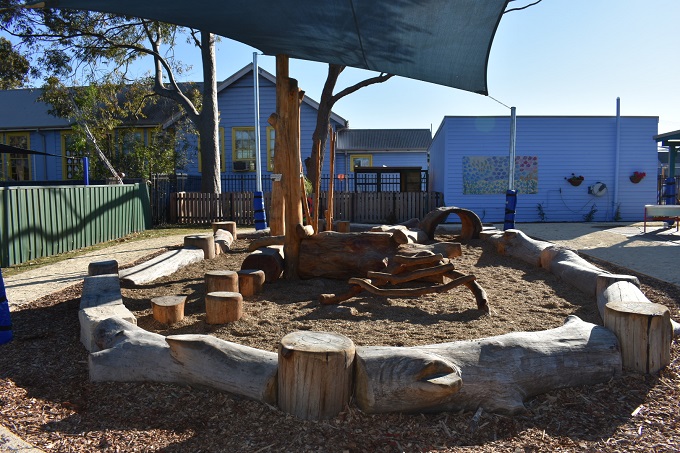 "They needed to match the preschool's core values, providing inquiry and play based learning and development. A nature play space was essential for this, allowing children to be creative in using the space.
"Parent, child and community participation were the focus of a holistic and inclusive playground. Natural features were retained in the multi-use equipment, including a wonderful hollow log tunnel with beautiful different textures inside and out."
Case Study:
Eltham College
Learning capacity is a critical fixture in nature play too; a place where teachers can also teach. School News caught up with Sonia van Hout, who has worked with Jeavons historically on many projects, most recently as part of her role as  director of ELC and junior school at Eltham College, where she collaborated with Jeavons Landscape Architects  on an extensive nature play space for Years 1-6. 
"It was built to our own design: we consulted with the children so they were really part of the process and the Jeavons team ran a number of group sessions with them and observed them in the space. They talked a lot about story and roleplay, which we integrated into our design. Now there's a real flow between the indoor classroom and the teacher's ability to take a group outside. I've seen children outside reading books, or having movement breaks, and it's given teachers a line of sight so that some of their kids can be learning inside while others learn outdoors.
"We have a Lilydale topping and rock area, where children can bring in dinosaurs and make huts with sticks, there's little mushrooms and a beautiful storybook platform the children might turn into a castle; then we have hanging monkey bars, climbing and balancing apparatus, a slide and fireman's pole, wobbly bridges and more.
"At the top level, there are wooden platforms and tiers that can be used as stages or seating areas, then we have a lot of organic space with logs, rocks and arches we have grown, plus another area for sportier games like kickball. We tried to create something that had as many options as possible. We even had a mining club before the redesign where the kids would dig up stones and treasures so we made sure there was an organic, open-ended space where they could dig."
Sonia's big tip for other schools who want to take the nature play plunge is to visit other playgrounds with thoughtful, nature-based designs, and "take time to observe, talk and wonder".