Schools are increasingly looking to create a range of learning zones with their library refurbishment, according to the experts we caught up with this issue.
School libraries are tasked with providing a range of learning spaces for both large and small groups, facilitating different learning styles while aiming to inspire and stimulate students.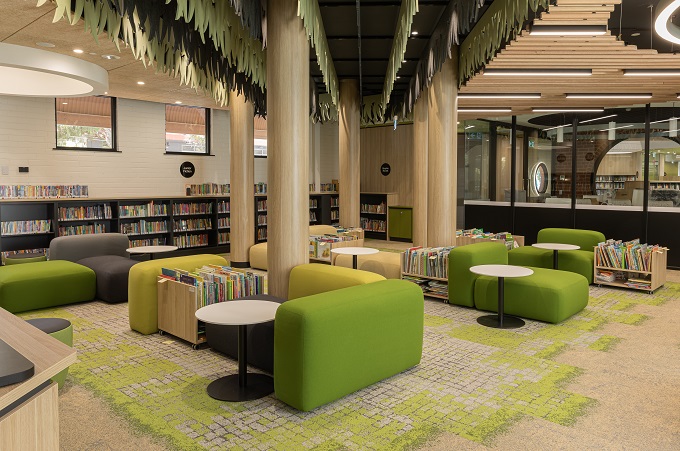 Learning zones are a core strategy for designers: configuring a layout to provide teachers and learners with a variety of spaces to meet different needs. Learning zone solutions encompass furniture, acoustic materials, shelving, soft seating, technology, and more. The goal is to create areas that quiet enough to concentrate and read, near spaces that are roomy and sound-enough to collaborate and play.
Library innovations in schools around Australia
To look at some of these strategies in more depth, we spoke with a selection of expert suppliers to the school library sector to find out what's trending in 2021, and which solutions might help schools create these learning zones.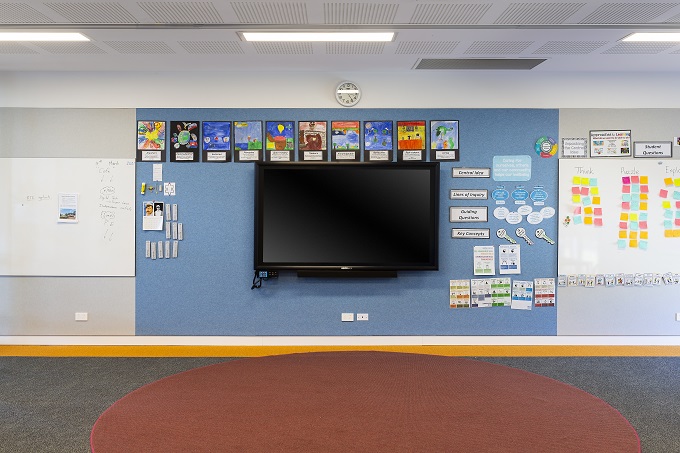 Sebel Furniture's Stephanie Cox told us she has noticed schools increasingly combining shelving into their soft furnishings. "Settings that combine seating and tables together with shelving are very popular," she revealed. "This not only looks great but is extremely practical. Librarians are looking for flexibility; wanting all the soft furniture, including the shelving with casters, which allows the design of the library to change and the room to transform when functions and events like Book Week take place." 
In addition, "different seating for the students a mixture of stools, chairs, and lounge-style seating. Booths are ideal for collaboration, and writeable benchtops and tables in collaboration areas are also beneficial and popular".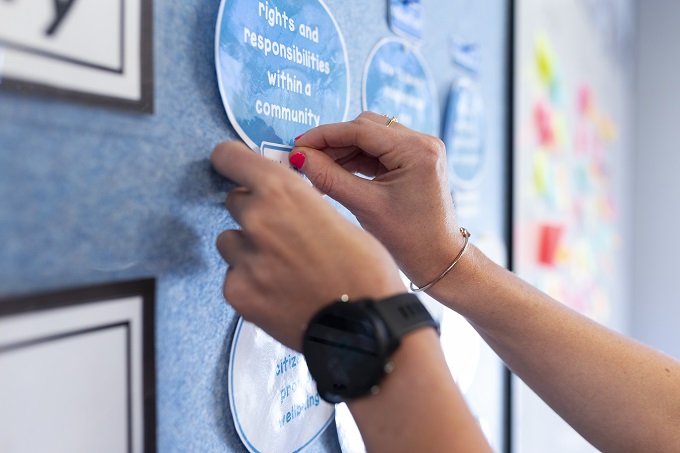 One design technique schools have been exploring is colour-coordinated zones, separating collaborative, computer, and classroom study areas with different fabrics.  At one school, Stephanie recalls, a Junior area was separated using yellows and oranges to combine floor space for Infants using a tiered cave option with smaller and standard-sized curved ottomans, which have shelving around the back for easy student book-grabbing access.  
Her top tip to avoid ineffective design is "to consider how many students will use the area and for how long". She added: "CAD drawings of the space are useful to show the furniture in the area and not to clutter. I also suggest schools cater for the maximum number of students using the library at one time. Does the space need to be able to change when events or meetings take place? Are flip tables needed and do you need flexibility to move tables into different group sizes? 
"Finally, on higher benches or tables, if you are coupling a bench with a stool, it is important to consider how long a student will be sitting there. It is often better to consider a stool with a backrest than one without if a student will be there for an extended period." 
For Creative Manager at Resource Furniture, Michael Merlino, there's been a trend towards muted colour tones with fabric selections on upholstered furniture and carpet features in school libraries. He noted: "A combination of neutral warm whites mixed with lighter timber tones on the library shelving units. Also, adding darker charcoal tones to the backs of library units has been very popular as the contrast allows the colours of the books to 'pop' on the shelves.
"Reading booths are also often requested in library spaces as they are a perfect little pocket of breakout furniture that offers students a quiet place to disconnect from their surroundings and focus on themselves."
What sets apart a truly well-designed library shelving system, however, is a versatile and multifunctional shelf. According to Michael, this should not just transform from a flat shelf to a display shelf, "but a system that caters for the whole book collection", informing us that face out collections tend to have much higher loan rates. "So the ability for a shelving system that allows library staff to easily transform a shelf from spine out to face out is a key consideration when choosing library shelving.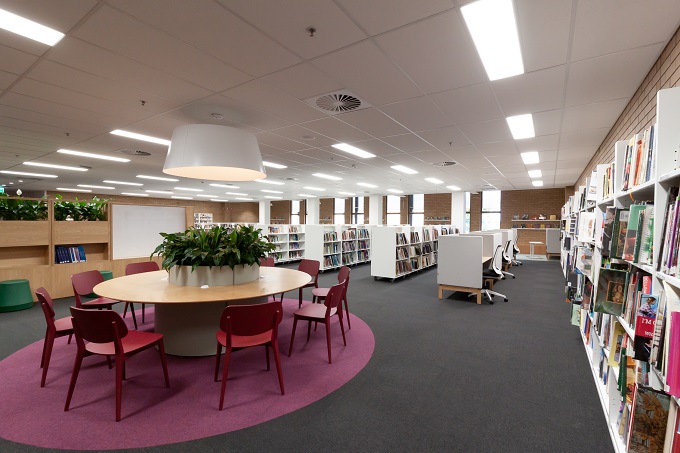 "When designing library spaces, I like to include a mix of different seating options. Study desks should include chairs with upholstered seats to ensure students remain focused. Upholstered breakout seating should be modular and easy to configure to suit the task at hand. And bench seating or stools are well utilised as students love the added height and the ability to choose their ideal learning experience.
Finally, Michael told us: "Castors are a must on shelving units and with clever design, bays can be used to zone areas to aid with acoustics.
"With regards to visibility, if we can utilise wall space for shelving units where possible, we can often increase the heights of the single-sided units on the wall and reduce the height of the double-sided units on the floor. This provides a nice open feel and clear lines of sight across the library space."
Autex Australia's Technical and Development Manager, Rob Jones took us through some of the pros and cons for different seating, flooring, and shelving options from an acoustics perspective.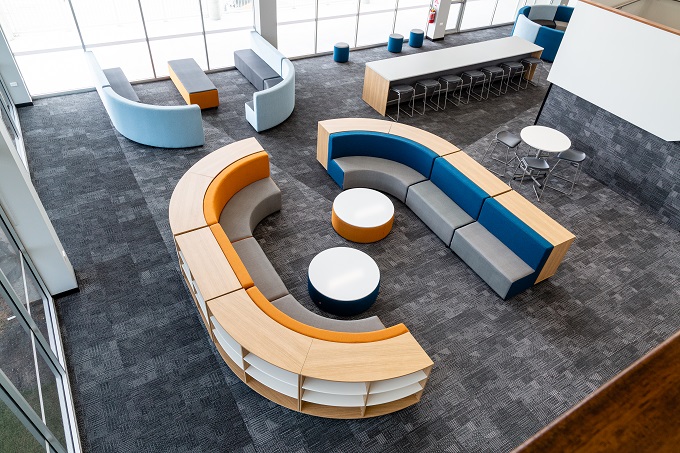 "Flooring from an acoustics perspective is better as carpet or carpet tiles. These lower the physical generation of noise where people are moving around or shifting chairs and furniture. Hard resilient flooring will result in nosier space. Additionally, upholstered seating provides bonus absorption rather than non-upholstered seating. " 
Rob advised that schools should undertake acoustic assessments of their space to ensure the layout and proposed furnishings will result in acceptable acoustic conditions. "Acoustic engineers are best placed to offer this advice," he clarified.
"A good place to add absorptive products is anywhere shelving units are single-sided, have a solid back, and are being left exposed rather than up against a wall. These can be especially helpful when arrayed correctly in larger open spaces. They help lower noise levels but will assist in controlling cross reflections between parallel surfaces, and these can be used to create nooks where individuals or small groups can gather as well."
Top tips for designing a library with learning zones?
For maximum acoustic benefit, Rob's top tip for schools is simply to undertake a thorough acoustic assessment: "The absence of physical barriers is needed to maximise distance between groups. This will reduce noise interruption by increasing absorptive surfaces around and above these areas.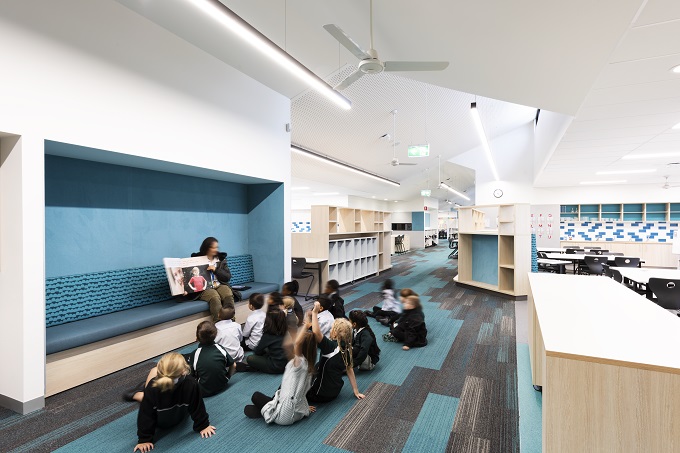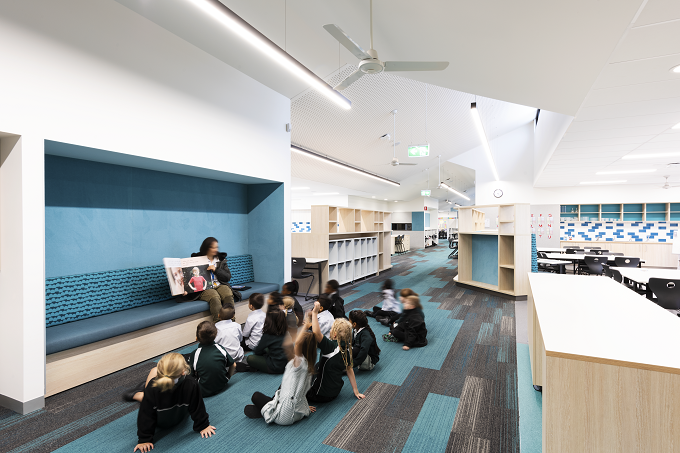 "Ideally, using upholstered furniture and absorptive screens close to these areas will greatly reduce noise spill from one zone to the other, helps control reverberation time (RT) levels."
Offering some more technical tips, Rob suggested that in places like entrance halls, "where high activity areas are located or regular disturbance is expected, full height glazed panels can be placed between these zones or other areas to keep visual connectivity and lower noise flow".
"These panels are reflective," he explained, "so try not to have them arrayed to become parallel surfaces. If this cannot be resolved then, at a minimum, one surface will require absorption to be added."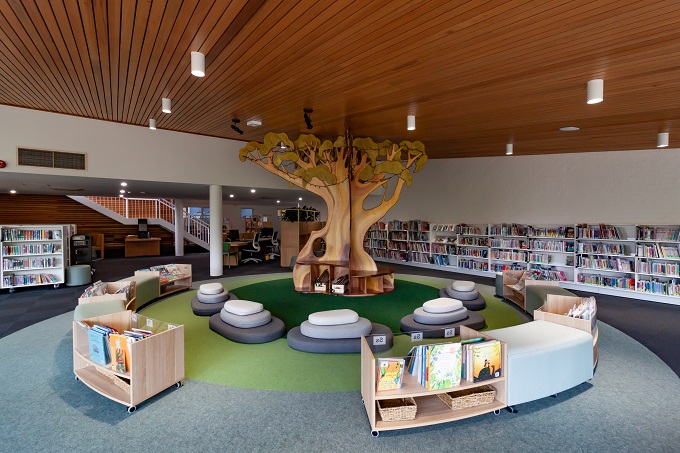 CASE STUDY: Rich learning spaces at new Gold Coast school
Foxwell State Secondary School has worked with SEBEL to create an innovative library space.
The state-of-the-art educational facility is a coeducational public secondary school that provides a world of opportunities for students.
When the Gold Coast's newest high school opened in 2020, its proud Principal Kym Amor and the school team committed to provide students with a "rich learning environment" that is both "innovative and future-focused".
This is a school that prides itself on "academic, sporting, cultural and community excellence" and believes that the pursuit of knowledge and the development of 21st Century skills will equip and enable students to make a powerful difference in the world.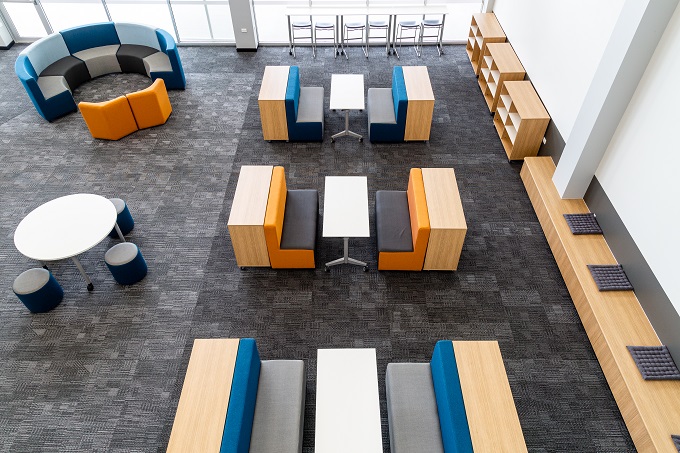 With this ethos, the school team sought to create an ideal learning environment throughout the whole property and worked with architects to turn their vision of a warm and supportive learning environment into reality.
As an experienced, diverse industry furniture manufacturer, SEBEL also worked alongside the staff team to supply furnishings across the whole new educational facility including the library space.
Foxwell State Secondary called for innovation and a "future-forward library space: SEBEL were open to ideas for design and layout. Library furniture was carefully chosen to achieve the desired aesthetic, alongside form, functionality and flexibility and a library space was created that is comfortable, inviting and inspires discovery.
The school wanted to create a "comfortable space where students can study and research as well as participate in group activities".
SEBEL helped achieve these goals by using flexible and modular furniture as a tool to create functional, great looking and fun learning hubs. The new school presents a library space that stirs creativity in all learners and encourages collaboration.
CASE STUDY: Resource Furniture helps create innovative library space for Loreto College
A South Australian all-girls day and boarding school, Loreto College Marryatville, has redeveloped its junior and senior school libraries with an imaginative and thoughtful new renovation.
The college, established in 1905, is set on beautiful heritage grounds and the new library spaces were re-designed to take full advantage of the stunning environment.
Loreto College Business Manager Phil Kightley told School News that the decision to renovate the school libraries was part of a plan to update the whole property and the core design inspires a creative aesthetic for future renovations.
The priority for both refurbishments was to bring the traditional library spaces into the digital age. Architects were engaged to open-up, modernise and create a fun environment with a "nod to the past but preparedness for the future".
Phil expanded on the project saying, both libraries were very traditional, but we wanted more flexibility, we wanted research spaces and creative zones to inspire a variety of learners.
The junior school library space was opened to increase connectivity with classrooms and the outdoor nature play area. The size of the bookshelves and number of books on display were reduced but the visibility enhanced of the fiction and non-fiction on smaller, lower shelves.
The design successfully de-clutters the space and allows more natural light in, making way for green spaces and indoor nature.
Phil added: "A surprising consequence of reducing the number of books on display is an increase in books on loan!"
With a theme of "discovery and imagination", the junior school library now features a showstopping focal point – the central wooden tree installation created by The Adelaide Festival Centre Workshop.
Phil revealed: "The central focus of the library is the learning tree; its trunk, tunnel, branches, foliage, fairy and spotlights enrich the whole space and inspire storytelling and discovery. It really grabs the attention of the students who love to climb, play and crawl, and then settle down under a spotlight to read in the quiet nooks."
The library also has a beautiful fireside area with circular seating, an array of zones for quiet reading, discovery and play time alongside a research area and digital spaces. The librarians are thrilled with the new space and are located near the learning tree.
Meanwhile, the senior school library, renamed the Senior School Information Resource Centre, is now celebrated as being the "core of the senior campus". It is lighter, brighter, less cluttered, and has space dedicated to research, collaboration, and project-based learning, alongside a tinker space and lecture theatre for up to 100 people. The library's technology is built for the future and 'tech booths' allow students to study quietly on their laptops.
What impresses School News most is how much Loreto College has invested in the design and aesthetic of its library renovation. The use of colour, shape, installations, and furniture creates a unique learning space, and we are excited to see the core of these designs taken forward across the whole campus.